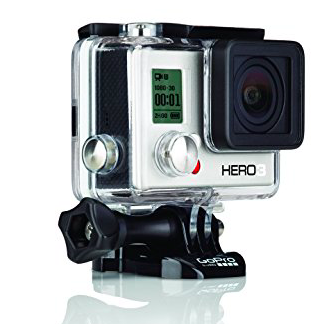 Get Out There! The Best GoPro for Me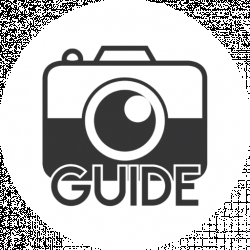 Latest posts by The Camera Guide Team
(see all)
Since 2002, GoPro has witnessed a steady rise within the video camera segment. What began as a niche product has morphed into a mainstream product that produces high-definition quality images. GoPro has introduced four versions of the popular Hero brand, with each new version making previous versions less relevant. In fact, GoPro tends to limit support for older models, which makes it important for consumers to stay current by purchasing the latest GoPro model. However, older GoPro video cameras enjoy brisk sales on third-party vendor websites, such as eBay and Amazon.
You might also be interested: GoPro Models Compared – Which is the Best GoPro for Me?
Why You Should Consider Buying a GoPro Video Camera
Regardless of the model, a GoPro camera provides users with several benefits. Whether you shop for a GoPro video camera to use during rugged backcountry camping trips or because the affordable video camera fits within your budget, GoPro designs and constructs a high-definition video camera that matches your buying criteria.
Long Lasting Durability
A quick look at online reviews reveals a common word that consumers use to describe a GoPro video camera: Indestructible. Consumers that participate in extreme sports such as skateboarding can perform acrobatic maneuvers and carry a GoPro video camera to catch the most astonishing action sequences. GoPro video cameras store in "indestructible" cases that withstand descents from as high as 130 feet. Outside of its impenetrable carrying case, a GoPro camera never succumbs to the rigors of outside recreational activities.
Unmatched Versatility
Most video cameras serve a niche market. For example, one video camera brand works best within dimly lit auditoriums, while another video camera brand optimally performs in the sunlit great outdoors. GoPro video cameras include several mounting and zoom options that make the cameras the perfect choice for video enthusiasts that capture images in several different shooting environments. You can use a high-resolution GoPro camera to shoot images during a backcountry hike and use the same camera the next day to film your child performing on stage at a school play.
Designed for Water
GoPro video cameras perform admirably for water sport enthusiasts, such as skier and surfers. The GoPro Hero3+ Silver video camera can withstand prolonged water submersions as deep as 150 feet. Underwater photographers that capture fish and coral videos use GoPro video cameras for protection against water damage. The camera retains the same high quality resolutions that film above water. Instead of placing waterproof bags over other video camera models, vide photographers simply adjust snorkels, before diving deep into open water for extended filming.
You Can Take a GoPro Camera Anywhere
Toting a video camera around all day can wear out the stoutest traveler. The weight of a video camera eventually becomes too much to bear, especially for daylong excursions that offer no respite during a bustling itinerary. GoPro designs and manufactures its line of high-resolution cameras to offer supreme portability that appeals to professional freelance photographers, as well as the weekend photographer that shoots film as a hobby. GoPro typically develops video cameras that barely weigh above two ounces, which represents a weight that barely registers on the shoulder.
Capture the Moment with Clarity
GoPro video cameras take 10 MP photographs at up to 10 frames per second. Few video cameras capture outdoor scenes with the same level of clarity than the clarity produced by GoPro high-resolution cameras. Whether you want to capture a school of brilliantly colored fish hovering near the Great Barrier Reef or save the memory of an ebullient sunset, any version of a GoPro video camera gets the job done right. Photographers that want the perfect blend of still and moving shot capabilities choose one of the GoPro video camera models.
Several Time Lapse Options
Skilled photographers want the capability to capture different time lapse intervals. From the introduction of the GoPro Hero 1 video camera, GoPro has provided video photographers with the capability to capture a series of photographs at 0.5, 1, 2, 5, 10, 30, and 60 second intervals. The wide variety of time lapse intervals allows photographers to capture the slow movement of the moon and the rapid movement of a bumblebee with unmatched clarity. You can use a GoPro video camera to capture an image every 10 seconds for one hour and then incorporate the images into a 25-second video that shoots at 25 frames per second.
High Quality Images
The diminutive size of GoPro video cameras tends to make consumers think the company places convenience above image quality. After all, how can such a small video camera capture pristine images on film? Every generation of GoPro cameras provide users with professional grade images at resolutions that match studio level quality. Photographers work with the GoPro video editor to combine high quality images into a production that makes Hollywood producers proud.
Panoramic Images
Wildlife photographers use GoPro video cameras to capture panoramic views of wide-open vistas. GoPro Hero 3 cameras include ultra wide lenses that enhance image sharpness on both sides of a still or moving image. Reduce fish-eye distortion along the edges of an image makes GoPro camera the best option for photographers that capture live entertainment performances on large stages.
Affordable Way to Capture Professional Grade Images
The latest GoPro video camera does not cost more than $400, which compared to other video cameras, is a consumer's ultimate bargain. Consumers purchase a complete GoPro camera package for the same price paid for the waterproof housing that protects more expensive Cannon or Nikon digital cameras. You enjoy the same video camera features offered by competing brands, at a fraction of the cost.
When Obsolete Means Affordable
Since GoPro introduces regular updates that render models obsolete, consumers can find incredible bargains on outdated GoPro vide cameras sold online. Professional photographers typically upgrade by purchasing the latest GoPro model, which creates a huge supply of used GoPro cameras. Budget conscious photographers shop online at eBay or Amazon to find the GoPro camera that possesses all of the features, at prices that fall within tight budgets. The market for used GoPro video cameras surge right after Christmas, when GoPro enthusiasts receive the latest edition of the professional grade video camera. Patience plays a huge role in determining how much consumers pay for GoPro cameras.
GoPro Hero4 Raises the Video Camera Bar
Although the first three video camera models offered by GoPro capture professional grade images, many video camera experts effusively praise the GoPro Hero4 for its ultra high resolution and high frame rate capability. With a processor that possesses twice the power of previous GoPro models, the Hero4 raises the performance bar for a brand that already sets the standard for producing the highest quality images. The Hero4 captures images up to 30 frames per second. Built-in Wi-Fi and Bluetooth technology enhances user productivity. Photographers easily adjust settings to play back videos and still images to ensure optimal quality.
New Features of the GoPro Hero4
The GoPro Hero4 expands on the technological brilliance of previous models by providing photographers with nighttime photograph and time lapse capabilities. Even amateur photographers can capture the awe-inspiring Milky Way by customizing the exposure settings for single and time lapse low-light photographs. GoPro has dramatically improved the audio performance by including a state-of-the-art microphone that records pristine, hi-fidelity audio. Proprietary Protune provides photographers with the greatest GoPro control ever by including customized settings for color, exposure, and ISO limit.
Save Money with the GoPro Hero 3
The introduction of the GoPro Hero4 video camera has pushed aside the GoPro Hero3, which is a good thing for consumers in search of an affordable video camera that delivers top of the segment video quality. GoPro developed the technology behind the Hero3 to handle every type of film shooting environment, from capturing nighttime images in the wild to the daytime action of your favorite professional baseball team. The GoPro Her03 comes in three prototypes: White, Black, and Silver.
Here are the performance specifications for each of the three GoPro3 prototypes:
| | | | |
| --- | --- | --- | --- |
| Specification | GoPro3 Hero White | GoPro Hero3 Black | GoPro Hero3 Silver |
| Camera Capability | 5 MP | 12 MP | 11 MP |
| Wi-Fi Capability | Wi-Fi Built-In with Remote | Wi-Fi Built-In with Remote | Wi-Fi Built-In with Remote |
| GoPro App Compatible | Yes | Yes | Yes |
| Low Light Performance | No | Yes | Yes |
Further read: