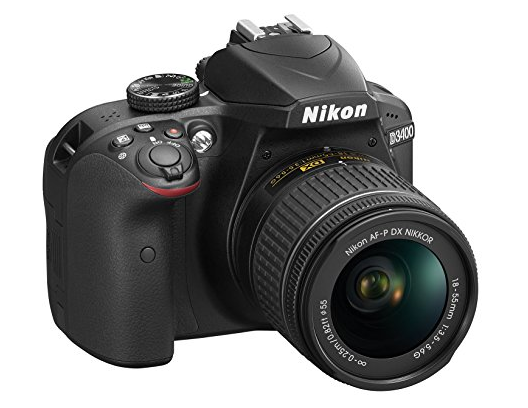 Reasons to Love the Nikon D3400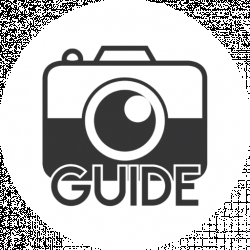 Latest posts by The Camera Guide Team
(see all)
Over the years, Nikon has been a leading manufacturer of cameras offering a wide variety of camera's, including a large number of digital single lens reflex or DSLR cameras.  These cameras are marketed towards both amateur and professional photographers alike and have been a very successful product line for Nikon.  Currently, Nikon's DSLR cameras are segmented into three distinct lines including the entry-level, enthusiast and professional lines.  The entry-level line is targeted towards new photographers or those photographers transitioning to a DSLR camera from a point and shoot compact camera.   The other two lines are geared towards more experienced photographers.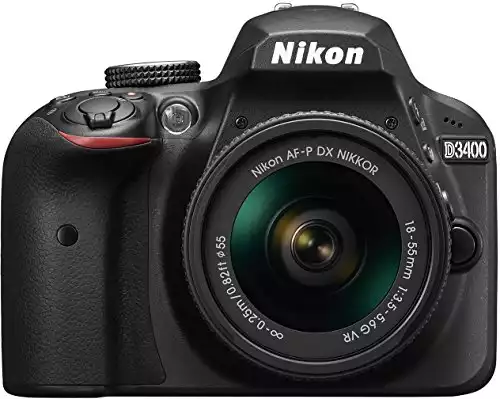 Nikon D3400 | Amazon
Photos and videos captured with the D3400 and a superb NIKKOR lens are as vibrant and lifelike as the moments they preserve.
Buy at Amazon.com
We earn a commission if you make a purchase, at no additional cost to you.
03/17/2023 04:01 pm GMT
A Little About the Nikon D3400
The most popular of the DSLR cameras in Nikon's entry-level lineup has been the D3300, which was first introduced in 2014.   The camera was very well received due to the outstanding image quality, ease of use and very affordable price, which was actually lower than many upper-end compact cameras.  As a result of technological advances, Nikon, as well as the other manufacturers, introduce incremental upgrades to their existing lines ups every year or two as a way to keep the product line fresh.  In August of 2016, Nikon introduced the D3400 as the upgrade to the D3300.
The D3400 is based upon Nikon's "DX" or cropped sensor format.  This format is very popular in price sensitive entry-level DSLR cameras, due to the lower cost to manufacture the smaller CMOS sensor, which measures 23.5 mm x 15.6 mm.  Although the D3400 features a smaller and less expensive sensor, the image quality found in the camera is second to none with images being captured at 24.2 megapixels, which makes the D3400 one of the highest resolution cameras in Nikon's current lineup.
Some Key Features of the Nikon D3400
ISO Range: One of the nicest features in the D3400 is the native ISO range of the camera, which is 100 – 25,600.  While the range cannot be expanded up or down, the D3400 offers exceptional image quality within its native ISO range, with the cameras performing very well even when high ISO settings are used.   The images retain excellent detail and crispness despite the software in the camera reducing noise.  This has always been a problem when shooting at high ISO settings and apparently Nikon has figured out how to reduce noise without reducing image detail even at high ISO settings.
Viewfinder: The D3400 features a decent eye-level pentamirror viewfinder that provides 95% coverage.  This means that the image seen in the viewfinder will be slightly smaller than the image captured on the camera's sensor.  This is not a big issue, but the photographer will need to be aware of this when composing images, as it will impact the edges of the final image captured.  Often it is easily remedied by simply cropping the image accordingly to clean up the edges of the picture, using one of the image editing software programs available today.
Autofocus: The D3400 offers a decent autofocus system for a camera at this price point, with the 11 autofocus points being evenly disturbed in the camera's viewfinder.  The autofocus points are quick and accurate, with the D3400 obtaining and holding focus easily.  While some photographers mat prefer more autofocus points, most will find that 11 points to be the perfect amount offering flexibility in selecting alternate autofocus points without making the viewfinder cluttered with the 50 or more points that are found in many other cameras.
EXPEED4 Processor: Once images are captured on the sensor they are processed as RAW or JPEG files by the camera's capable  4 processor.  The D3400 features a frame rate of 5 frames per second and are written to the camera's single memory card slot, which holds a SD, SDHC or SDXC card.  As far as shutter speed is concerned, the D3400 is somewhat limited, with a range of 1/4,000 to 30 seconds.  While not particularly fast in regards to frame rate and shutter speed, the D3400 is suitable for most sports and action types of photography.
Built-in Scene and Effects: One of the really nice features of the D3400 is the various built-in scene and special effects functions that the photographer can easily select using either the camera's top dial or menu system.  The scene modes have the ideal ISO setting, aperture and shutter speed programmed into the camera to maximize the image quality of the scene selected.  As one would expect, the camera also features the standard exposure modes, including aperture-priority, program, and shutter priority.  As the photographer gains more experience they can use the camera's manual settings to take total control of the camera.   The only downside to shooting the D3400 in manual mode is the need to navigate the camera's menu system to make the appropriate selections.  While not difficult to do, it is somewhat slow and time-consuming.  On more expensive cameras, the photographer can make these selections by using the various dials and buttons on the camera.
LCD Display: The D3400 features a 3.0" fixed rear LCD display, which is used to preview images, as well as to navigate the camera's menu system and compose images using "live view".   Unlike other cameras, the Nikon D3400 rear LCD display is not a "touch screen", which is becoming a very popular feature on DSLR cameras, even at this price point.
Video: As one would expect, the D3400 also has decent video capabilities and is able to shoot in a variety of formats including full HD.   In this format, the image frame size is 1,920 x 1,080 with a frame speed of 24 – 60 frames per second.  Video images are captured as .MOV files.  Although not the newer 4K video format, the video shot with the D3400 was very good and would meet the needs of most photographers that casually shoot video.
Interestingly, the D3400 does not have a built-in sensor cleaner, instead relying on internal software to remove any dust from the image.  How this will be received in the long term is still up in the air, however, most photographers will more than likely opt for a periodic cleaning of the camera at a Nikon Service Center.  The D3400 does feature a built-in flash unit, which is good in low light situations, as well useful for fill in flash to eliminate shadows in normal lighting situations.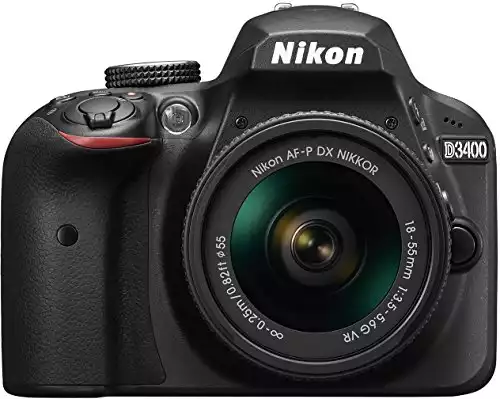 Nikon D3400 | Amazon
Photos and videos captured with the D3400 and a superb NIKKOR lens are as vibrant and lifelike as the moments they preserve.
Buy at Amazon.com
We earn a commission if you make a purchase, at no additional cost to you.
03/17/2023 04:01 pm GMT
While the camera does not include a built-in GPS or WIFI unit, the D3400 does feature what Nikon calls SnapBridge, which allows the camera to send images via Bluetooth® to a smartphone.  This will be a very popular feature, as it will allow high-quality images to be uploaded almost immediately to social media platforms such as Instagram and Facebook.
Size: One of the best features of the D3400 is the camera's small size and very light weight, which is due to the camera's plastic construction.  Measuring 4.9"x 3.9" x 3.0" and weighing 14.0 ounces, the D3400 is perfect for traveling, as well as carrying on a daily basis in a small bag or backpack.  There is really no reason not to carry it 24/7 as it is so small and light!  Despite the small size and light weight the D3400 handles very well and is comfortable to handle using a variety of lenses, including the included AF-P DX Nikkor 18 – 55mm f/3.5-5.6G VR kit lens.
Nikon D3400 Specifications at a Glance
While most photographers look at image quality over technical specifications, many feel that the specifications are equally important.  The Nikon D3400 has excellent image quality, as well as technical specifications, which are shown in the table below.
| | |
| --- | --- |
| Item | Nikon D3400 |
| Year Introduced | 2016 |
| Format | DX |
| Megapixels | 24.2 |
| Sensor Type | CMOS |
| Processor | EXPEED 4 |
| Image Format | RAW and JPEG |
| Sensor Size | 23.5 mm x 15.6 mm |
| Sensor Cleaner | No |
| Auto-focus Points | 11 |
| Scene Modes | Yes |
| Creative Exposure Modes | Yes |
| Metering | Matrix 3D |
| Exposure Modes | Aperture Priority (A), Auto, Auto (Flash Off), Manual, Programmed Auto With Flexible Program (P), Scene Modes, Shutter-Priority (S) |
| View Finder Type | Eye-Level Pentamiror |
| View Finder Coverage | 95% |
| Live View | Yes |
| Frames Per Second | 5 |
| ISO | 100 – 25,600 |
| Lowest Expandable ISO | N/A |
| Highest Expandable ISO | N/A |
| Shutter Speed Range | 1/4,000 – 30 Seconds |
| Built In Flash | Yes |
| Card Slots | 1 |
| Card Type | SD, SDHC, SDX |
| LCD Size | 3.0" |
| LCD Fixed or Swivel | Fixed |
| Video | Yes, Full HD and Other Formats |
| Video Type & Speed |  1,920 x 1,080p at 60/50/30/25/24 Frames Per Second |
| Video Format | .MOV |
| Internal Autofocus Motor | No |
| GPS | Optional Accessory |
| Wireless | No |
| WIFI | No |
| Battery | EN-EL14a |
| Battery Life | Approximately 1,200 Still Images |
| Body Construction | Plastic |
| Unique Features | Bluetooth / SnapBridge Technology |
| Size Without Lens | 4.9" x 3.9" x 3.0" |
| Weight Without Lens | 14.0 oz. |
| Manufactured In | Thailand |
| Body Only or with Kit Lens | Sold as kit only |
| Included Accessories | EN-EL14a Battery, NH-24 Battery Charger, DK-25 Rubber Eyecup, AN-DC3 Camera Strap, BF-1B Body Cap, NikonView NX2 CD ROM |
| Cost, Body Only | NOT Available |
| Cost With Kit Lens (Lens Varies) | Starting at $649.95 with 18-55 VR II Lens.  One Other Kit Option Is Available. |
*Information from the Nikon USA websites, including pricing.
The Final Frame: My Overall Recommendation
In conclusion, the Nikon D3400 is a great camera and should be looked at by anyone considering a DSLR camera.  It is also a great value with a suggested retail price of around $649.95 for a camera body and an AF-P DX Nikkor 18 – 55mm f/3.5-5.6G VR kit lens. While the camera is targeted more towards beginners, more experienced photographers will appreciate its image quality, ease of use, small size and the light weight that the D3400 offers.  Nikon hit a home run with the D3400 and it is easy to see why they pulled the D3300 so quickly from their entry level DSLR lineup!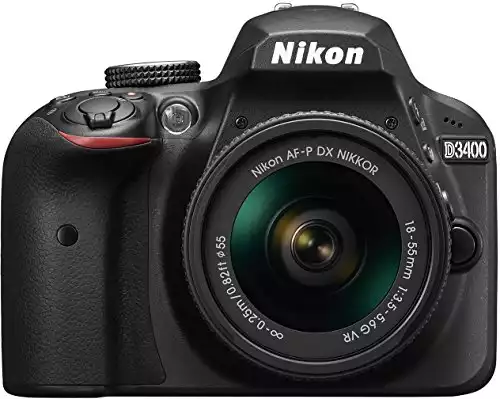 Nikon D3400 | Amazon
Photos and videos captured with the D3400 and a superb NIKKOR lens are as vibrant and lifelike as the moments they preserve.
Buy at Amazon.com
We earn a commission if you make a purchase, at no additional cost to you.
03/17/2023 04:01 pm GMT