The Best Lowlight Camcorder – Lowlight Camcorder Buying Guide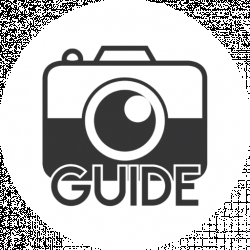 Latest posts by The Camera Guide Team
(see all)
These days, finding a great camcorder to record everything from sporting events and family vacations to film projects and video broadcasts is easy. There are many great devices out there, and you can find one that provides you with all the functionality you need without breaking the bank. However, if you need a camcorder that can film under specialized conditions, such as in low light, it may take a bit more effort and research to locate exactly what you're looking for.
What makes a camcorder great for low light conditions?
Before getting started, it's important for you to understand what makes a camcorder ideal for low light conditions. Understanding that can help you make the best possible purchasing decision, as you will have a much better idea of what to look for as you start shopping.
A low light camcorder functions by optimizing the amount of light that is directed into the lens. Because of this, the larger the lens of the camcorder, the more light it is able to gather, even in lower light conditions. This is a great visual cue that the camcorder you are interested in is a sound choice for this type of filming. Likewise, a larger aperture will take in more light, so look at the aperture dimensions as well.
You can also tell how much light a camcorder needs to properly record by looking at the lux rating. The lower the lux rating of the camcorder, the less light it will need in order to operate. That makes this the single most important measure of whether or not a camcorder is right for your needs.
Other factors to look at include whether the camcorder has an optical zoom and whether or not you have the option to lower the camcorder's frame rate. An optical zoom, as opposed to a digital zoom, operates by making use of the entire imager to create an image rather than compressing the existing image. This reduces the amount of light that is wasted, which is important when filming in low light conditions. Meanwhile, the ability to lower the frame rate will allow you to ensure that each frame is getting enough light for you to be able to create a high quality image.
Fortunately, there are some great lowlight camcorders out there, all of which film in HD and that can provide you with incredible quality no matter where you intend to film. These five stand out from the rest and can be a great camcorder pick for anybody who needs to film in spaces such as theaters, at nighttime events, or in any areas where a large amount of light simply isn't possible.
Choosing the Best Low Light Camcorder for You
There are plenty of camcorders that perform well in low light conditions, each with its own set of benefits that will make it especially appealing to certain types of shoppers.
Consider how you plan to use your camcorder prior to making a purchasing decision. Do you want to film your favorite concerts, or perhaps make quality video recordings of theater productions or recitals? Do you need a camcorder that can accurately film nighttime sporting events? Or do you want a camcorder that you can use to film high quality, artistic films for sharing online?
How you plan to use your camcorder is up to you, but by keeping these considerations in mind you can make a quality purchase that will give you everything you need out of your camcorder for years to come.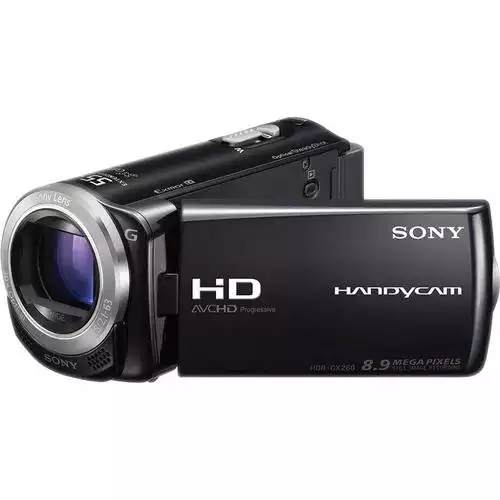 Sony HDR-CX 260V | Amazon
This camera shoots Full HD 1920 x 1080/60p video and can capture 8.9 megapixel still images as well. It features 16GB of embedded flash memory, which provides up to five hours of recording.
Buy at Amazon.com
We earn a commission if you make a purchase, at no additional cost to you.
Reviewers of this entry in Sony's Handycam line of camcorders have one thing to say – this is an amateur level camcorder that offers professional quality and a host of features that will help you capture incredible videos.
The biggest reason this camcorder is a top performer even under low light conditions is its Wide Angle G lens, which can help boost the performance of your videos no matter where you take them. This is helped by a host of other features offered by the Sony Handycam, such as image stabilization.
However, for amateur users one of the biggest benefits of the Sony Handycam HDR-CX260V is its Intelligent Auto detection system, which automatically adjusts the settings of your camcorder for you to take into account the conditions under which you are filming. That means you can seamlessly move from daytime to nighttime to indoor filming while getting a crisp, clear image every time.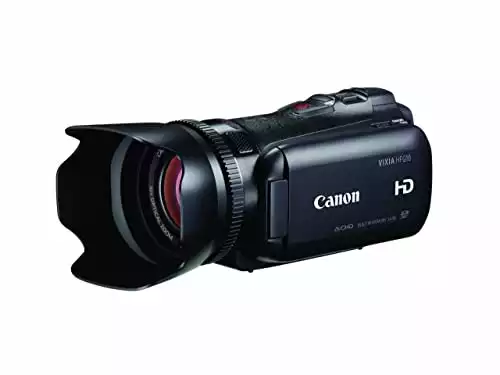 Canon VIXIA HF G10 Full HD Camcorder | Amazon
The VIXIA HF G10 allows you to record up to 12 hours of clear high definition video to a 32GB internal flash drive or to two SDXC-compatible memory card slots.
Buy at Amazon.com
We earn a commission if you make a purchase, at no additional cost to you.
03/17/2023 05:28 pm GMT
While the Canon Vixia comes in at a higher price than others, it is still a great camcorder for low-light conditions, and can be a good buy for amateurs looking for something to move them up to the next level in terms of film quality.
The Vixia comes with a Canon 10X HD lens featuring an 8-blade iris and manual focus ring that makes it perfect for capturing light – it's easy to tell that this is a camcorder optimized for low light conditions at a glance. Of course, it's not only the lens that makes this camera a top performer in low light conditions. With a 1.5 lux performance, this camcorder is ultra-sensitive, and will take incredible videos even in areas that are dimly lit.
Various other features back up the lens and lux rating of the camera, which helps to make it a great camcorder to use overall. Buyers are especially pleased with the Vixia's automatic backup feature, 32GB internal flash drive, and easy to use touch panel for seamless operation of the device.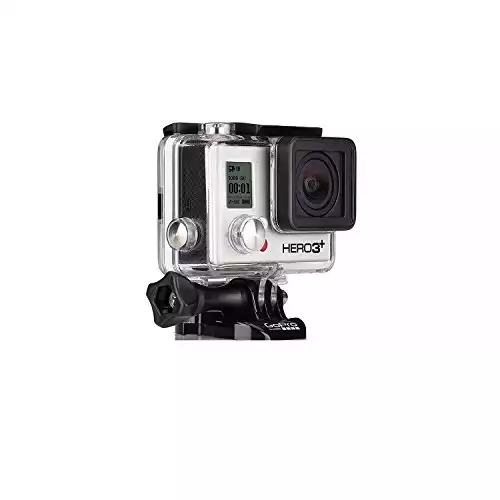 GoPro HERO3+ Black Edition | Amazon
Professional 4K30, 2.7K60 and 1080p120 video, 720p240 video for super slow-motion playback and 12MP photos at up to 30 frames per second.
Buy at Amazon.com
We earn a commission if you make a purchase, at no additional cost to you.
03/17/2023 04:47 pm GMT
The GoPro is obviously not for everyone, but those who are looking to capture stunning outdoor shots –especially action shots – should at least give this device a look. Best known for being the preferred camera of adventurers everywhere, the GoPro is perfect for skateboards, surfers, bikers, and wildlife experts, both amateurs and professionals alike.
Because it's made with the great outdoors in mind, the GoPro is also an exceptional contender when it comes to capturing high quality video even in low lighting conditions. The GoPro HERO3+ makes it even easier to capture video in low lights with an Auto Low Light function that detects dim conditions and makes its own adjustments as necessary, making sure you never miss out on the action as you capture video wherever you go.
For those seeking a multi-functional camera option, the GoPro probably isn't the best choice. However, there is no better camcorder for those who primarily want to put their life's adventures on film.
You might also be interested: GoPro Models Compared – Which is the Best GoPro for Me?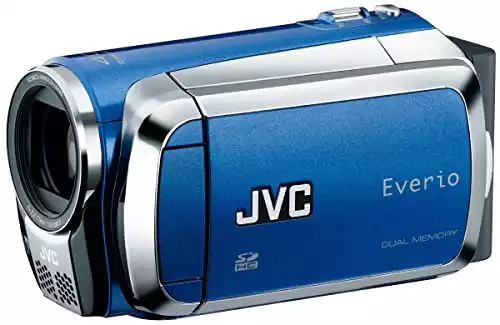 JVC Everio GZ-MS120 Dual Flash Camcorder | Amazon
The JVC Everio GZ-MS120 has a dual pair of SD/SDHC card slots and offers continuous recording. When recording with the dual-slot GZ-MS120 in the highest quality mode (Ultra), recording capacity ranges from 3.7 hours using a pair.
Buy at Amazon.com
We earn a commission if you make a purchase, at no additional cost to you.
Shoppers on a budget don't have to settle when it comes to finding a camcorder that can take videos in low light conditions. The JVC Everio is easy to use and comes with an array of options, including dual SD slots for capturing large amounts of data and one-touch uploads to Youtube.
Compared to other models, the JVC Everio can be considered a true point-and-shoot model of camcorder – there are few settings and few adjustments to be made apart from the preinstalled settings, which include options for night and twilight, among others. However, these preinstalled settings make it simple for even a rookie videographer to accurately capture videos in dim lighting conditions.
While it may not be outstanding in very low lighting, it excels with only a moderate amount of indoor or artificial lighting, so it's a safe bet for those in need of an affordable camcorder that can handle a fair amount of work. All in all, this camcorder is a top-notch option for those who need an affordable camcorder that works well in low lighting.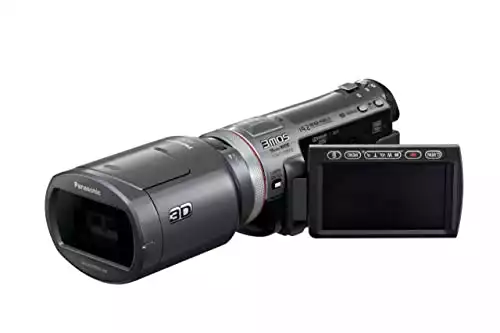 Panasonic HDC-SDT750 High Definition 3D Camcorder | Amazon
Recording 3D images is now as easy as attaching the 3D conversion lens that comes with the worlds first. Powerful, true-to-life 3D images like those created by Panasonic 3D recording technologies for use in Hollywood movies can now be easily recorded and viewed at home.
Buy at Amazon.com
We earn a commission if you make a purchase, at no additional cost to you.
The first and most noticeable thing about the Panasonic HDC-SDT750 is the fact that it comes with a 3D conversion lens in the box, allowing users to take high-definition 3D videos of all their favorite scenes. And while that may be enough to sell many buyers on this offering from Panasonic, the reasonable price tag for a camcorder of its caliber combined with its ability to shoot great video even in low lighting conditions definitely earns it a spot on the lists of top lowlight camcorders on the market.
While the low light performance of the camera is diminished in 3D mode, largely due to a lack of control over the aperture, in 2D mode users will be treated to crisp and clear high definition and incredibly faithful color rendering. As a matter fact, some critics have said that the 2D filming capabilities of this Panasonic, even in lower light conditions, make it one of the best consumer-grade camcorders on the market.
It is important to note that this Panasonics range of modes and features make it better suited for those who have a good working knowledge of camcorders and camcorder settings. Though an automatic mode is available, it can take some know-how to operate the full range of features this camcorder has to offer. However, those who know their way around a camcorder and those who are willing to learn the ins and outs of some of the video recording basics will quickly find that this Panasonic has plenty to offer.
Further read: