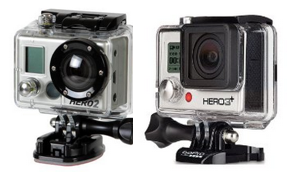 GoPro Hero 2 vs Hero 3 – Which GoPro is the Best Value?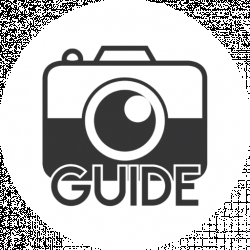 Latest posts by The Camera Guide Team
(see all)
Wearable action video cameras and camcorders are everywhere these days, especially in action sports. These are worn in helmets for any other reason that requires footage or stills while the wearer is in motion. These action cameras need to be able to take a beating and still shoot the right kind of footage combined with the right sound. GoPro is a company that designs and manufactures such cameras, incorporating high definition audio and video to its products while still keeping them durable and of the highest quality possible.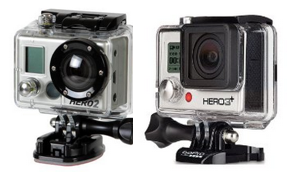 When they first started producing the Hero series, while the cameras themselves were magnificent, their users began complaining about the complexity of their usage and the difficulty they had in understanding what they had to do to learn to use them properly. GoPro resolved to correct the problem in their next series of products, while simultaneously incorporating any technological advancements. The results were the Hero 2 and Hero 3 model series.
But which of the two series is the best and why? Let's have a head-to-head Hero 2 vs Hero 3 comparison to find out.
The model was designed to incorporate new optics, new video and still-photo shooting modes, while still keeping compatibility with the accessories of the earlier HD Hero model. The major change occurred in the user interface design, which was made much clearer and much easier to understand making it simple for new users to utilize the product. However, it is believed that there is still a lot of requirements to improve the UI design as first time users still often complain of issues and confusion about how to use the product.
Out in the market you can find the outdoor edition available here and the motorsports edition for less here. Both prices include relevant accessories in the packages.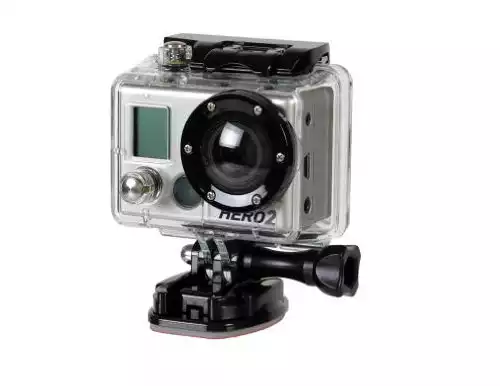 GoPro HD Hero2 Surf | Amazon
The HD HERO2 Surf Edition is the most advanced GoPro camera yet. Wearable and surfboard mountable, waterproof to 197&prime (60m), capable of capturing professional full 170º wide-angle 1080p video and 11-megapixel photos at a rate of 10 photos per second.
Buy at Amazon.com
We earn a commission if you make a purchase, at no additional cost to you.
03/17/2023 08:00 pm GMT
Hero 3 was designed to incorporate the latest technological advances like Wi-Fi connectivity, ultra high resolution modes and all the advancements in the high frame rates for the standard high definition resolutions. But this did not come without a serious of drawbacks.
While the user interface remained simple and clear, learning to use the new model and all its controls takes significantly longer, as there are more options available for the same features and additional new characteristics to identify and manage. Some users find this as a benefit, but most complained as multiple features left them confused as to which one to choose.
Hero 3 is out on the market in three different versions. The White and Silver Editions, which are considered as the standard ones, and the Black Edition which has been redesigned to be faster and support even more features, and at this time it ranks as the top product available of its class.
The White Edition is most affordable at around $199.99, while the Silver is available at around $299.99. For those interested in the Black one, it goes as high at around $399.99. At these prices there are no accessories included in the packages and must be purchased separately.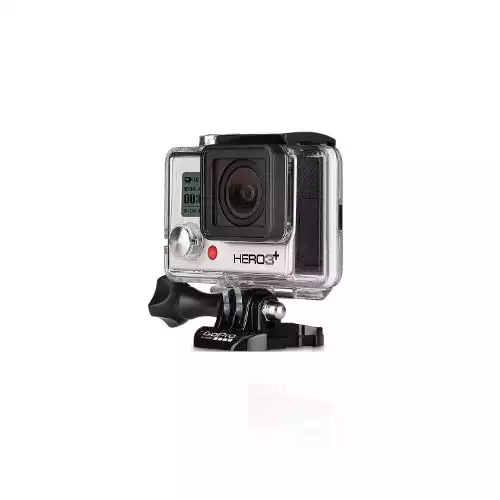 GoPro HERO3+ | Amazon
This camera combines excellent HD video with recording options up to 1080p at 60fps and the same design as the company's other cameras so you have access to a large selection of accessories and mounts.
Buy the Silver Edition
Buy the White Edition
We earn a commission if you make a purchase, at no additional cost to you.
03/17/2023 04:08 pm GMT
Specifications Comparison Table
The Hero Black Edition is a different product altogether, and it cannot be compared with the other models.
For those that want to choose between the HD Hero 2 and the HD Hero 3 products, the comparison is between the Hero 2 and the Silver and White editions of Hero 3 only.
Specification
Hero 2

                           Hero 3

White
Silver
Effective Photo Res.
11 Megapixel
5 Megapixel
11 Megapixel
Effective Sensor Res.
11 Megapixel
5 Megapixel
11 Megapixel
Lens type
f/2.8
f/2.8.6
f/2.8.6
Max View Angle
170 degrees
180 degrees
180 degrees
Video Format
H.264
H.264, .mp4
H.264, .mp4
Supported resolutions
1080p – 30 fps
1080p – 30,25 fps
1080p – 30,25,24 fps
960p – 48,30 fps
960p – 30,25 fps
960p – 48,30,25 fps
720p – 60,30 fps
720p – 60,50 fps
720p – 60,50 fps
720p – 30,25 fps
720p – 30,25 fps
WVGA – 120,60 fps
WVGA – 60 fps
WVGA – 120 fps
Underwater depth
Up to 197 feet
Up to 197 feet
Up to 197 feet
Wi-Fi
Built in
Built in
Price

Hover Here

Hover Here

Hover Here
At this point it should be mentioned that all cameras of the Hero series have the same physical dimensions which makes it easy to use the same GoPro accessories for various uses. In reference to other physical properties, Hero 3 is 25% lighter in weight than Hero 2 which results in a reduction of the shell depth to just 20 mm.
The specifications comparison makes it clear that the Hero 3 White edition is more flexible than Hero 2 in reference to what it can support, but at the cost of lower image resolution. On the other hand the Silver edition, is easily a better model, supporting more features than the Hero 2 without the loss of resolution.
Image Processing Comparison
The most important feature for any camera is the quality of the images and videos it produces. This is a result of the power of the image processor that each camera incorporates.
Hero 2 introduced a new processor that does a much better job of adjusting light sources of various intensities in the same photo or frame. It also renders colors more neutrally, than the earlier models. The same processor has been used for the Silver Edition of Hero 3, while the White Edition was fitted with a lower-capped one.
Other Features Comparison
The three models in comparison have quite similar characteristics and benefits but vary in a few key details. It would be of no use to list the similarities. Instead it would be better to focus on the significant differences. These are:
The Recording Times
The 1,100 mAh Li-Ion battery of Hero 2 allows for 2.5 hours of video recording at 720p at 30 frames per scond. On the other hand the 1,050 mAh batteries of both Hero 3 editions allow for an average of 9.6 hours of recording at the same resolution.
The Supported Memory Cards
Hero 2 requires SDHC memory cards, while the Hero 3 models require microSD memory cards class 4 or higher (class 10 is required by both White and Silver editions for time-lapse photos). The Hero 3s also support greater capacity cards, reaching 64GB compared to the 32GB of the Hero 2, which is probably an additional reason for the greater recording times.
The Photo Burst Mode
This is the number of photos that each camera can take in a single second. Hero 2 and the Silver edition can take up to 10 full 11MP photos while the White Edition can take only 3 and at 5MP.
The 1080p Image Rendering
Hero 2 uses some sort of digital zoom to compensate for the fixed focal length of the lens. This results in 1080p video graining with visible pixelation in narrower than full wide FOVs (field of view). This pixelation and graining are not visible at the Hero 3 models.
Conclusion: Overall Recommendation for Hero 2 vs Hero 3
The Hero 3 white edition was designed and produced to address the occasional novice to knowledgeable non-professional users that needed a good camera to upload their footage and photos to YouTube or Facebook, at an affordable price, but without any expectations or needs for anything more than that. The 5 Megapixels camera is more than enough, as higher resolutions do need appropriate monitors for viewing. Monitors that are not available to the everyday YouTube and Facebook user.
On the other hand, Hero 2 and Hero 3 Silver Edition, were designed and produced to address more advanced users and semi-professionals that needed more video quality and more depth of image and footage to edit and produce.
They are both more expensive than the White Edition and for good reason. The Silver Edition's have more to offer. They may require special software to edit the high resolution footage to become viewable at all kinds of monitors, but people that go through such purchases, also have (or should have) the appropriate technical knowledge and expertise to know what other appliances are required to view their work.
The Silver Edition goes a little further than Hero 2, incorporating better communications and more flexibility. It may take a little more browsing around the menus, to learn how to use it but it is worth the time. With the addition of a few necessary accessories, the total price may be higher but it is also well worth it for a better buy altogether.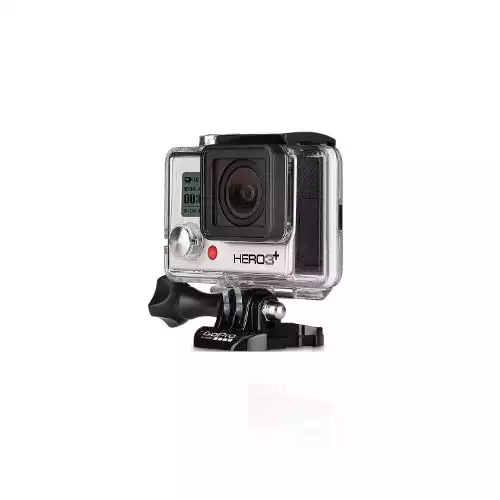 GoPro HERO3+ | Amazon
This camera combines excellent HD video with recording options up to 1080p at 60fps and the same design as the company's other cameras so you have access to a large selection of accessories and mounts.
Buy the Silver Edition
Buy the White Edition
We earn a commission if you make a purchase, at no additional cost to you.
03/17/2023 04:08 pm GMT