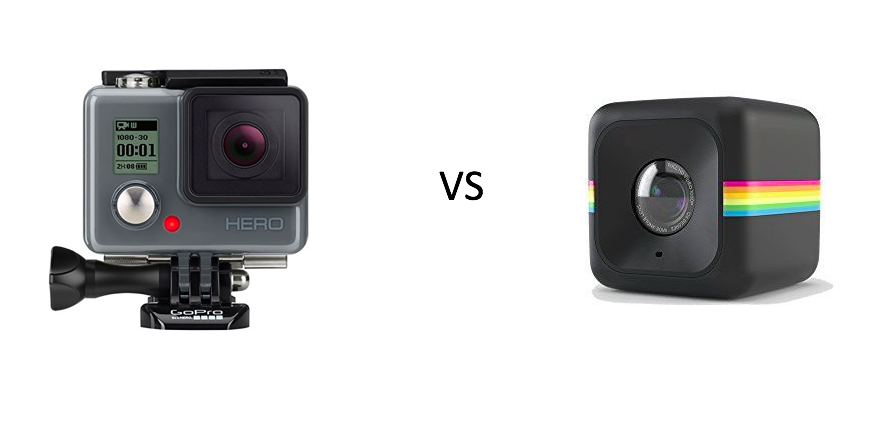 Adventures Await! Reasons to Love the Polaroid Cube vs. GoPro HERO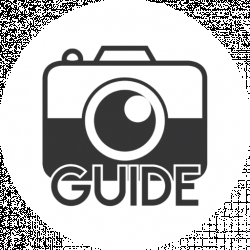 Latest posts by The Camera Guide Team
(see all)
Polaroid has been a leader in the camera and photography market for many decades. Let's look at two of the top contenders, namely the Polaroid Cube and the GoPro HERO. While many companies such as GoPro have attracted a lot more media attention in recent years, Polaroid is still going strong and providing a wide range of products that offer innovative technology and excellent functionality. For the last several years, action cameras have been a focal point of the photography equipment market in response to more consumers wanting cameras that can keep up with their active lifestyle.
GoPro has built much of their name recognition based upon offering cameras that allow users to capture amazing photos while they are skiing, skydiving, biking or participating in a wide range of activities. In fact, many of the action cameras that are available today are so versatile you can use them for almost any type of application that you can dream up and you are only limited by your imagination or the laws of gravity.
However, while GoPro and others might be the names most think of first when it comes to action cameras, Polaroid has decided to try to make its mark in this niche industry by offering its own version of action camera, the Polaroid Cube. So can Polaroid offer an action camera that stacks up to what many consider one of the leading products in this niche industry, the GoPro HERO? Let's have a closer look and find out.
Design — The HERO
The GoPro HERO is a very popular action camera that is considered the entry-level model of the GoPro product line. The unit comes with a camera mounting system that made GoPro a household name as well as a case that is waterproof. GoPro has made some improvements with this model, the most noticeable of which is the open back. This improvement makes a much bigger difference than one might imagine as the rear of the camera is where the microphone picks up and records sound from.
Previous GoPro models offered a backside that was sealed which had a significant effect on audio recording and many times it made audio recordings sound muffled and unclear. Included in the HERO box are self-adhesive mounts, a mini USB charging cable, several stickers and a HERO action camera instruction manual. There are other accessories available at additional costs that cover a wide variety of purposes.
The GoPro HERO is relatively small, is rectangular in shape and looks very similar to many of the digital cameras and video recorders today.
Design — The Cube
The Cube
looks much different from the HERO as it is literally cube-shaped, hence the name "Cube". The entire body of the Cube is rubberized and the wide angle lens is indented and protected by the surrounding rubber covering. The lens is capable of providing one hundred twenty–four degrees of viewing coverage and the overall size of the Cube is even smaller than the HERO. In fact, it is easily carried in one hand. The rubberized covering isn't just for show either, as it actually is designed to be shock-resistant. It can handle being drops and bumps that are mild without damaging the exterior or functionality of the camera. A very convenient design feature of the Cube is its magnetic mount on the bottom of the unit. The magnet will help keep the camera fixed in place to any number of objects and can provide a lot of spur of the moment functionality.
The covering is water resistant but not waterproof, although Polaroid does offer a waterproof case as an additional accessory and at an additional cost. The Cube is available in three different colors and no matter what color you choose, you will get the iconic Polaroid rainbow band that wraps around the sides of the Cube. At a glance, the controls for the Cube are simplistic as it comes with only one button and one switch to worry about.
Polaroid's intention with the Cube is slightly different than GoPro's HERO. They actually call it a "lifestyle action camera" and hope at appeals to a larger market other than just the extreme sports niche. Their goal was to provide a camera that allows for instant sharing, be it to share family photos while you are at a reunion or capturing action shots while you are skiing down the side of a mountain.
Features
Both cameras have microSD slots and can accommodate storage cards that are 32GB or smaller in size. The GoPro HERO offers a 5-megapixel resolution and the Cube actually is a small cut above in this category with 6-megapixels. A significant difference in functionality between the two systems is their resistance against water and their ability to operate in water environments. The GoPro comes with a case included and is waterproof up to forty meters. The Cube is only water resistant up to six feet and even if you purchase the available waterproof case, it is only good for up to ten meters.
This obviously presents a very large difference in how you can use each camera. If you use an action camera primarily on the water, especially at any type of significant depth, then the Cube is not going to be a good fit for you.
A second factor that may help you decide between models is the battery life. The Cube can only record for a maximum of ninety minutes while the HERO can run for over two hundred minutes. For some, this may not present a huge problem if you have a pretty good idea of when and how you will be using the unit. However, for others that do a lot of spur of the moment filming, this could be a huge factor in how satisfied you are with the overall user experience. Finally getting a big jump or action shot ready only to have your recording device run out of juice is enough to make some people switch models immediately.
Overall, the HERO offers a lot more options and features compared to the Cube. The Cube is probably better for users that are less experienced and do not need the higher level functions and more complicated settings the HERO offers. Much like its two button only design, the Cube is much more straightforward and users do not have to worry about getting each little setting right before snapping their first picture or recording their first video. We wouldn't necessarily classify as a "point and click" camera but it is probably about as close as it gets in the action camera market.
Final Thoughts
The price point of both cameras is relatively close, with the HERO coming in at around $130 and the Cube priced at $100. It is pretty easy to justify the price difference based on the accessories included with the purchase of the HERO and the additional features it can offer. Which model is best overall probably largely depends on the user and how they will be using the camera. If a user is more inclined to enjoy a setup that is simpler with fewer options then the Cube makes sense.
If a user is an experienced photographer that has a use for the additional waterproofing capabilities and features of the HERO then the extra thirty dollars is well worth it. Each camera offers an excellent value in our opinion but carefully considering how and where you will be using the unit will most likely determine if a particular model ends up being a great value for you.