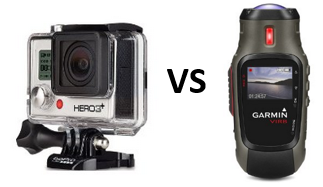 GoPro vs Virb – Is the Garmin Virb a Legit Competitor for the GoPro?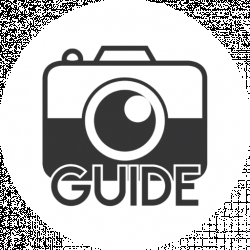 Latest posts by The Camera Guide Team
(see all)
Let's face it, GoPro has hit it big!!  The company developed a product that captured the imagination of the people who used to capture footage of the extreme sports that potential customers were involved in, so that they didn't have to try to explain the bunny hops and wheel stands that they enthralled their friends with; they could show then the footage.  Your happy chaps were on camera for all to see!!
The forerunners of the GoPro series were developed by Nick Woodman and his company Woodman Labs and it proved to be a big success.  So big in fact that it soon attracted the attention of other manufacturers and it wasn't long before the market was awash with many competitor variants of the GoPro, some almost as good, some not so good.
Garmin were already in the electronics market when GoPro came along, producing navigational equipment and making a name for themselves as the manufacturers of professional equipment.  Following the success of the GoPro, the company decided that the mobile camera market was one that they wanted to be in as well, and launched their own range of personal video and still cameras.
Both companies have come on a long way since then and so have their products; the latest GoPro's and Garmin's are hitting the stores and there is lots to smile about.
GoPro Hero Three+ Black Edition Overview
Weighing in at 25% less than previous hero models and 30% smaller the Three+ black Edition is much more comfortable to wear, even for extended periods even if your chosen sport or activity tends to throw your head around.  For those about to raise an objection about its compatibility with ancillary items like head sets and handlebar mounts etc., worry no more as the size reduction doesn't affect the height and width so it will still fit neatly into whatever holder you already own.  The Hero Three+ Black Edition has been designed for high resolution and can capture HD in still, burst or video modes.
Speed and resolution are what marks the Three+ Black Edition out.   It has a High-resolution, high-frame rate sensor offering 1440p48, 1080p60, 960p100 and 720p120 video modes which result in professional quality footage and allow for silky-smooth slow motion playback of your captured footage. It also offers 4Kp15 and 2.7Kp30 enable ultra-high-resolution, cinema quality capture.  The uncluttered front has a small but surprisingly clear LCD and two indicator lights – a red one to indicate that the unit is recording, and a blue one to show Wi-Fi connectivity.
GoPro have treated sound quality is as important as image quality. The Black Edition features upgraded audio performance, capturing even the most subtle of sounds – whether you're recording voices, music or the mechanical clatter of your wheels on a jaw-dropping downhill run. In addition, advanced wind-noise reduction technology keeps the audio clearer during high-speed activities.  And now you can do it all for longer as the Hero Three Black Edition has a battery that lasts a whole 30% longer than previous models.
The Hero 3 can be mounted in an almost bewildering array of places, helped by a swath of mounting brackets, which now includes a 3-way pivot arm, which lets you support the camera facing pretty much any way you please and always be in place for the action.
Garmin Virb Overview
Garmin are already a major player in the field of consumer electronics, and were keen to make it in the personal camera market, dominated by GoPro.    The Garmin is chunkier than the newly slimmed down GoPro Hero, but it always feels as though it is purposeful rather than unwieldy and it never gets in the way of the action.
The Garmin is only rated to IP67 – that means that it will repel the ingress of dust but is only able to withstand immersion in water to a depth of 1 metre and for a user-defined time.  Garmin define that time as around an hour, preferably less, but that is way better than the GoPro which isn't watertight to any depth or duration without its specialist case fittted.  With its watertight case in place the Hero+ is rated to 40 meters depth and even that is a reduction on the previous range of GoPro's!  The Virb can be used underwater with the use of a special case so it will still be of interest to the surfing/Kayaking user group.  The Virb has a number of video settings, ranging from high definition 1080p/30 through 960p and 720p, both of which you can have at an excellent 60 frames per second setting. There's a slow-motion setting (120fps) but only at the much lower 480p resolution, and you can also set the camera to time lapse in a number of increments up to a minute. Still photographs have a maximum resolution of 16MP and there are a number of lower quality 8MP option too.  Its work mentioning that the Virb has a capacity of three-hours record time, compared to the 2 hours for the Hero 3.
Like the GoPro Virb Elite is Wi-Fi enabled too, and you can use the new Virb app on either a smartphone or tablet to take control of it.  That's much more of a positive issue than you may first suspect.  Imagine that you have the camera set up in some spot rather than on the handlebars of your bicycle and want to fire the camera at a specific time – the app lets you do that. The Wi-Fi connection is fully functional over quite a distance so you can set up the Virb somewhere, turn it on with your phone and ride past it for some off-the-bike footage to cut into your epic. You can also control the Virb Elite via another Garmin device such as an Edge computer, or with the dedicated remote which is available separately.
Garmin have produced a number of adaptors that allow your Virb to fit into a range of GoPro mounts, so if you already have one of the GoPro range and are looking to change or even expand your camera range, you don't necessarily have to spend out on a new series of mounts too.
Pros & Cons
GoPro Three+ Black Edition
| | |
| --- | --- |
| Pros | Cons |
| Improved image quality over original HERO3+ | LCD screen is only an optional extra |
| Super-special SuperView mode included. | External microphone requires USB adapter |
| Only 15 frames per second on 4k video mode. | Pretty expensive |
Garmin Virb
| | |
| --- | --- |
| Pros | Cons |
| ANT+ sensor and App remote connectivity for ease of taking footage on the go. | No live internet streaming facility |
| GPS allows lets you note your speed and position. | Image quality not up to the GoPro Hero 3 standard |
| It looks and feels rugged. | No zoom feature! |
Conclusions: Which is Best? Virb or GoPro?
GoPro's are regarded as the pinnacle of action cameras for a reason and most others are playing catch-up, but the gap is getting smaller all the time and the Garmin Virb demonstrates how small that distance is.  The fact that the Virb still isn't up to the image quality of the Hero3 becomes a bit of a moot point because its image quality is still pretty good and you're unlikely to miss much of the action on video mode, or detail if taking stills.
Neither camera ids fully waterproof out of the box but the Garmin will put up with immersion to 1 metre for an hour whereas the GoPro wont.  You can get aftermarket cases to make them so but they are an extra expense.   The real benefit of the Garmin is the ability to operate it remotely – and with an App too from your smartphone – and that makes a huge difference.  We were impressed with this as it allows full control of the camera remotely and with precision so you can set the Virb up and let the action come to you.  We only wish that someone had the foresight to include a zoom function too, but maybe Garmin will see this pretty big lapse and fix it on the next design iteration.  The Virb includes a mounting plate that makes it compatible with GoPro mounts, so if you already have a GoPro and are looking to either upgrade or replace, that fact puts the Garmin firmly back in the running.
The GoPro is a good camera and the brand will already have a huge following but the out-of the box water-resistance, the Wi-Fi, and the ability to use GoPro mounts together with the fundamentally lower price edge it out in front of the GoPro in this model test. This comes as a bit of surprise, even to us! We were fully expecting to like the GoPro more at the outset. You can find the Garmin Virb at this listing.