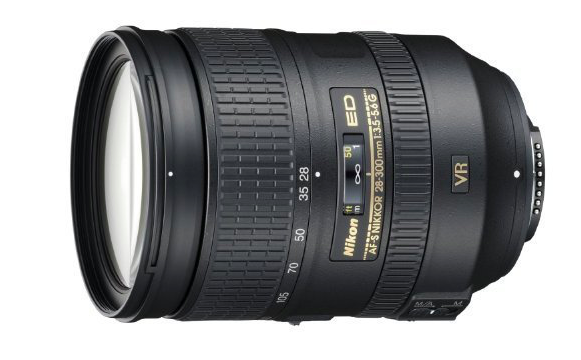 Is the Nikkor 28-300 Nikon's Best Lens Ever?
Although the market has a number of manufacturers that provide both camera bodies, as well as lenses, no one does it better than Nikon, who was producing world class optics long before they entered into the camera body market.  One of the things that Nikon has been ale to do is apply their great depth of knowledge and experience in optics into delivering world-class camera lenses at increasingly affordable prices.  While competition is strong, Nikon seems to continue to set the pace in introducing new and better camera lenses.  One of the mot exciting of these lenses is the AF-S FX Nikkor 28-300mm f/3.5-5.6G ED lens, which was first introduced in 2010.
Could this be the best Nikon lens of all time?
Let's Review!
In addition to point and shoot cameras, Nikon produces cameras that use either the DX system which uses a smaller CMOS sensor or the FX system, which is based on the larger CMOS sensor.  The FX system captures images on sensors that are basically the same size as 35mm film.  Nikon designed the 28-300mm lens to be used on the FX camera system,  as well as 35mm film cameras.  However, it can also be used on DX cameras, where the 1.5 crop factor will make it the equivalent of a 42mm-450mm on a full frame camera.
Some of the Amazing Features
One of the unique things about the 28-300 lens is Nikon's attempt to create the perfect "walk around" lens, which would virtually replace every lens in the photographer's bag., with a single lens still covers a focal range of 28mm to 300mm!  While slightly slower than the highly desired professional-grade AF-S Nikkor 24-70mm f2.8G ED and AF-S Nikkor 70-200mm f/2.8G ED VRII, the 28-300mm is also significantly less expensive at $949.95.  In contrast, the combined cost of the professional-grade AF-S Nikkor 24-70mm f2.8G ED and AF-S Nikkor 70-200mm f/2.8G ED VRII is around $3,899.90!
The heart of the Nikkor 28—300mm lens is the excellent VR (Vibration Reduction) image stabilization system used in the camera.  It does a very good job at eliminating camera shake and plays a key part in getting tack sharp images, especially when shooting the camera handheld between 200mm and 300mm.  Unlike other camera manufacturers, Nikon continues to place image stabilization in their lenses and not in the camera body.
Although the VR system will not prevent blurring due to the subject moving, it does allow the photographer some flexibility in low light conditions to step down the aperture and decrease shutter speed to capture the image, even when shooting the camera hand held.  That being said, it is somewhat limited in really low light conditions due to the limitations of being restricted to f/3.5.  Another benefit of the VR system is it allows the photographer to leave the tripod or monopod at home and shoot hand held!
The AF-S FX Nikkor 28-300mm f/3.5-5.6G ED lens has an excellent internal autofocus system that is dead on in accuracy, although it is not as fast as other lenses.  Although slower, in the field I did not miss any shots due to the lag in focusing.  The "silent wave motor" used in the lens is exceptionally quiet as it focuses and is a big plus and is particularly useful when shooting street photography or at events where the photographer wants just blend into the surroundings.   Nothing worse than hearing an autofocus motor whining as it tries to focus and watching the subject look at the camera!   As with other lens, the photographer can elect to focus the lens manually if they desire or fine tune focus manually as required.  Another useful feature is the lens ability to focus as close as 1.6 feet anywhere in the lens' focal range!
One of the great things about the Nikon system is the continued use of the tried and true Nikon F-Bayonet mount, which Nikon has been using for years on their cameras.  This will allow the 28-300 to mount to any other Nikon camera, including older 35mm film cameras using the same mount.  Nikon's continued commitment to this mount will mean that the lens will continue to be useful as camera bodies continue to evolve as the technology changes.  It is important to note that the mount continues to be metal, even though Nikon seems to be using more and more plastic in their lenses.
One of the most appealing features of the Nikkor 28-300 lens is its relatively lightweight and compact size.  Weighing in at 28.02 ounces, the lens is substantial, but is not a back breaker like some of Nikon's other zoom lenses.  In its 28mm configuration the lens has a relatively compact size of 3.26" x 4.5".  Obviously when zoomed out to 300mm, the depth of the camera increases substantially.  In the field the lens feels well balanced on a number of Nikon full frame camera bodies, including the D610, D750, D810 and the D4.
Other notable features of the lens include the 9-blade diaphragm, as the well as the use of 19 lens elements clustered into 14 groups.  The lens also incorporates ED glass elements, as well as a super integrated coating on the lens.  These features are found in all of Nikon's high-end camera lenses and contribute greatly to the exceptional optical quality of the lens.
Unlike professional grade lenses, the 28-300 is not built to withstand the elements and has limited dust and moisture sealing, so care should be taken when using the lens in situations where the lens could be exposed.  The 28-300 accepts 77mm screw on filters and the lens comes with a number of accessories including a HB-50 bayonet lens hood, LC-77 snap-on front lens cap, LF-1 rear lens cap and a CL-L1120 soft case to protect the lens when not in use.
Some Cons
The only major negative aspect of the lens is the use of plastic throughout the camera, although the build quality is very good.  As with most things, Nikon had to incorporate plastic into the lens to keep the cost as well as the weight down. Time will tell how the mostly plastic 28-300 will hold up, but so far it appears to be doing well with no reported issues as far as durability is concerned. Hopefully 20 years from now people are still mounting the 28-300 to the newest Nikon bodies and are still getting spectacular results!  Another minor issue is that the lens does have distortion at certain settings, but it is easily corrected in most recent digital cameras.
The Technical Specifications
While most serious photographers look at optical quality over technical specifications when selecting a lens, many feel that the technical specifications are equally important. The Nikkor AF-S FX 28-300 lenses have excellent optical quality, as well as technical specifications, which are shown in the table below.
| | |
| --- | --- |
| Item | AF-S FX Nikkor 28-300mm f/3.5-5.6G ED Lens |
| Year Introduced | 2010 |
| 35mm Focal Length | 28-300mm |
| DX Equivalent Focal Length | 42-450mm |
| Minimum Aperture | f/22 |
| Maximum Aperture | f/3.5 |
| Camera Mount Type | Nikon F-Bayonet |
| Lens Elements | 19 |
| Lens Groups | 14 |
| Compatible Formats | FX, DX, FX In DX Crop Mode, 35mm Film |
| Maximum Angle Of View (DX Format) | 53° |
| Minimum Angle Of View (DX Format) | 5° -20' |
| Maximum Angle Of View (FX Format) | 74° |
| Minimum Angle Of View (FX Format) | 8° – 10' |
| Minimum Focus Distance | 1.6 Feet Throughout Entire Zoom Range |
| Magnification | 0.32x |
| VR (Vibration Reduction) Image Stabilization | Yes |
| Diaphragm | 9-Blades |
| Distance Information | Yes |
| ED Glass Elements | 2 |
| Aspherical Elements | 3 |
| Super Integrated Coating | Yes |
| Autofocus | Yes |
| AF-S (Silent Wave Motor) | Yes |
| Internal Focusing | Yes |
| Focus Mode | Auto and Manual |
| G-Type | Yes |
| Image Stabilization | Yes |
| Autofocus | Yes |
| Tripod Collar | No |
| Filer Type | Screw On |
| Filter Size | 77mm |
| Size | 3.26" x 4.5" |
| Weight | 28.02 Ounces |
| Accessories | HB-50 Bayonet Lens Hood, LC-77 Snap-on Front Lens Cap, LF-1 Rear Lens Cap, CL-L1120 Soft Case |
| Cost | $949.95 (Check out the latest prices and discounts.) |
* Information from the Nikon USA website, including pricing.
The Final Frame
While not perfect, the AF-S Nikkor FX 28-300mm f/3.5-5.6G ED lens is in many ways the best lens that Nikon has made to date.  It provides excellent optics at a very affordable price, while covering a very wide range of focal points.  The compact size and relatively light-weight make it the perfect "walk around" lens on a variety of Nikon cameras ranging from the smaller D610 to the professional D4.  This lens, coupled with a fast 50mm prime lens such as the AF-S Nikkor 50mm f1.4G lens, would be all anyone would ever need in their kit.  I know that is all I need and it replaced a bunch of my Nikon lenses!