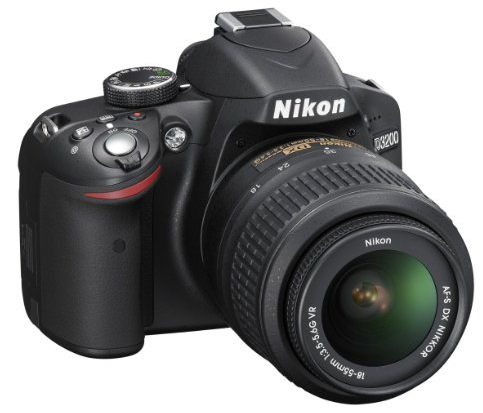 The Top 5 Best DSLR Cameras for Beginners – Cameras for Beginner Photographers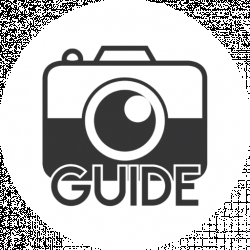 Latest posts by The Camera Guide Team
(see all)
Recently, Digital SLRs are all the rage and the market is flooded with some really good quality picture-taking machines and some mediocre models as well. If you're tired of your point-and-shoot digital cameras and are looking to up your game and invest in a DSLR camera to take high quality images of your surroundings, then chances are you're every bit as confused as any beginner level photographer would be.
What you need is an entry-level camera which is adequately priced so that if you are serious about your new-found love, it can be an introduction to professional photography for you to ease into the art before moving onto more high level stuff. If this turns out to be just a hobby or a casual interest, then you wouldn't have wasted a lot of money on a more complicated camera.
There is a lot of technical jargon out there that you can only begin to make sense of once you have your little toy in your hands. Let's just iron out a few specifics that you need to consider before delving into the world of photography.
Criteria for Evaluating a Good Entry Level DSLR
Since you are probably more used to a point-and-shoot camera (or maybe just your phone camera) up till this point, it is important to not switch to a very big or bulky camera right away.
The best cameras for beginners would be nice and compact with good button placement for convenient use while shooting so that you don't have too much difficulty getting used to it all.
Another important quality would be lots of different scene modes to choose from so you have a number of easily accessible presets of settings which you can quickly apply to a picture depending on where you are and what you're shooting. These will predetermine the shutter speed, Aperture, and other settings so you don't have to.
Now let's have a look at which cameras can offer these and more functions combined with the best image quality.
This is a top notch camera for beginners, with an amazing resolution of 24.1 megapixels, which can be combined with HDR capabilities to give you perfectly exposed, sharp and vibrant images. The ISO is also very high, ranging from 100-6400 which is expandable to 25600, which means you can take nice shake-free pictures in low light settings. It has 39 autofocus points, a quality which competes with many high end professional cameras. This is particularly useful when shooting moving subjects like children or pets which don't sit still for long, and you tend to lose focus on them otherwise. Of course when it is difficult to get the camera to focus on what you want, the camera's manual focus setting is very useful.
The camera also has a 5 fps shooting speed which is excellent for a beginner's camera in this price class. Some of the camera amazing features include an automatic pop-up flash which detects low-light settings and pops up automatically when it's needed. This function can of course be turned off if you're not a flash fan. The camera also carried 16 scene modes which is a very large variety. Other features include full HD video with a good quality built in microphone and the option to apply special affects on the camera itself. The camera is also small and lightweight, with the dimensions 3.9 x 5.1 x 3.1 and a weight of 17.8 ounces which makes it easy to carry around and convenient to use.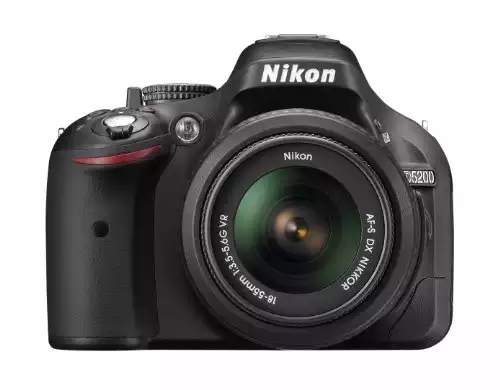 Nikon D5200 | Amazon
The Nikon D5200 is exactly that type of camera—an exceptional HD-SLR designed to draw exciting new perspectives out of everyone who shoots it. Optimized for creativity, streamlined for flexibility, it'll awaken your passion and inspire some of the most spectacular photos and videos you've ever captured.
Buy at Amazon.com
We earn a commission if you make a purchase, at no additional cost to you.
03/17/2023 11:25 am GMT
Another product by Nikon, it has been placed on number to after some careful consideration. We have here a whopping 24.2 megapixel resolution and an ISO of 100-6400, expandable to 12800. It carries an FPS of 4 which is a bit low but its 11 autofocus points are quite good for an entry-level DSLR. All of this ensures that the picture quality you get out of this camera is going to very high. The camera has some amazing features too, the best of which we found to the Scene Recognition System, which automatically chooses and applies appropriate lighting, focus points and exposure by detecting and examining your surroundings.
Another great and useful feature is the Subject Tracking Auto Focus technology which helps you keep the focus on a moving object or subjects while action shooting for both stills and videos. Other than this the camera has full HD 1080p video recording capabilities and about 8 different scene modes, and an amazing performance with an Expeed 3 processor. It is also lightweight and compact weighing 16 ounces and about the same size as the Nikon D5200.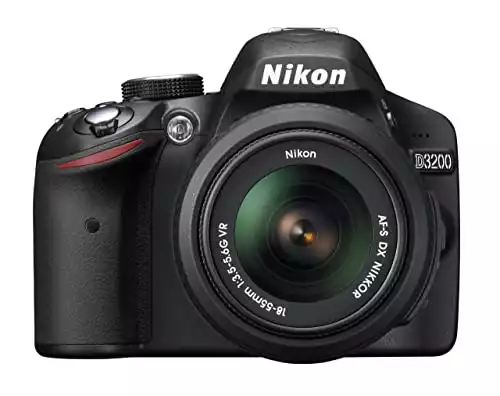 Nikon D3200 | Amazon
Don't let the D3200's compact size and price fool you—packed inside this easy-to-use HD-SLR is a serious Nikon. power: a 24.2 MP DX-format CMOS sensor that excels in any light, EXPEED 3 image-processing for fast operation and creative in-camera effects, Full HD (1080p) movie recording, in-camera tutorials and much more.
Buy at Amazon.com
We earn a commission if you make a purchase, at no additional cost to you.
03/17/2023 03:25 pm GMT
Even though this DSLR by Canon has been on the market for some time now, it still remains one of the best ones out there due to its strong sensor and metering system combined with high quality image generation. The Rebel has a resolution of 18 Megapixels and ISO capabilities of 100-6400, expandable to 12800 and it can snap pictures at a speed of 5.8 frames per second, which makes for some good quality results. However its 9 points of AF are a bit on the low side and  can make for a frustrating experience, in the wrong hands.
A very useful feature is its fully rotational 1.04-million-dot touch LCD display which can be twisted completely around so that the screen stays scratch free. The touch screen is useful in touch focusing when in live view mode and skimming through menus is much easier. The battery is another strong point here which can burn through 1100 pictures before dying out, almost double that of Nikon D3200's. The design is one of strong suits on this camera with the LCD touch screen and a logical control layout are user friendly however it is slightly bigger and heavier than its Nikon counterparts.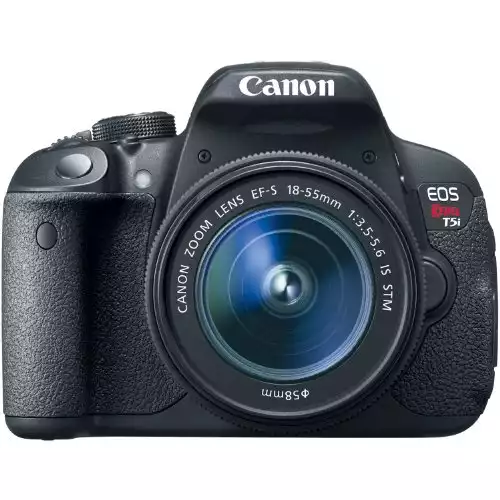 Canon T5i | Amazon
With a brilliant Vari-angle touch Screen 3.0" ClearView LCD monitor II and a phenomenal state-of-the-art AF system, it's the perfect camera to unleash your creativity every time you pick it up.
Buy at Amazon.com
We earn a commission if you make a purchase, at no additional cost to you.
03/17/2023 03:45 pm GMT
If you plan to rough use your DSLR and take it to the great outdoors, this is the camera you should go for. We see a dust resistant and weather-resistant body and extreme cold resistance of -10 degrees Celsius. It also boasts a built-in Shake Reduction and a whopping speed of 7 frames per second. Resolution-wise it is average, about 16 megapixels, with an APS-C CMOS sensor which means average image quality, especially since it lacks an anti-aliasing filter. Other than that we see very high sensor sensitivity ranging from 100-12800, expanded to 51200, and HDR image capture to achieve perfect exposures. It also has a 920,000 dot LCD screen and 11 auto focus points. It can also shoot full HD 1080p videos.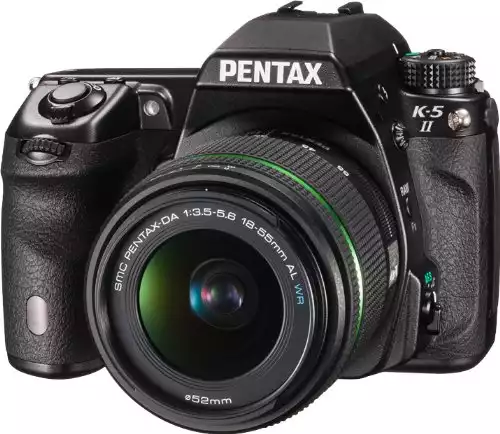 Pentax K-5II | Amazon
This new dustproof, weather-resistant and cold-resistant camera includes a newly developed SAFOX X AF sensor that delivers the broadest autofocusing EV range (-3 EV to +18 EV) in its class. The new PENTAX K-5 II / K-5 IIs offer a compact, solid body that delivers high-quality image reproduction, especially when working in low light conditions.
Buy at Amazon.com
We earn a commission if you make a purchase, at no additional cost to you.
The Panasonic Lumix DMC-G6 is a mirrorless DSLR camera, which means it operates an electronic viewfinder with low-light autofocus which can be very useful. The Panasonic Lumix features built in Wi-Fi and NFC which means it can be linked to smartphones so that it can be used as a remote shutter or pictures can be directly synced with the phone. The resolution on this electronic camera is 16.05 megapixels with a live MOS sensor and an ISO of 160-25600.
With a new Venus engine, area based noise can be controlled and so image quality is pretty good. It also features 19 Filter Affects and HDR and Panoramic modes. There is a touch screen onboard which makes handling much easier and the size is pretty compact. Some apps can also be installed on the camera through WiFi. Battery life is not very impressive at only 340 shots.
Although the camera is quite good, for serious photographers it is better to go with digital camera with more focus on performance and photography than on gimmicks like WiFi, camera apps and Smartphone connectivity. The lack of an optical viewfinder is also something that takes away the DSLR feel from the camera and makes it the whole experience a bit artificial.
Panasonic Lumix DMC-G6 | Amazon
The Panasonic Lumix DMC-G6KK Mirrorless Digital Camera with 14-42mm II Lens is a high-performance Micro Four Thirds format mirrorless camera with a 16.05MP Live MOS Sensor and the Venus Engine image processor. Together they provide high resolution, low-noise images and Full HD 1080p video with fast autofocus and impressive low-light capability.
Buy at Amazon.com
We earn a commission if you make a purchase, at no additional cost to you.
03/17/2023 01:06 pm GMT
All of these cameras have their strong points and weak point and any product can never be perfect. What makes the best DSLR for beginners all comes down to personal preference. Something that is good for one individual might not appeal to another, even at the beginner level.
However, these options discussed would give anyone looking to try their hand at some beginning level photography an idea of what's out there and what they should be looking for in a DSLR. Hopefully  it can help them make a more informed decision.
If you are still stuck, check out this broader buying resource page.