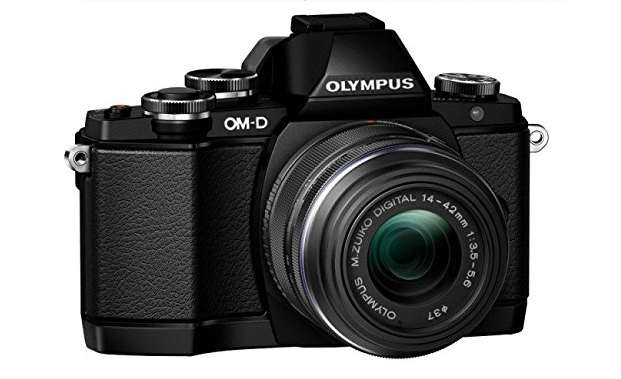 Exciting Advancements in Digital: The Olympus OM-D E-M10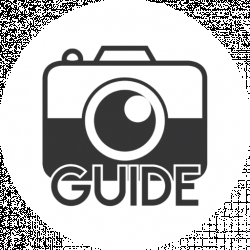 Latest posts by The Camera Guide Team
(see all)
One of the most exciting innovations in digital photography in recent years has been the incorporation of micro 4/3 sensors into mirror-less camera bodies.  This combination uses a larger sensor, which is only slightly smaller than traditional crop sensors, and puts it into a DSLR like camera body that is significantly lighter and smaller than traditional DSLR cameras, due to the elimination of the mirror assembly.  These cameras produce excellent results and give the photographer the flexibility to use a variety of fixed and zoom lens, just like a traditional DSLR.  They are also very affordable and are perfect for street photography and travel, where the photographer is looking for an alternative to traditional point and shoot cameras.  One of the most exciting ones on the market is the Olympus OKD E-M10 and what a camera it is!
A Little About the Olympus OM-D E-M10
The E-M10, which was first introduced in 2014, is built on a Live MOS 4/3" sensor that measures 17.3mm x 13.0" mm and is slightly smaller than the traditional sensors used in cropped sensor DSLR cameras.   The sensor size is also significantly larger than the sensors used in the majority of compact cameras, resulting in excellent image quality in a wide variety of settings including low light situations where higher ISO settings are used.  Images are captured at 16.1 megapixels and while this may seem modest in comparison to some of the other camera's on the market, it more than sufficient for most photographer's needs.
Traditional DSLR cameras utilize a mirror in the camera as a part of the optical viewfinder.  The image appears in the viewfinder as the image is "bounced" off the mirror and is visible in the optical viewfinder.  Once the shutter is released, the mirror is retracted and the image is exposed on the sensor.  This system is bulky with many moving part that are subject to wear and tear, as well as being heavy.  It is also noisy when the mirror is retracted and generally photographers prefer a quiet camera in order to be as discreet as possible. As a result of being mirror-less, the E-M10 is light weighing a mere 14.0 ounces without a lense and measuring 4.7" x 3.2" x 1.8"!
The Olympus OM-D E-M10 Features
Viewfinder: In the E-M10, the camera uses an electronic viewfinder, which means that the photographer is looking directly thru the lens electronically and is seeing exactly what will be captured when the shutter is released and the image is exposed.  In the case of the E-M10 the electronic viewfinder is bright, responsive when the camera is moved and provides approximately 100% coverage.  This means that what the photographer sees is what they get!  In the viewfinder the photographer will also see a variety of data such as ISO settings, aperture and shutter speed.  They will also be able to see up to 81 autofocus points, which are evenly distributed in the electronic viewfinder.  The autofocus points can be configured in a variety of ways and are fast, while providing dead on focusing results.
TruePic VII processor: Once the image is captured, the camera's TruePic VII processor writes the image in either RAW or JPEEG format to the camera's single memory card, which can be either a SD, SDHC, SDXC, EYE-FI or UHSI/II memory card.  The processor is fast enough to allow up to 8 frames per second to be captured!
Rear LCD display: One of the unique features of the E-M10 is the camera's tilting rear LCD display.  Measuring 3.0", the display also has touch screen capabilities, with the photographer being able to use the touch screen for a variety of functions including accessing the menu system, selecting autofocus area, shutter release, and magnification.  In use the touch screen is easy to use and is very useful in the field, as it saves a significant amount of time, especially in navigating the camera's menu system.
Settings: As with many cameras, the E-M10 has the traditional programmed auto, aperture priority, shutter priority and manual settings. In addition the photographer has a number of creative settings as well including HDR, Diorama, Grainy Film, Pop Art and Pin Hole, as well as a variety of filter effects.  These additional settings are fun to use and allow the photographer a great deal of creative control over the image as it is captured.
Some Cons of the E-M10
The E-M10 performs well in low light situations as it has a native ISO range of 100-25,600.  While other cameras have the ability for the ISO settings to be expanded up or down, the E-M1o does not have that capability.  As with all cameras, just because a camera can shoot at high ISO settings it does not mean that the photographer should use these high settings.  In the case of the E-M10 the best results are achieved when ISO settings of 800 and below are used, as image quality tends to suffer as the noise reduction software aggressively reduces noise.  One of the most useful features of the camera is its built-in flash, which really is useful in keeping ISO settings reasonable in low light situations.  It is also useful in other conditions, where fill in flash is required.
Olympus did not intend the E-M10 to be a sports or action camera, so the shutter in the camera is relatively limited with a range from 1/4,000 to 1 second.  As with the limitations on megapixel count, the shutter speed on the E-M10 will be more than satisfactory for most shooting situations.
Video Capabilities: As with almost all cameras today, the Olympus E-M10 is capable of shooting excellent video as well.  Although the camera is capable of shooting in a variety of formats, most photographers will shoot in full HD on the camera, with a frame size of 1,920 x 1,080, with the video being shot at shot at 30 frames per second.  Video is recorded in MOV format with the only limitation of the amount of video being captured is the size of the memory card used.
Although the camera does not have a GPS system built in, the camera can communicate via WIFI with the photographer's smartphone to obtain location data.  In addition, the E-M10 can connect to four other devices simultaneously among other wireless functions that many photographers will find useful.
The Technical Specifications of the Olympus OM-D E-M10
While most serious photographers look at image quality over technical specifications, many feel that the specifications are equally important.  The Olympus E-M10 has excellent image quality, as well as technical specifications, which are shown in the table below.
| | |
| --- | --- |
| Item | Olympus OM-D E-M10 (Check out the latest deals and prices.) |
| Year Introduced | 2014 |
| Format | 4/3" |
| Megapixels | 16.1 |
| Sensor Type | Live MOS |
| Processor | TruePic VII |
| Image Format | RAW or JPEG |
| Sensor Size | 17.3mm x 13.0mm |
| Sensor Cleaner | Yes |
| Auto-focus Points | Up To 81 |
| Face Detection | Yes |
| Modes | Manual, Aperture Priority, Shutter Priority, Programmed Auto, iAUTO, Scene Selection, Bulb, Time, Underwater, Art Filter |
| Creative Exposure Modes | Yes |
|                                     Metering | 324 Zone Digital ESP Metering |
| Metering Modes | Center Weighted, Spot |
| View Finder Type | Electronic |
| View Finder Coverage | Approximately 100% |
| Live View | Yes |
| In Camera Optical Image Stabilization | Yes |
| Frames Per Second | 8 |
| ISO | 100 – 25,600 |
| Highest Expandable ISO | N/A |
| Shutter Speed Range | 1/4,000 – 1 Second |
| Built In Flash | Yes |
| Card Slots | 1 |
| Card Type | SD, SDHC, SDXC, UHS-I/II, EYE-Fi |
| LCD Size | 3.0" |
| LCD Fixed or Swivel | Tilting |
| Touch Screen | Yes |
| Video | Yes |
| Video Type | Full HD (1,920 x 1,080) Up To 30 Frames Per Second, Various Other Formats Including HD and SD |
| Video Format | MOV |
| Internal Autofocus Motor | No |
| GPS | No |
| Wireless | Yes |
| WIFI | Yes |
| Battery | BLS-5 Li-ion |
| Battery Life | Approximately 230 Still Images |
| Moisture and Duct Resistant | No |
| Body Construction | Plastic |
| Unique Features | Touch Screen, Interchangeable Lenses |
| Included Items | Camera, Battery, BCS-5 Lithium Ion Battery Charger, USB Cable, Shoulder Strap, Software CD-ROM, warranty Card, Instruction Manual |
| Size Without Lens | 4.7" x 3.2" x 1.8" |
| Weight Without Lens | 14.0 Ounces |
| Manufactured In | China |
| Body Only or with Kit Lens | Available Either Way |
| Cost With Kit Lens | Varies Depending Upon Lens |
| Cost, Body Only | $599.99 |
*Information from the Olympus website, including pricing.
The Final Frame: My Recommendation
In conclusion, I really like this camera!  I primarily focus on street photography and find its small size to be a key factor in getting great images.  It is a powerful camera capable of capturing an amazing image, yet it is not imposing and intimidating in the field, so it is easy to capture people acting naturally instead of reacting to a large and imposing DSLR camera.  My favorite lenses are the M. Zuiko 45mm F1.8, the M. Zuiko 14-42mm and the M. Zuiko 40-150 lenses, which meet all of my needs. The Olympus E-M10 should be considered for anyone looking for an affordable and lightweight mirror-less camera that provides excellent images, while still being fun to use!