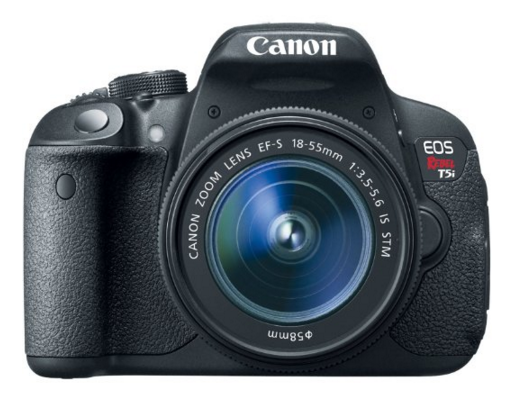 My Take on the T5i – Canon T5i Review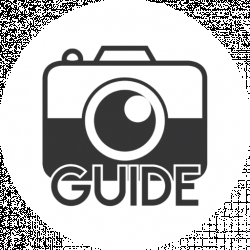 Latest posts by The Camera Guide Team
(see all)
First introduced in 2013, the Canon T5i is one of several cameras in Canons entry-level "Rebel" lineup, which targets consumers looking to get into photography for the first time or upgrading from a point and shoot camera to a more capable DSLR camera.
All of the major camera manufacturers are fighting it out for these customers, as most photographers will remain loyal to a camera brand for life, provided that they have an initial good experience with a camera.  As a result of this competition and advances in technology, the "Rebel" lineup is constantly being upgraded and currently has seven cameras in the "Rebel" family.
Despite the presence of the more recent T6i and T6s cameras, the T5i remains a formable competitor in this market despite being two years old.
Breaking Down the Key Features of the T5i
APS-C Sensor: The key to the T5i is the very capable CMOS sensor, which captures images in the APS-C or cropped format.  These sensors are typically used on all cameras at this price point as it keeps the cost of the camera low.  Canon's APS-C format cameras have a crop factor of 1.6, which means that lenses that a lens used on the T5i will be longer than the same lens used on a full frame camera such as the 5D Mark III.  An example of this would be the image captured using a 35mm lens on a T5i would be the same as a 56mm lens used on a 5D Mark III, with both images being taken from the same distance from the subject.  Although the APS-C format sensors are less expensive, they are quite capable and are used on professional grade cameras as well, especially those used in wildlife, bird and sports photography.  The T5i captures images at 18.0 megapixels, which while not as high as other cameras is still quite high.  To put things into perspective the professional full frame Canon EOS 1-D X, which retails for $5,299.99, captures images at 18.1 megapixels!
Multiple Modes: Canon has kept the operation of the T5i relatively simple and most will find the cameras controls to be intuitive.  As with most cameras, the T5i is cable of being operated in a fully automatic mode, where the camera sets the shutter speed and aperture automatically, as well as a variety of other settings, including shutter and aperture priority.   The various preset scene modes, which have specific built in settings, that allow the perfect picture to be captured depending upon the scene selected.  Scene selections include "Sports", "Landscape", "Close Up" and "Portrait".  As the skills of the photographer advance, the T5i has the ability to shoot completely manual, where the photographer sets all of the controls.
Display: Related to the controls is the 3.0" Vari-angle rear display that allows the camera's functions to be controlled and menus accessed via the touch screen.  While I was initially skeptical of this feature, it was really quick and intuitive to use in the field.  The screen appears to be well designed and ruggedly built at the hinge point, which one would expect to be the weak link.
Autofocus: The T5i has a very good autofocus system, which has nine cross-type autofocus points spread out in the viewfinder, which provides 95% horizontal and vertical coverage.  The autofocus system allows the photographer to select any one of these points for the camera to focus on, which will subjects to be composed off center.  While one of the popular trends in today's digital cameras is an excessive amount of autofocus points, with some cameras having over 50 autofocus points.  Canon has intentionally kept the count down in many of their cameras including the T5i to make the viewfinder clearer and less distracting.  This allows the photographer to concentrate on compensation instead of screwing around with which one of the 50 autofocus points to select.  Technology is great, but is not a cure for poor technique!
FPS: The Canon T5i is capable of shooting at five frames per second for up to 30 JPEG or 6 RAW files depending upon the memory card being used.
DIGIC 5 Processor: After this, the camera's DIGIC 5 processor will run out of buffer and bog down as the images are processed and written to the camera's single SD, SDHC, SDXC, UHS-1 or Eye-Fi memory card.  In the field, five frames per second is more than sufficient for the type of action photography most amateur photographers will be doing.  Somewhat related is the shutter speed of the T5i, which ranges from 1/4,000 to 30 seconds, allowing the camera to accommodate most action shots, while also allowing long exposures.
HD Video: Photographers that move to the Canon T5i will enjoy the camera's ability to record High Definition video in a variety of sizes and speeds.  The video is recorded in MOV format.  The image quality is good, however you are limited in the amount of video that can be shot by the camera's single memory card.  Canon has been heavily involved in developing consumer video products for a number of years and it shows in the quality of the video taken with the T5i.
Direct Printer Connect: Canon has aloes been a industry leader in copier technology and it should be no surprise that the camera is its ability to directly print to select Canon printers, which will reduce printing costs.
Battery Life: The T5i has a battery life to allow approximately 550 JPEG files to be captured before needing recharging.
Optional GPS Compatibility: The camera also has the ability to integrate an optional GPS receiver that attaches to the camera's hot shoe, which allows images to be geo-tagged with the location and time taken.
Integrated Flash: An integral flash is also a feature of the Canon T5i and is useful I dark situations, as well as to fill in shadows in bright daylight conditions.
ISO Settings: As with most of the "Rebel" lineup, the T5i is somewhat disappointing in image quality in low light conditions when shooting at higher than normal ISO settings.  ISO settings are increased either automatically or manually when the camera detects low light situations.  While higher ISO settings allow images to be captured in low light, the camera has special noise reducing software that removes the noise in the image at higher ISO settings.  As a result, the detail in the image is often removed, leaving the images to appear "soft".  I found that while the T5i has a normal ISO range of 100-6,400 and is expandable to 12,800, the image quality gets pretty bad at over ISO 800, so it is best to keep that in mind.  One possible solution is to use a good prime lens in low light situations.  While the 18-55mm IS STM kit lens is not bad for all around general use, it is not the best when it starts to get dark.
Key Specs of the T5i at a Glance
While most serious photographers look at image quality over technical specifications, many feel that the specifications are equally important.  The T5i has excellent image quality, as well as technical specifications, which are shown in the table below.
Item

Canon T5i

Year Introduced
2013
Format
APS-C (Cropped)
Megapixels
18.0
Sensor Type
CMOS
Processor
Digic 5
Image Format
Yes
Sensor Size
22.3 mm x 14.9 mm
Sensor Cleaner
Yes
Auto-focus Points
9
Modes
Program AE, Shutter-Priority AE, Aperture-Priority AE, Manual
Creative Exposure Modes
Yes
Metering
63 Dual-Layer Metering
View Finder Coverage
95%
Live View
Yes
In Camera Optical Image Stabilization
No
Frames Per Second
5
ISO
100-12,800
Highest Expandable ISO
25,600
Shutter Speed Range
1/4,000 – 30 Seconds
Built In Flash
Yes
Card Slots
1
Card Type
SD, SDHC, SDXC
LCD Size
3.0 Inches
LCD Fixed or Swivel
Swivel
Video
Yes, HD
Video Type
1920 x 1080 at 25fps / 24 fps
Video Format
MOV
Internal Autofocus Motor
No
GPS
No
Wireless
No
WIFI
No
Battery
LP-E8
Unique Features
Direct Printing, Touch Screen
Included Items
EF-S 18-55mm f/3.5-5.6 IS STM Lens, Eyecup Ef, Battery Pack LP-E8E, Battery Charger LC-E8E, Wide Neck Strap EW-100DB IV, USB Interface Cable IFC-130U, EOS Digital Solution Disc & Software Instruction Manual CD, Camera Instruction Manual
Size Without Lens
5.2" x 3.9" x 3.1"
Weight Without Lens
18.5 Ounces
Manufactured In
Japan
Body Only or with Kit Lens
Kit Only
Cost, Including 18-55mm IS STM lens
$799.99 (

see here for latest

)
*Information from Canon's website, including pricing.
Final Word – Is the T5i Still Worth Recommending?
At a suggested retail price of $799.99, the Canon T5i is a great value for such an advanced camera and should be considered by anyone looking to either break into digital photography or upgrade from a point and shoot camera, without breaking the bank.
The camera is sold as kit and includes an 18-55mm Canon lens, as well as a number of accessories including the battery, a charger, cables and a variety of instructional disks. You can check out the latest pricing on this package here.  The only other thing that will be needed is a SD, SDHC, SDXC or a UHS-1 memory card and you can start shooting!
Canon T5i
Speed and Viewfinder
5.5/10
Image Quality and Accuracy
7.5/10
Handling and Build Quality
8.4/10
Value for the Money
9.0/10
Pros
Nice integral flash option
Plenty of autofocus points without overhwelming
Quality HD video capability
Good price point and value
Rugged build
Cons
Slower than some DSLRs at 5 FPS
Only 1 memory slot
No built in WiFi capability