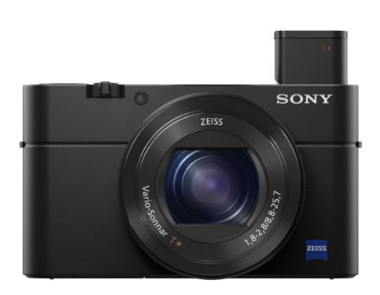 Review: Checking Out the Sony RX100 IV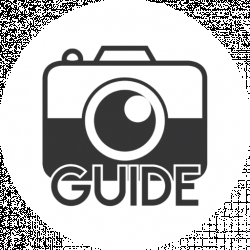 Latest posts by The Camera Guide Team
(see all)
The camera world saw a number of new cameras introduced in 2015 and one of the best ones to hit the market was not a DSLR by Nikon or Canon, but a compact camera made by Sony!  The Sony RX100 Mark IV is a very advanced compact camera that produces images as good or better than most DSLR cameras on the market at any price point.
The camera is extremely popular high-end compact camera, despite a higher price point.  In many ways the Sony RX100 IV could be considered a DSLR killer.
Key Features of the Sony RX100 IV
CMOS Sensor: The heart of the RX100 IV is the new 1" CMOS sensor, which captures images at 20.1 megapixels and is significantly larger than the sensors found in other compact cameras.  While not quite as large as sensors found in "cropped sensor" DSLR cameras, these 13.2mm x 8.8mm sensors produce excellent images in a variety of conditions, including low light situations, where high ISO settings may be required.
Zeiss Lens: The soul of the RX100 IV is the fantastic Zeiss® Vario-Sonnar f1.8-2.8 lens, which is the 35mm equivalent of 24-70mm lens.  In a relationship that dates back to 1995, Sony brought Carl Zeiss AG, who has a German optics manufacturer, on board to manufacture the optics on many on Sony's cameras, as Sony's expertise was in manufacturing sensors and other components, but not in optics.  Other manufacturers, such as Canon and Nikon, are primarily optics manufacturers that build bodies for their lenses.  Many of these camera bodies made by the other major companies have Sony sensors in them, due to Sony's expertise in developing and manufacturing advanced digital camera sensors.  In addition to the optical zoom of the lens, the camera also has a digital zoom as well, although the quality of the image is somewhat downgraded when using the 11X digital zoom.
Processor: Another important component of the BION X processor found in the RX100 IV, which quickly processes images captured on the sensor.  This processor allows the photographer to shoot up to 16 frames per second, which processed and sent to the camera's single SD, SDHC or SDXC card in JPEG and RAW format.  While fast, the camera is not designed for sports or action photography, so the photographer will need to manage expectations in this regard.
Shutter: Other features of the RX100 IV include an incredibly fast electronic shutter, which has a range of 1/32,000 to 30 seconds.
Autofocus: Somewhat related to this is the simple, yet fast and accurate autofocus system, which, like other compact cameras, has one autofocus point.  In order to demonstrate this speed, Sony has included an image of their website that shows a arrow in flight piercing a piece of fruit.  The arrow is perfectly frozen in flight and in focus.  The image was shot using a RX100 IV!
ISO Range: The ISO range of the camera is 125 to 12,800, which is pretty normal for a compact camera.  What is unique to the RX100 IV is that rarely do the ISO setting need to be set at extremely high levels, due to the sensor and the fast Zeiss lens.  One thing to keep in mind with the RX100 IV is that the image quality is not great at really high ISO levels, which is due to the way the camera's noise reduction software that eliminates noise as it processes images.  Unlike some cameras where the software reduces image detail, the RX100 IV, messes up the colors at high ISO settings making the image almost looking like a cartoon drawing.
LCD Screen: As with most compact cameras, the RX100 IV has a 3.0" rear LCD screen, which is used for a number of purposes including the composition of images, with the camera being held at arm's length as the photographer composes the image.  It is also used to view and navigate the camera's various menus, as well as to view images that are captured.   What is different with the RX100 IV is that the rear LCD screen can be tilted to various positions to allow options in composing images.  One of the things many will like is the ability of the screen to be positioned to allow "selfies" to be shot.  The screen however cannot be articulated side-to-side.
Viewfinder: One of the most significant changes found on RX100 IV was the inclusion of an XGA OLED electronic viewfinder.  This feature was added to make the camera more appealing to serious photographers, who really hate to compose images while holding a camera at arm's length!  The viewfinder is hidden in the camera body on the side and pops up when a switch is activated.  Once the viewfinder pops up the photographer will need to extend the finder, by pulling out one side of the barrel of the finder.  The viewfinder is not perfect by any means, as it has lag as the camera is panned, but it is a great alternative to trying to compose images in bright sunlight with the camera at arm's length.
Various Modes: The RX100 IV is capable of capturing images in a variety of modes including program, aperture priority, shutter priority, manual and various creative and scene modes.  Depending upon the mode selected, these modes are accessed navigating the camera's menus, dial and the lens ring on the front of the camera.  While these features are nice to have, many photographers will more than likely set the camera to program and leave it there.
Video: The video capabilities of he camera are exceptional with a number of formats being available including 4k, where up to 5 minutes of video will be captured with a resolution of 3,840 x 2,160 pixels.  Depending upon the format selected, normal video will be captured at a frame rate of 24-60 frames per second.  The camera also has the ability to capture super slow motion video as well at speeds of up to 1,000 frames per second depending upon the mode.  The RX100 IV has a dedicated video button that will allow immediate video recording and the button is well located to prevent accidentally activation of video mode.
Dimesnions and Weight: The RX100 IV is small and light, measuring 4.0" x 2.4" x 1.6" and only weighs 10.51 ounces.  Although small is size, it is comfortable to hold and handles well for a compact camera.  It fits easily into a pocket or purse eliminating any excuse not to have it with you at all times!  However it is important to keep in mind that the camera body is make of plastic and is not weather sealed, so reasonable care must be take care of the camera.
Extra Capabilities: The RX100 does not have a GPS capability, but it does have WIFI capability, which many will find useful.  In addition, the camera has a built in flash that works well for a compact camera.  It is primarily used for close in low light situations and fill in flash.  The flash is stored in the camera's body when not being used, which helps in keeping the overall size of the camera compact.  However, components that "pop up" are often the weak point of any camera!
Technical Specs – Just the Facts
While most serious photographers look at image quality over technical specifications, many feel that the specifications are equally important.  The Sony RX100 IV has excellent image quality, as well as technical specifications, which are shown in the table below.
Item

Sony RX100 IV

Year Introduced
2015
Format
1" Sensor
Megapixels
20.1
Sensor Type
CMOS
Processor
BIONZ X
Image Format
JPEG OR RAW
Sensor Size
13.2mm x 8.8mm
Lens
Zeiss® Vario-Sonnar f/1.8-2.8
35mm Equivalent Focal Length
24-70mm
Digital Zoom
11X
Modes
Program, Aperture Priority, Shutter Priority, Manual, Various Creative And Scene Modes
Creative Exposure Modes
Yes
Scene Modes
Yes
View Finder Type
XGA OLED Pop-Up EVF
Live View
Yes
Frames Per Second
16
ISO
125 – 12,800
Shutter Speed Range
1/32,000 – 30 Seconds
Built In Flash
Yes
Card Slots
1
Card Type
SD, SDHC, SDXC
Rear LCD Size
3.0"
LCD Fixed or Swivel
Tilt
Video
Yes
Video Type
Various Formats Including 4K, At Speeds Ranging From 24 – 60 FPS Depending Upon Video Type Used
Video Format
XAVC S 4K / XAVC HD / AVC HD
GPS
No
Wireless
Yes
WIFI
Yes
Battery
NP-BX1
Moisture and Duct Resistant
No
Body Construction
Plastic
Unique Features
Pop-Up Viewfinder, Sweep Panorama, Dedicated Video Button
Included Items
Sony RX-100 IV, NP-BX1 Rechargeable Battery Pack, AC Adaptor, Micro USB Cable, Wrist Strap, Strap Adaptor, Instruction Manual
Size Without Lens
4.0" x 2.4" x 1.6"
Weight Without Lens
10.51 Ounces
Manufactured In
China
Cost
About $950 (

see here for discounts

)
*Information from Sony Global website, including pricing.
Final Take – Worth the Price?
Sony hit a home run with the Sony RX100 IV and it remains a very popular camera, with photographers at all levels, despite the high price point!  The image quality is just amazing for a camera of this size, as are the features.  Anyone looking for a high-end compact camera should take a look at the RX100 IV.  I bet you like what you see and will carry it everywhere, as the best camera is the one you have with you. For the latest pricing, [/easyazon_link" type="link" link_id="8558″].