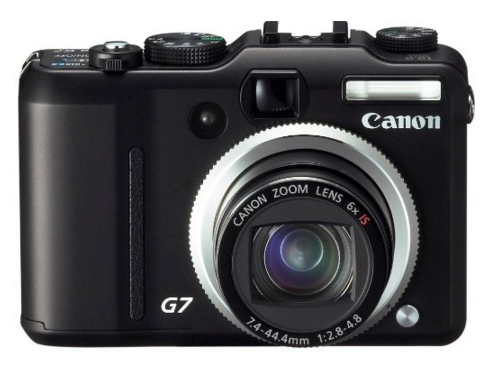 Review: Is the Canon G7 Still Relevant?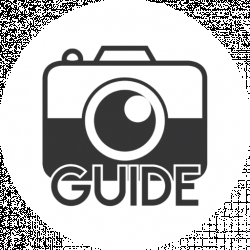 Latest posts by The Camera Guide Team
(see all)
Canon's Powershot G series of compact cameras have been extremely popular ever since the G1 was first introduced almost 16 years ago.  The Powershot lineup has always appealed to photographers with a wide range of experience looking for a more advanced camera than traditional point and shoot cameras, but without the expense, weight and bulk of traditional DSLR camera.
While there have been over 15 other Powershot models introduced since the original G1, one of the most popular models is the G7, which was first introduced in 2006 and still remains relevant 10 years later.
The G7 – Key Specs Worth Talking About
CCD Sensor: The G7 is a 10.0 megapixel camera that uses a 1-1/8" CCD senor, which provides excellent image quality in a wide variety of situations.  Although the megapixel count is low when compared to some of the newer cameras in this class, the G7 holds its own when compared to other cameras.  The reason for this is the excellent f/2.8-4.0 lens that Canon used on the camera, which has a focal length of 7.4mm – 44.4mm.   This lens is equivalent to a 35mm lens with a focal length of 35mm -210mm, which is a very handy focal length range for this type of camera.  It also has built in optical stabilization, which works very well, especially when using the long end of the lens.
DIGIC III Processor: Once the image is captured on the sensor the image is processed in JPEG format using the G7's DIGIC III processor and then written to a SD memory card held in the camera's single slot.  The G7 does not have the capability to capture images in RAW format.  While the G7 is a great camera, it is not suitable as a serious sports camera due to its frame rate of approximately 2 frames per second and a slow shutter speed of 1/2,500 to 15 seconds.
LCD Display: Images, as well as the camera's menus, are viewed on the camera's rear fixed LCD screen, which measures 2.5".  The rear LCD display also provides 100% coverage when using live view to compose the image or playing back the image.  The camera does not have a touch screen display, nor does it have GPS, wireless or WIFI capabilities.
Multiple Exposures: Photographers using the G7 will be able to use a number of exposure types including auto, program, shutter priority, aperture priority, manual and various scene modes.  In addition the camera has a number of creative modes as well, which are both useful and fun to use.  Most of the basic exposure functions can be selected using the top dial on the camera.
ISO Range: The native ISO range of the camera is 80-11,600 and the G7 does not have the ability to expand beyond that range.  However, as with many cameras in this class, it is recommended that the ISO range be kept under 1,000 in many cases, as the image quality really suffers at high ISO settings as the noise reduction software eliminates detail as it removes noise.  As a result the images often will appear soft and the colors almost cartoon like.
Video Capability: While the G7 does have video capability, it is important to keep in mind that the quality is not as great as in found in newer cameras.  Video is standard quality with a frame size of 1,024 x 768 and is shot at 15 frames per second.  The camera's processor writes video files to the memory card as AVI files.  Overall the video quality is acceptable for a camera of this class using the technology that existed in 2006.
Controls: There are a number of excellent features on the G7 that experienced photographers will appreciate.  First is the abundance of controls on the top and rear of the camera.  While other cameras have moved towards a menu driven system that is navigated by selecting and highlighting items, the G7 has buttons and knobs, which control functions such as ISO and the various exposure modes for both still and video images.  While these controls are available using the menu system as well, many photographers will appreciate the convenience and speed that these dials provide when trying to set up the camera in the field.
Optical Viewfinder: Another great feature of the camera is the optical viewfinder, which is unheard of in most compact cameras.  One of the great advantages of an optical viewfinder is the ability to compose images in bright conditions when the rear LCD is all but useless in composing images.  While not perfect by any means, it is a useful feature that all compact cameras should have!
Presets: One of the most useful features, which are found on many of Canon's more advanced DSLR cameras, is the C1 and C2 setting on the camera's top dial.  These dials allow the photographer to program into the camera's memory user defined settings, which can be instantly recalled by simply turning the knob to C1 or C2.  Once the photographer gets use to this feature, they will be hooked on it because it is a real time saver in the field.
Dimensions and Weight: Measuring 4.19" x 2.83" x 1.67" and weighing 1.3 ounces, the camera is not really small, but it feels great to handle, even for extended periods of time.  While some will use a neck strap, the best way to carry it when not in use is with a wrist strap while holding your thumb on the top plate and your other four fingers on the bottom plate.  This way is very comfortable and natural given the size and weight of the camera.
Built in Flash: Other features include a built in flash, which provides both flash in low light situations as well as fill in flash when needed.
Hot Shoe Mount: The G7 also has a hot shoe mount, which will allow a variety of Canon and 3rd party Speedlights to be attached.
Battery Life: Battery life is decent with approximately 220 still shots being possible on a single battery.  However, for travel it is recommended that an additional NB-2LH battery be carried.
Construction: Despite having a plastic shell, the build found on all of the Powershot cameras is excellent and they can take a significant amount of abuse.  Once when I was traveling in Southeast Asia, I dropped a G7 on a stone sidewalk at the Angkor Wat complex while in Cambodia.  When it stopped bouncing, I was expecting the worse, but besides a scuff or two, the camera continued to perform as if nothing happened!  After that I was a real believer in the G series of cameras, especially the G7!
Image Quality: While most serious photographers look at image quality over technical specifications, many feel that the specifications are equally important.  The Canon G7 has excellent image quality, as well as technical specifications, which are shown in the table below.
A Quick Look at the Important Specs
Item

Canon G7

Year Introduced
2006
Body Type
Mid Sized Compact
Megapixels
10.0
Sensor Type
CCD
Image Format
JPEG Only
Sensor Size
1-1/8"
Processor
DIGIC III
Sensor Cleaner
No
Lens
Canon
Lens Focal Length
7.4-44.4mm  (35mm Film Equivalent: 35-210mm)
Lens f/ – Number
f/2.8-4.8
Lens Construction
Built In
Optical Zoom
6X
Digital Zoom
4X
Autofocus Points
1
Modes
Auto, Program, Shutter Priority, Aperture Priority, Manual, Various Scene Modes
Creative Selection Modes
Yes
Metering
Evaluative, Center Weighted Average, Spot
Optical View Finder
Yes
Live View
Yes
Monitor Frame Coverage (Shooting)
100%
Monitor Frame Coverage (Playback Mode)
100%
LCD Size
2.5"
LCD Type
Fixed
In Camera Optical Image Stabilization
Yes
Frames Per Second
Approximately 2
Normal ISO
80-11,600
Lowest Expandable ISO
N/A
Highest Expandable ISO
N/A
Shutter Speed Range
1/2,500 – 15 Seconds
Built In Flash
Yes
Card Slots
1
Card Type
SD or SDHC
Video
Yes
Video Type
1,024 x 768 At 15 FPS
Video Format
AVI
GPS
No
Wireless
No
WIFI
No
Battery
NB-2LH
Unique Features
C1 and C2 Settings
Battery Life (Still Images Only)
Approximately 220 Shots
Included Items
PowerShot G7 Body, NB-2LH Battery, CB-2LW Battery Charger, SDC-32M SD Memory Card, WS-700 Wrist Strap, IFC-400PCU USB Interface Cable, AVC-DC300 AV Cable, Digital Camera Solution CD_ROM
Size
4.19" x 2.83" x 1.67"
Weight
11.3 Ounces
Manufactured In
Japan
Body Only or with Kit Lens
Not Applicable, Integral Lens
Cost
$599.99** (

see here for latest

)
*Information from Canon's website, including pricing.
Final Assessment – Is the Canon G7 Still Worth the Money?
Although an older camera the G7 remains a great camera and is really at home with experienced photographers looking for more control of their camera, while getting excellent results without the need of a DSLR camera.  Many will find the G7 to be an excellent travel camera, as well as a good all around camera for most situations.
While Canon has introduced other cameras in the G Series including the G7X, the G7 is still widely available and is worth taking a look, especially if it is bundled with a decent lens.  I know that I love mine and still use it all of the time!
You can check out a good package for the G7 here.
Canon G7
Speed and Viewfinder
6.0/10
Image Quality and Accuracy
7.8/10
Handling and Build Quality
8.6/10
Value for the Money
8.3/10
Pros
Still a reliable and durable option despite its age
Excellent travel camera
Comes with C1 and C2 presets
Excellent control options
Cons
Released back in 2006
Only a single autofocus point
Not the best for video