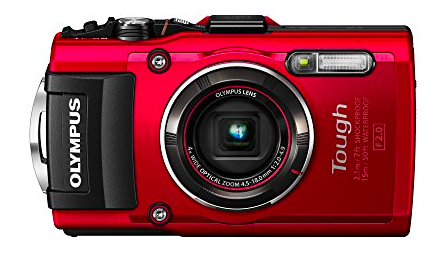 The Tested Truth: The Ultimate Olympus Tough TG-4 Review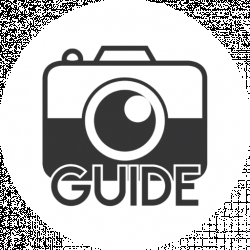 Latest posts by The Camera Guide Team
(see all)
While relatively unknown, the Olympus Tough TG-4 is one of the best compact cameras released in recent years.  Seldom does a camera check so many boxes in desirable features, while hitting a low price point.  While one of the most significant features of the TG-4 is the build, image quality is second to none.  Olympus hit a home run with the TG-4 and it should be no surprise that this is a very well received camera!
Some Key Features of the Olympus Tough TG-4
What sets the TG-4 apart from the other competitors in the compact camera market is the rugged build, which is designed to absorb abuse, despite having a plastic body.  While a great everyday compact camera, the FG-4 would be equally at home in the wilderness or on the trail.  While no one intentionally abuses cameras, accidents can and do happen and the ability of the TG-4 to withstand abuse is especially appealing.
Olympus claims that the camera is waterproof, shockproof, freezeproof and crushproof!  Specifically, the TG-4 claims to be able to be used at depths of 50 feet underwater; can absorb drops of up to 7'; withstand temperatures as low as 14° F and is crushproof to 220 lft.   These claims are valid and are not exaggerations on the part of Olympus, as the TG-4 is really well built.
Although the durability of the TG-4 is impressive, the ability to use the camera underwater is particularly intriguing, as this opens up a completely new type of photography to most amateur photographers.  Traditionally specialty cameras or waterproof cases for camera bodies have been required for underwater photography, which was just not feasible for many photographers.  The ability to use a camera in the water out of the box without any special equipment is very appealing.  The TG-4 is equally at home in a swimming pool with the kids or snorkeling on a reef.
In addition to the tough and waterproof build, the TG-4 has excellent technical features, as well beginning with a highly capable BSI CMOS sensor that can capture images at 16.0 megapixels.  This 2/3 " sensor, which measures 6.17mm x 4.55mm, is similar to the sensor found on many compact cameras.  While small, it still is quite capable of producing excellent image quality.   It is also the key to the TG-4 being priced at $349.00.
Coupled to the sensor is a very capable Olympus f/2.0-4.9 lens, which has a 4X optical zoom.  This results n the TG-4 having an effective 35mm equivalent range of 25mm-100mm.  This is a very useful range for a compact camera and will allow reasonable wide-angle shots, as well as moderate zoom capabilities.  In use, the lens is fast and produced excellent image quality in a wide range of settings, including low light situations.
Some of the Cons
While the autofocus system is accurate and responsive, it only utilizes one autofocus point.  It does have face detection capabilities, which is a standard feature in most compact cameras today.  Unfortunately, the TG-4 does not have an optical or electronic viewfinder and images and video are composed using the cameras rear LCD screen, which measures 3.0" and is fixed.  The screen is a standard screen without touch screen capabilities, so the functions of the screen are limited to navigating the camera's menus, as well as composing and reviewing images.
As with most compact digital cameras, the TG-4 is not a speed demon as it is limited to a shutter speed range of 1/2,000 to 4 seconds, which is still suitable for most types of photography except for high-speed sports.  Speed, as measured in frames per second, is a respectable 5 frames per second.  The key to this speed is the as TG-4's TruePic VII processor, which is quite capable of quickly processing images and writing the RAW or JPEG files to the camera's single SD, SDHC or DCXC memory card.
The TG-4 has a respectable native ISO range of 100 – 6,400, but cannot be expanded up or down beyond that range.  While capable of high ISO settings, the TG-4 is best at ISO ranges under 1,000.  Any higher than that and image quality tends to suffer as the camera's noise reduction software tends to be a bit aggressive in cleaning up images, resulting in the loss of detail.
Some of the Pros
One of the great features of the camera is the built-in flash, which is excellent in providing both fill in the flash as well as low light conditions.  In addition to providing excellent results, the flash also cycles quickly as well.   The flash also works well underwater, which really factors into the high-quality underwater images that the TG-4 captures.
As with most cameras on the market, the Olympus Tough TG-4 is capable of capturing video in a number of formats including HD with a frame size of 1,920 x 1,080.  As with all video the frame rate that the video is recorded varies depending upon the format, but the TG-4 can capture video up to 240 frames per second in certain formats and is recorded as MOV files.  The video quality of the TG-4 is excellent and shooting video is easy!
Unlike other compact cameras, the TG-4 has both GPS and WIFI capabilities.  These are features typically found on more expensive cameras and are very handy features for photographers of all capabilities.  GPS allows images to be geo-tagged, while WIFI will allow quick transfer of files, as well as the remote operation of the camera.
Photographers of all levels will enjoy the various exposure settings, scene and artistic modes found on the TG-4.  These settings allow the photographer to take as much control of the technical side of capturing the image, as well as the artistic side of photography.  One of the most fun settings is the microscope mode, which takes macro photography to a new level!  Best yet, the C1 and C2 settings will allow the photographer to store custom settings in the camera's memory and instantly recall them by simply turning a dial.  The convenience of the C1 and C2 settings cannot be overemphasized and once the photographer starts using these settings, they will never own a camera without them as it saves so much time in the field.
Physically, the TG-4 handles well and feels good even when shooting for extended periods, despite its small size of 4.4" x 2.6" x 1.2".  Weighing in at 8.7 ounces, without the LI-92B battery or a memory card, the camera can easily be carried in a coat pocket or a purse, along with a spare battery.  Although the camera battery life is rated at approximately 380 shots per charge, it is recommended that a spare battery be carried.
Just the Facts, A Side-By-Side Comparison
While most serious photographers look at image quality over technical specifications, many feel that the specifications are equally important.  The Olympus TG-4 has excellent image quality, as well as technical specifications, which are shown in the table below.
| | |
| --- | --- |
| Item | Olympus Tough TG-4 |
| Year Introduced | 2015 |
| Format | 1/2.3 |
| Megapixels | 16.0 |
| Sensor Type | BSI CMOS |
| Processor | TruePic VII |
| Image Format | RAW or JPEG |
| Sensor Size | 6.17mm x 4.55mm |
| Sensor Cleaner | No |
| Lens | Olympus f/2.0-4.9 |
| Optical Zoom | 4X |
| 35mm Lens Equivalent Range | 25mm – 100mm |
| Auto-focus Points | 1 |
| Face Detection | Yes |
| Exposure Modes | Intelligent Auto, Program Auto, Aperture Priority, Microscope, Underwater, Custom Mode 1, Custom Mode 2 |
| Scene Modes | Portrait, e-Portrait, landscape, Interval Shooting, Live Composite, Hand-Held Straight, Night Scene, Night + Portrait, Sport, Indoor, Self Portrait, Sunset, Fireworks, Cuisine, Documents, Beach & Snow, Panorama, Backlight HDR |
| Artistic Filters | Pop Art, Soft Focus, Pale & Light Color, Grainy Film, Pin Hole, Diorama, Dynamic Tone, Fish Eye, Sparkle, Reflection, Fragmented |
| Picture Modes | Vivid, Natural, Muted |
| View Finder Type | None |
| View Finder Coverage | Not Applicable |
| Live View | Yes |
| In Camera Optical Image Stabilization | Yes |
| Frames Per Second | 5 |
| ISO | 100 – 6,400 |
| Highest Expandable ISO | N/A |
| Shutter Speed Range | 1/2,000 – 4 Seconds |
| Built In Flash | Yes |
| Hot Shoe | No |
| Card Slots | 1 |
| Card Type | SD, SDHC or SDXC |
| LCD Size | 3.0" |
| LCD Fixed or Tilt | Fixed |
| Video | Yes |
| Video Type | 1,920 x 1,080 As Well As Various Other Formats.  Speeds Up To 240 Frames Per Second Depending Upon Format |
| Video Format | MOV |
| GPS | Yes |
| Wireless | Yes |
| WIFI | Yes |
| Battery | LI-92B |
| Number Of Still Images Per Battery Charge | +/- 380 |
| Moisture and Duct Resistant | Yes |
| Body Construction | Plastic |
| Unique Features | Highly Durable, Waterproof, Crushproof, Shockproof, Freezeproof, Dustproof, C1 & C2 Custom Settings, Microscope Mode |
| Included Items | Olympus TG-4 Digital Camera, Wrist Strap, LI-92B Rechargeable Lithium-Ion Battery, CB-USB8 USB Cable, F-2AC AC Adapter, Quick Start Guide, CD-ROM With Instruction Manual & Olympus View 3 Software, Warranty Card |
| Size | 4.4" x 2.6" x 1.2" |
| Weight | 8.7 Ounces |
| Manufactured In | China |
| Cost | $349.00 (Check out the latest prices and discounts.) |
* Information from Olympus website, including pricing.
The Final Frame: My Overall Recommendation
Available in either black or red, the Olympus Tough TG-4 is a great all around camera that does so many things so well, it is no wonder it has been a big hit for Olympus since it was introduced in 2015.  The TG-4 has a unique combination of excellent image quality in a bombproof and waterproof package that is also very affordable and fun to shoot.  The TG-4 should be a part of every photographer's kit and they should never leave home without it!