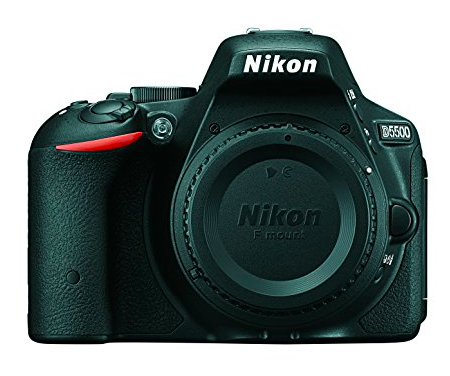 The Best Entry-Level DSLR? The Full Nikon D5500 Review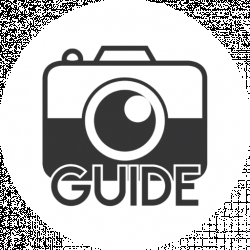 Latest posts by The Camera Guide Team
(see all)
The Nikon D5500 is the currently the newest and most advanced camera in Nikon's entry Level DSLR lineup, which also includes the D3200, D3300, D5200 and the D5300 cameras.  Designed as an update to the D5300, the Nikon D5500 has been available since February 2015 and continues to be a very capable camera at an affordable price point.  Most importantly, it produces high image quality that rivals Nikon's more expensive cameras.
Key Features of the Nikon D5500
The D5500 is built around a very capable CMOS sensor that captures images in the DX or "cropped sensor" format at 24.2 megapixels. While this sensor is capable of capturing excellent images, its smaller size and less expensive to manufacture than the more expensive full frame sensors found on professional grade cameras, making DX cameras generally less expensive than full frame cameras. It is important to keep in mind that the D5500 has more megapixels than Nikon's newest DX camera the D500, which costs twice as much!
The crop sensor is second to none in image quality and is actually preferred by many photographers, due to the 1.5X crop factor found on the D5500, as well as Nikon's other DX cameras.  The crop factor results in normal lenses being 50% longer than the same lens shot on a full frame camera.   An example of this would be an image captured on a D5500 using a 50mm lens would be identical to the same image captured on a full frame D750 using a 75mm lens.  This is especially useful in cases where the photographer cannot get as close to the subject as they would like.  Examples of these scenarios include sports events or photographing birds or other wildlife.
Once captured, images are processed from the 23.5mm x 15.6mm sensor to the D5500's single SD, SDHC or SDXC memory card using the camera's EXPEED 4 processor.  Images are written to the card in either JPEG or RAW formats.  The processor allows up to 5 frames per second to be shot by the photographer without the camera slowing down as the processor catches up.  Related to the speed of the camera is the shutter speed, which ranges from 1/4,000 to 30 seconds and is capable of freezing all but the fastest action!
Some of the Most Useful Features of the D5500
LCD Touch screen: One of the most useful features found on the D5500 is the 3.2" rear LCD touch screen, which also swivels.  The photographer has the ability to navigate the camera's menu from the screen and change settings.  This feature is also useful when composing live view shots, as the photographer can select the focus point as well using the touchscreen.  While Nikon was late in introducing touch screen technology to their DSLR cameras, they have done a good job as the use of the screen; the accuracy of the touch points and general navigation is easy and intuitive.  Most photographers will be able to figure it out without utilizing the manual.  However, buyers of any camera should always read the manual.
Viewfinder: The D5500 has a bright viewfinder that provides 95% coverage of the image being captured.  Inside the viewfinder there is an excellent autofocus system that can be configured to show 9, 21 or 39 autofocus points, which are evenly distributed in the camera's viewfinder.  In actual use, most photographers use either 9 or 21 autofocus points, as more tends to be distracting when composing the image.
Shooting: The D5500 is capable of shooting in a number of traditional exposure modes including aperture priority, Auto (flash on and off), manual, programmed auto, shutter priority.  As with most cameras in the entry-level lineup, the D5500 has a number of scene and creative exposure modes as well.  It is important to keep in mind that the D5500, while an entry-level camera, is very advanced and these various exposure modes will allow the photographer to take as much or as little control over the camera as they want.  This is a very desirable feature for new photographers as they gain experience!
The ISO range of the D5500 is a reasonable 100-25,600, with no additional expansion being available.  In the majority of cases, this is more than sufficient for most low light conditions.  While the D5500 is capable of shooting at high ISO setting, it is important to be aware that the results may not be desirable.   This is due to the built in noise reduction software found in the camera that tends to aggressively reduce image detail, as it removes noise from high ISO settings.
The video capabilities of the D5500 are impressive for a camera at this price point, with the camera being able to capture video images in a variety of formats including Full HD, HD and VGA.  Depending upon the format, speeds range from 24-60 frames per second and are captured in .MOV format.
While the camera does not have built-in GPS capability, Nikon does offer an accessory GRP unit that can provide this service if the photographer wants it.  The D5500 does have built in WIFI and wireless capability, which is easy and straightforward to use.
The D5500 is lightweight at 14.9 ounces and it also feels good in the hands.  The D5500 measures 4.9" x 3.9" x 2.8" and while small was comfortable to handle for long periods of time.  The deeper grip on the right side of the camera is a big improvement over earlier versions of the camera.  Other features of the D5500 are the built-in flash unit, which is capable of proving flash in low light conditions.  It also is very useful in providing fill-in flash as well.
Nikon provides a number of items with the camera including a battery, charger, cables, caps, neck strap and an instruction manual.  All the photographer will need to buy will be an SD card and they are ready to start shooting.  The camera is available as a body only, as well as two kits where either an AF-S DX Nikkor 18-55mm f/3.5-5.6G VR II Lens or an AF-S DX Nikkor 18-140mm f/3.5-5.6G VR Lens is included.
One thing to keep in mind with the D5500 is that while a tough camera, the body is plastic and the camera does not have dust and moisture sealing.  Reasonable care should be taken when handling the camera and it should not be exposed to excessive dust or moisture as it is designed for normal use and not abuse!
Specifications at a Glance
While most serious photographers look at image quality over technical specifications, many feel that the specifications are equally important.  The Nikon D5500 has excellent image quality, as well as technical specifications, which are shown in the table below.
| | |
| --- | --- |
| Item | Nikon D5500 |
| Year Introduced | 2015 |
| Format | DX |
| Megapixels | 24.2 |
| Sensor Type | CMOS |
| Processor | EXPEED 4 |
| Image Format | JPEG And Raw |
| Sensor Size | 23.5mm x 15.6mm |
| Sensor Cleaner | Yes |
| Auto-focus Points | 9, 21 or 39 |
| Scene Modes |   Yes |
| Creative Exposure Modes | Yes |
|                                                           Metering | TTL With RGB Sensor |
| Metering Modes | Aperture-Priority (A), Auto, Auto (Flash Off), Manual (M), Programmed Auto With Flexible Program (A), Scene Modes, Shutter-Priority (S) |
| View Finder Type | Eye-Level Pentamirror Single-Lens Reflex |
| View Finder Coverage | 95% |
| Live View | Yes |
| In Camera Optical Image Stabilization | No |
| Frames Per Second | 5 |
| ISO | 100 – 25.600 |
| Lowest Expandable ISO | N/A |
| Highest Expandable ISO | N/A |
| Shutter Speed Range | 1/4,000 – 30 Seconds |
| Built In Flash | Yes |
| Card Slots | 1 |
| Card Type | SD, SDHC, SDXC |
| LCD Size | 3.2" |
| LCD Fixed or Swivel | Swivel |
| Video | Yes |
| Video Type | Full HD (1,920 x 1,080), HD and VGA At Speeds Ranging From 24 – 60 FPS Depending Upon Video Type Used |
| Video Format | .MOV |
| GPS | Optional |
| Wireless | Yes |
| WIFI | Yes |
| Battery | EN-EL 14a Rechargeable Li-Ion |
| Moisture and Duct Resistant | No |
| # Of Still Images Per Battery Charge | 820 |
| Body Construction | Thermoplastic |
| Unique Features | In Camera Editing And HDR Capabilities, Black or Red Body |
| Included Items | DD5500 Body, BF-1B Body Cap, DK-25 Rubber Eyecap, AN-DC3 Strap, EN-EL14a Battery, MH-24 Charger, US-E23 USB Cable, EG-Cp16 Audio / Video Cable, CD-ROM Software |
| Size Without Lens | 4.9" x 3.9" x 2.8" |
| Weight Without Lens | 14.9 Ounces |
| Manufactured In | Thailand |
| Body Only or with Kit Lens | Sold As Body Only As well A Kit With Two Options Being Available |
| Cost, Body Only | $899.95 (Check out the latest prices and discounts.) |
| Cost Of Kit #1 With AF-S DX Nikkor 18-55mm f/3.5-5.6G VR II Lens | $999.95 (Check out the latest prices and discounts.) |
| Cost Of Kit #1 With AF-S DX Nikkor 18-140mm f/3.5-5.6G VR Lens | $1,399.95 (Check out the latest prices and discounts.) |
*Information from Nikon USA website, including pricing.
The Final Frame: My Recommendation
The Nikon D5500 is a great camera and is an excellent value and should be considered by anyone looking for a cropped sensor camera.  While Nikon has a number of other cameras in their entry-level lineup, it is clear that the D5500 is the leader of the pack for a good reason!