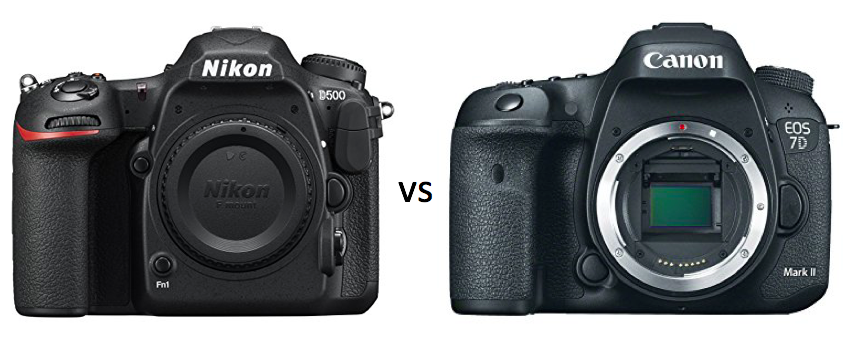 Cropped Sensor Camera Showdown: The Nikon D500 vs. the Canon 7D Mark II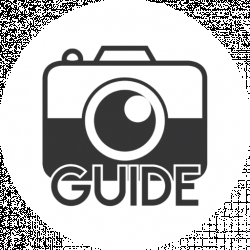 Latest posts by The Camera Guide Team
(see all)
Nikon and Canon have always been the two major players in the market for "cropped sensor" cameras with dozens of models introduced over the years.  However, with the introduction of the "budget" full frame cameras, such as the Nikon D610 and the Canon 6D, many wondered about both company's commitment to the higher end market for "cropped sensor" DSLR cameras.  The Nikon D500 and the Canon 6D answered that question and it is clear that Nikon and Canon are both committed to manufacturing professional grade DSLR cameras based upon the smaller "cropped sensor".  The D500 is a completely new camera, which is a Nikon's response to the 7D Mark II, which is a follow-up model to the original 7D.  They are both excellent cameras and the consumer really benefits from the continued rivalry between these two companies.
The Similarities
The Nikon D500 and the 7D Mark II are similar in three major ways including sensor format, effective megapixels and blazing fast speed.  Both cameras use a "cropped sensor" CMOS sensor, which while smaller than full frame sensors is very advanced as s responsible for the image quality found in both cameras.  In the case of Nikon they call the cropped sensor format DX, while Canon calls it APS-C.  This format gives the camera a 'crop factor" which is 1.5X in the Nikon compared to 1.6X found in the Canon.  This "crop factor" makes lens used on the cameras longer, with an example being an image captured on a D500 using a 50mm lens would be identical to the same image captured on a full frame camera such as a D810 using a 85mm lens.
While the D500has a slightly higher megapixel count of 20.9 megapixels, the 7D Mark II is only slightly behind at 20.2 megapixels.  In either case, it is virtually impossible to detect a difference in the images that the cameras capture.  It is also important to note that the image quality remains excellent in a wide variety of low lighting situations including situations where high ISO settings are used.
As far as speed is concerned, the D500 and 7D Mark II are very popular with sports and action photographers due to their frame rate of 10 frames per second, as well as their fast shutter speed of 1/8,000 of a second.   Both cameras are very fast and are only slightly slower than Nikon's professional grade D5 and Canon's professional grade 1DX Mark II.
The Differences
While there are other areas where the two cameras are somewhat similar there are subtle differences worth pointing out.  One such area is in the way that the camera processes images that allow a frame rate of 10 frames per second.  In the case of the D500, the camera uses a single EXPEED 5 processor to write images to one of the two memory cards that the camera holds.  In contrast, the 7D Mark II uses two DIGIC-9 processors to do the same job.  As far as memory cards are concerned, the D500 uses a single SD type card, as well as a single XQD card, while the 7D Mark II uses a single SD type card and a single CF card.
More significant differences include the ISO range, autofocus points, LCD displays, custom settings and video capabilities.  The ISO range of the D500 is amazing with a native ISO range of 100-52,000, while the 7D Mark II "only" has a range of 100-16,000.  In the case of the 7D Mark II, this range can be expanded up to 51,200, while the D500 can be expanded downward to 50 and upward to 1,640,000!
While both cameras have an excellent autofocus system, the D500 has up to 153 autofocus points compared to 65 found on the 7D Mark II.  In both cameras, the autofocus points are quick, accurate and are equally distributed in the camera's viewfinder, which provides 100% coverage.
Images, as well as the camera's menu, are displayed on bright rear LCD displays, which in the case of the D500 measures 3.2" and tilts compared to the 3.0" fixed display on the 7D Mark II.  The screen on the D500 also allows has partial "touch screen" capabilities, while the 7D Mark II does not have such ability.
The 7D Mark II has the ability to allow the photographer to store custom settings in the camera's memory and quickly recall them through selecting the appropriate C1, C2 or C3 setting on the camera's main dial.  This useful feature has been omitted from the D500, although it is found on many other cameras in Nikon's mid level "Enthusiast" lineup, which is where the D5000 is positioned.
A final difference is in the quality of the video each camera can capture.  While both cameras can shoot video in various formats including HD, the D500 has a significant advantage here mainly as it can shoot UHD video with a frame size of 3,840 x 2,140 at 24-30 frames per second.  This feature is mainly due to the D500 being a newer camera, which is utilizing the most recent technology.
Pros and Cons
As with all cameras, the D500 and the 7D Mark II are not perfect, which each camera having a number of booth positive and negative features.  The consumer will need to determine how these "pros" and cons" impact their style of photography and make their selection accordingly.
In the case of the D500 the biggest positive feature is its advanced video capabilities, which allow video to be shot in a number of formats including UHD.  The quality of the video shot in this format is exceptional.
The biggest negative feature of the D500 is Nikon's decision to use the new XQD memory card as the storage format in the camera's second memory slot.  While the D500 is a very fast camera and the XQD card allows for images to be stored on the card at extremely fast rates, they are expensive when compared to SD and CF memory cards.  It is unclear how these cards are going to be accepted by the consumer that this camera is being marketed towards.
As far as the 7D Mark II, the biggest positive feature is the camera is how Canon produced an all around great camera with reasonable performance characteristics. Canon was able to withstand the temptation to feature crazy specifications that are more marketing oriented than are actual actually useful in the field.  Examples of this include the number of autofocus points and the native ISO range, especially when comparing the 7D Mark II to the Nikon D500.   Is there really a use for 153 autofocus points or ISO settings that can be expanded up to 1,640,000?  I doubt it!
The biggest negative feature of the 7D Mark II is the lack of built in WIFI into the camera.   Although not a necessity, WIFI is a great feature that allows images to be uploaded directly and allows remote operation of the camera.  While Canon does make an optional accessory that allows for WIFI and wireless capabilities, the accessory unit is relatively expensive.
Just the Facts, A side-By-Side Comparison
While most serious photographers look at image quality over technical specifications, many feel that the specifications are equally important.  The Nikon D500 and Canon 7D Mark II both have excellent image quality, as well as technical specifications, which are shown in the table below.
Item
Nikon D500
Canon 7D Mark II
Year Introduced
2016
2014
Format
DX
APS-C
Megapixels
20.9
20.2
Sensor Type
CMOS
CMOS
Processor
EXPEED 5
Dual DIGIC-9
Image Format
RAW or JPEG
RAW or JPEG
Sensor Size
23.5mm x 15.7mm
22.4mm x 15.0mm
Sensor Cleaner
Yes
Yes
Auto-focus Points
Up To 153
65 Cross Type
Modes
Aperture Priority (A), Manual (M), Program (P), Shutter Priority (S)
Aperture Priority (A), Manual (M), Program (P), Shutter Priority (S)
Metering
TTL Exposure Metering Using Approximately 180k Pixels RGB Sensor
EOS ISA System, With 252 Zone Metering
View Finder Coverage
100%
100%
Live View
Yes
Yes
Frames Per Second
10
10
ISO
100 – 51,200
100-16,000
Lowest Expandable ISO
Lo-1 (50)
N/A
Highest Expandable ISO
H-5 (1,640,000)
H-1 (25,600). H2 (51,200)
Compatible Lens
All NIKKOR AF-S or AF Lenses
All Canon EF Lenses, Including EF-S Lenses
Shutter Speed Range
1/8000 – 30 Seconds
1/8000 – 30 Seconds
Built In Flash
No
Yes
Card Slots
2 (1 SD and 1 XQD)
2 (1 CF and 1 SD)
Card Type
SD, SDHC, SDXC and XQD
CF Type 1 and SD, SDHC, SDXC and UHS-1
LCD Size
3.2"
3"
LCD Screen Type
Tilting
Fixed
Video
Yes, Full UHD
Yes, Full HD
Video Type / Speed
3,840 x 2,140 At 24-30 FPS; Other Types As Well
1,920 x 1,080 At 23.98 – 29.97 FPS; Other Types As Well
Video Format
MOV
MOV
Internal Autofocus Motor
Yes
No
GPS
Optional
Yes
Wireless
Yes
Optional
WIFI
Yes
Optional
Battery
EN-EL 15
LP-E6N
Battery Life, Photographs Only
1,240 Shots
1,000 Plus Shots
Unique Features
Exceptional Video Capabilities, Limited Touch Screen Capabilities
C1, C2, C3 Settings; Low Cost For A Professional Grade Camera
Size Without Lens
5.8" x 4.6" x 3.2"
5.85" x 4.43" x 3.08"
Weight Without Lens
26.9 Ounces
28.92 Ounces
Manufactured In
Thailand
Japan
Body Only or with Kit Lens
Both Options Available
Both Options Available
Included Accessories
EN-EL 15 Rechargeable Battery, MH-25a Battery Charger, DK-17Flourine-Coated Finder Eyepiece, UC-E22 USB Cable, USB Cable Clip, AN-DC17 Camera Strap, HDMI Cable Clip, BF-1B Body Cap
Battery Pack LP-E6N, Battery Charger LC-E6, Cable Protector, USB Interface Cable FC-150U II, EOS Digital Solution Disc, Wide Neck Strap.
Cost, Body Only
$1,999.95 (For the latest discounts and prices.)
$1,799.00 (For the latest discounts and prices.)
Cost With Kit Lens (Various Lens Options Available)
$3,069.95 (Check out the latest prices.)

With AF-S DX Nikkor 16-80mm f/2.8—4E ED VR Lens

Varies Depending On Lens Selected
*Information from Nikon and Canon's websites, including pricing.
The Final Frame: My Overall Recommendation
The Nikon D500 and the Canon 7D Mark II are the best cropped sensor cameras on the market today.  The features and performance offered by both cameras are second to none and either would be an excellent choice for photographers of all experience levels.  That being said, I prefer the 7D Mark II over the D500 for several reasons beyond the fact that it has a lower suggested retail price.
The main reason for this preference is that I really like the GPS feature of the 7D Mark II, as well as its built in compass.  When GPS in cameras was first introduced, I was a skeptic as to their usefulness, however now I am a believer!  The GPS feature allows me to geo-tag images, which I really appreciate after spending countless hours on my computer manually tagging older images.  Another great feature of the 7D Mark II is that is uses a single SD and CF card in the camera's two memory slots.  These cards work well for me and I am unwilling to move to XQD cards due to the costs and the fact that I already have dozens of SD and CF cards.
While Nikon and Canon both have a tendency to push out cameras before they are really ready, Nikon and Canon both got it right out of the box with the D500 and 7D Mark II.  Today's consumers are reaping the benefits of the continued competition between Nikon and Canon as they push each other to make better cameras, including those using "cropped sensors"!