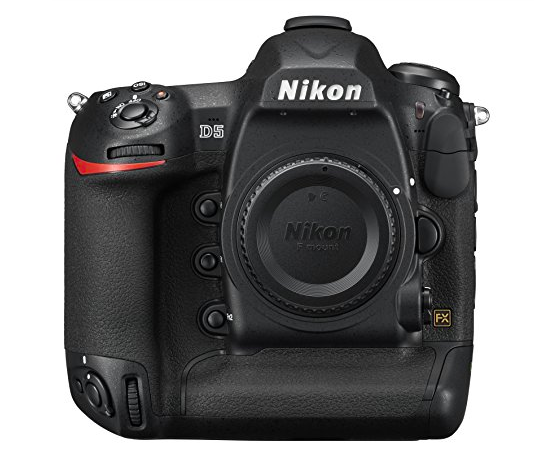 The Nikon D5: Why We Love Nikon's Battle Tank!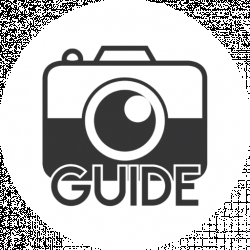 Latest posts by The Camera Guide Team
(see all)
Professional photographers rely on their equipment of a daily basis and demand the best and most durable cameras on the market, because their livelihood depends on it!   Canon and Nikon have been battling for the professional market since the days of film cameras and the consumer has really seen the benefits of this competition.  This competition, coupled with continuous advancements in digital camera technology has resulted in new "pro" level cameras being introduced on a regular basis.  While Nikon has released a number of new cameras in 2016, the D5 is their latest "pro" camera and it is quite an upgrade to the D4S, which was introduced in 2014.
Key Features of the Nikon D5
The D5 uses a full frame CMOS sensor that measures 35.9mm x 23.9mm and captures images at 20.8 megapixels.  While Nikon's consumer grade cameras, such as the D3400, have higher resolution in terms of megapixel count, Nikon keeps the D5 at a slightly lower level and focuses on other features that are important to professional photographers.  That being said, a camera such as the D5 that shoots at 20.8 megapixels is going to produce excellent image quality.  In fact, one would be hard pressed to tell the difference in image quality between a D5 and a D3400!
Some of the Best Features of the Nikon D5
One of the things that really sets the D5 apart from other Nikon cameras is the excellent autofocus system.  This system has up to 153 autofocus points that are evenly distributed in the camera's viewfinder, which provides 100% coverage.  The autofocus system is very fast and is dead on accurate in focusing and holding focus on all sorts of subjects, including fast moving subjects like athletes, race cars and aircraft in flight.  This is one of the most important features that sports photographers find critical in a camera!
Another area that sets the D5 apart from other cameras is the speed of the camera as measured in the shutter speed rage and the frame rate of the camera.  As far as the shutter speed is concerned, the D5 has a range of 1/8,000 to 30 seconds, which is pretty standard for higher end digital cameras.  What is not standard with other cameras is the D5's frame rate of 12 frames per second, which is quite high for a traditional DSLR camera and the camera.  In addition, it can shoot at that rate for up to 200 shots in a single burst before the camera runs out of "buffer" or the ability to process the images to the camera's memory as fast as the shutter is fired.  This fast frame rate is a result of the exceptional EXPEED 5 processor used in the D5, which processed images as either JPEG, RAW or TIFF files.
Some of the Cons of the Nikon D5
Once the images are processed, they are written to one of the two memory cards that the D5 uses.  Nikon took an unusual step as far as the memory format is concerned, as the camera is available with either dual compact flash (CF) card slots or dual slots which hold the newer XQD cards.  This was a really smart move on Nikon's part as many experienced photographers still use and have CF cards, although the XQD card will be more widely used in the future.  This eliminates the need for photographers already using CF cards to immediately need to upgrade to XQD cards when buying the D5.  As with most cameras that use two memory cards, the cards on the D5 can be configured in a number of ways including the second card being used as overflow or backup of the 1st card, as well as one card for still images and the second card for video.
Images can be previewed via the camera's rear LCD screen, which measures 3.2".  This screen, which is fixed and is not a touch screen, can also be used to compose images using the camera's live view function.  In addition, the screen is used to navigate the camera's extensive menu system, which is quite easy to navigate and intuitive as well.
The native ISO range of the D5 is amazing with the range being 100-102,400.  In addition, using the Lo-1 setting the ISO can be stepped down to 50, while using the Hi-5 setting the ISO can be pushed to 3,280,000.  I am not sure why Nikon went in this direction with expanding the ISO range to this level other than for marketing purposes.  The low light capabilities of the D5 are excellent at even relatively low ISO settings that one would be pressed to ever need to use ISO 102,400 much less ISO 3,280,000.  That being said the image quality throughout the camera's native ISO range was quite good with the software not excessively reducing detail as it reduced noise.  As one would expect the image quality at ISO 3,280,000 is pretty poor.
Unlike other cameras in Nikon's lineup the D5 does not offer ant pre-set scene or creative exposure modes instead relying on the traditional exposure modes, which include aperture-priority, programmed auto with flexible program, shutter-priority and manual.  Since the D5 is targeted towards professional and experienced photographers, Nikon eliminated these features, which are mainly targeted towards enthusiasts and less experienced photographers.
The D5 offers excellent video capabilities and is suitable for professional videographers to create commercial grade video.  The camera shoots video in a variety of formats including 4K, which has a frames size of 3,840 x 2,160 and shoots at 30 frames per second.  Video images are recorded in .MOV format.  As one would expect, the video image quality is excellent, especially when good Nikon lenses are used.
While the D5 does not have built in WIFI or GPS capabilities, the camera does accept optional Nikon accessories to give the camera these capabilities.  This will not put off many consumers in the market, as they will be drawn to the camera's tank like build.  The D5 features a full magnesium alloy shell, as well as extensive moisture and dust sealing to protect the camera in the harshest and most rugged conditions.  While care should be taken with any camera, the D5 is made for the field and is designed to withstand rough use on a daily basis.
The only downside of this is that the D5 is a heavy camera weighing in at 49.6 ounces without a lens!  The D5 is also a large camera measuring 6.3" x 6.3" x 3.7".  The reason for the large size is the built in battery grip, which holds a second EN-EL18a battery.  While it is nice to have the ability to use a second battery, which will allow 3,780 still images to be captured, the battery grip really improves the D5's already excellent handling, especially when the camera is held vertically.  The size and weight really help balance the camera when larger lenses are being used.
Specifications at a Glance
While most serious photographers look at image quality over technical specifications, many feel that the specifications are equally important.  The Nikon D5 has excellent image quality, as well as technical specifications, which are shown in the table below.
| | |
| --- | --- |
| Item | Nikon D5 (Check out the latest discounts and prices.) |
| Year Introduced | 2016 |
| Format | Full Frame |
| Megapixels | 20.8 |
| Sensor Type | CMOS |
| Processor | EXPEED 5 |
| Image Format | JPEG, RAW, TIFF |
| Sensor Size | 35.9mm x 23.9mm |
| Sensor Cleaner | Yes |
| Auto-focus Points | 153 With 99 Being Cross – Type |
| Scene Modes | No |
| Creative Exposure Modes | No |
| Metering | TTL Exposure Metering Using Approximately 180K Pixels RGB Sensor |
| Exposure Modes | Aperture-Priority (A), Manual (M), Programmed Auto With Flexible Program (A), Shutter-Priority (S) |
| View Finder Type | Eye-Level Pentaprism Single-Lens Reflex |
| View Finder Coverage | 100% |
| Live View | Yes |
| Frames Per Second | Up To 12 FPS |
| ISO | 100 – 102,400 |
| Lowest Expandable ISO | 50 (Lo-1) |
| Highest Expandable ISO | 3,280,000 (Hi-5) |
| Shutter Speed Range | 1/8,000 – 30 Seconds |
| Built In Flash | No |
| Card Slots | 2 |
| Card Type | Type 1 CF Or XQD |
| LCD Size | 3.2" |
| LCD Fixed or Swivel | Fixed |
| Video | Yes |
| Video Type | 4K 3,840 x 2,160 / 30 FPS; Other Formats As Well, Including Full HD |
| Video Format | .Mov |
| Internal Autofocus Motor | Yes |
| GPS | Optional Accessory |
| Wireless | Optional Accessory |
| WIFI | Optional Accessory |
| Battery | EN-EL18a |
| Battery Life | 3,780 Still Images |
| Body Construction | Magnesium Alloy |
| Unique Features | Tank Like Build, Moisture and Dust Resistant |
| Size Without Lens | 6.3" x 6.3" x 3.7" |
| Weight Without Lens | 49.6 Ounces |
| Manufactured In | Japan |
| Included Accessories | En-EL18a Lithium-Ion Battery, MH-26a Battery Charger, UC-E22 USB Cable, BF-1B Body Cap, BS-3 Accessory Shoe Cover, USB Cable Clip, HDMI Cable Clip, DK-27 Eyepiece Adaptor, DK-17F Fluorine-Coated Finder Eyepiece, BL-6 Battery Chamber Cover, AN-DC15 Camera Strap |
| Cost | $6,499.95 (Check out the latest offers here.) |
*Information from the Nikon USA websites, including pricing.
The Final Frame: My Recommendation
The only thing that could make the D5 better would be if Nikon would include the U1 andU2 settings found on many of their consumer grade bodies.  These settings allow the photographer to store and instantly recall two preferred camera settings by simply turning the top dial.  It is an excellent feature and very useful in the field and is a real miss by Nikon.  Another miss is the lack of a built in flash unit, making the D5 reliant on a flash unit mounted to the camera's hot shoe.
However, at the end of the day the D5 is still a terrific camera, with outstanding technical specifications, that would be a faithful companion to any advanced photographer that can afford a camera body with a suggested retail price of $6,499.95. Check out the latest deals. While very expensive, you definitely get a camera with outstanding performance and image quality, as well as one that is built like a tank. Many photographers will find that an investment in a Nikon D5 will pay dividends, because they may never upgrade their camera body again, well at least until the D5s comes around!