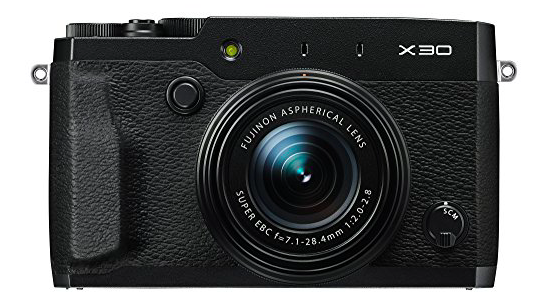 A Better High-end Compact: The Full Fujifilm X-30 Review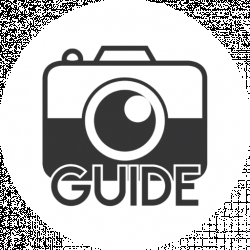 Latest posts by The Camera Guide Team
(see all)
One of the most significant digital camera manufacturers in recent years has been Fujifilm, who was traditionally known for their film manufacturing.  While not as large as their main competitors, Fujifilm first took the camera world by surprise in 2011 with the introduction of the well-received and innovative X100 and the smaller X10 later that year.  Since then Fujifilm has introduced several follow-up cameras to the X100 and X-10, including the X-30, which was introduced in 2014.  Targeting consumers looking for a high-end compact camera, the Fujifilm X-30 remains very popular due to its excellent image quality, professional feel, as well as its ease of use.
About the X-30
The key to the image quality on the X-30 is the X-Trans CMOS II sensor, which captures images at 12.0 megapixels.  Although using the smaller 2.3 format, the sensor, which measures 8.8mm x 6.6mm is still significantly larger than sensors found in most other compact cameras.  The sensor has the ability to capture very clean images in a variety of conditions, including low light conditions where the ISO is pushed fairly high.
Fujifilm coupled the sensor on the X-30 with an excellent Fujinon f/2.0-2.8 lens.  The lens has an optical zoom of 4x, which provides a 35mm equivalent range of 28mm – 112mm.  In practice this is a very useful range for a compact camera, combining wide angle with moderate zoom.  When not in use, the X-30's lens is retracted into the body, but the face of the lens remains uncovered and should be protected using a lens cap or an optional LH-X10 lens hood.  Related to the lens is the barrel at the end of the lens, which turns the X-30 on and off!  Definitely a unique feature and is an example of how innovative Fujifilm is to the camera world.
While the earlier models of the X-30 had optical viewfinders, Fujifilm elected to replace the optical viewfinder with an excellent electronic viewfinder that provides 100% coverage.  The viewfinder is bright and provides data such as ISO settings, shutter speed, f/stop settings, as well as up to 49 autofocus points.  Unlike other electronic viewfinders, which lag when the camera is moved, the finder in the X-30 refreshes quickly with minimal lag.
Once the image is captured, it is processed by the EXR Processor II processes it as either a RAW or JPEG image.  The file is saved to a single memory slot, which holds a SD, SDHC or SDXC memory card.  The processor is fast enough to allow a burst rate of up to 18 frames per second, depending upon the image quality selected.
Unlike most other cameras, the X-30 has modest native ISO range of 100 – 12,800, which is more than enough for most shooting conditions that this camera would face.  When shooting the X-30, most photographers will find that the best images will be captured at ISO settings of 800 and below.  Otherwise images will often begin to appear soft as the noise reducing software works to eliminate noise that is introduced at high ISO settings.
As with most cameras on the market today, the X-30has video capabilities with video being captured in a variety of formats, including 1,920 x 1,080 at a variety of speeds up to 60 frames per second depending upon the format used.  Video quality is acceptable for a compact camera, with the video functions being easy to use.
While the camera is substantial for a compact camera, weighing 14.09 ounces and measuring 4.7" x 2.8" x 2.4", it is important to keep in mind that the camera has a all metal body and feels very well made.  Unlike other compact cameras, the X-30 has numerous dials to set the camera's functions and is not reliant on a menus accessed thru the camera's 3.0" tilting rear LCD display.  The quality of the construction definitely contributes to the "professional" feel of the camera.
Related to the "professional" feel of the X-30 is the camera's various exposure settings including Auto, Program, Aperture Priority, Shutter Priority and Manual.  The camera has the flexibility to allow the photographer to take as much control as they want in the technical aspects of photography.  This is particularly important to new photographers who may initially elect to shoot fully automatic, while eventually shooting with manual settings as they gain more confidence and experience.
Other Features Worth Considering
Other features that are both useful and fun to use are the various scene modes, which will automatically set the camera's various functions to match the scene selected in order to maximize image quality.  These scene settings include Portrait, Landscape, Sunset as well as 11 other scenes.  Related to this is the various artistic modes, which allow the photographer to be creative with the image using such settings such as Toy Camera, Miniature, Partial color, as well as 5 other modes.  In addition, the camera has various film simulation and filter modes including Monochrome, Sepia and "Classic Chrome", which has the unique appearance of images captured using Kodak Kodachrome film.
The Cons
Like all Fujifilm cameras, the menu system on the X-30 is a bit quirky and takes some time to get use to.  It is not that it is inferior, but it is less intuitive than other cameras.  While many of the camera's functions can be accessed using the camera's external dials and the control ring on the front of the camera, it will still be necessary to utilize the camera's menu to unleash the full functions of the X-30.
While the camera has a very capable built in flash that is acceptable for fill in flash and close in flash, the camera also has a hot shoe where a dedicated flash unit can be attached.  Due to the relatively small size of the X-30, a flash unit such as the Fujifilm EF-20 is recommended to keep the weight and balance of the camera in check.
Unfortunately the X-30 does not have GPS functionality, although it does have wireless capabilities.  This wireless capability allows the X-30 to interact with the photographer's smart phone to allow remote shooting, image transfer and geo-tagging among other things.
As far as battery life is concerned the X-30 has a powerful battery that is rated to 470 shots per charge.  This is very high for a camera that has an electronic viewfinder, which is typically a battery killer!  That being said, it is recommended that a spare fully charged NP-95 battery as the battery strength indicators on Fujifilm cameras are not that accurate.  Many times the indicator will show the battery completely charged and then start flashing red and the camera will proceed to die within the time it takes to capture 10 images!
While most serious photographers look at image quality over technical specifications, many feel that the specifications are equally important.  The Fujifilm X-30 has excellent image quality, as well as technical specifications, which are shown in the table below.
Key Features of the Fujifilm X-30
| | |
| --- | --- |
| Item | Fujifilm X-30 |
| Year Introduced | 2014 |
| Format | 2.3 |
| Megapixels | 12.0 |
| Sensor Type | X-Trans CMOS II |
| Processor | EXR Processor II |
| Image Format | RAW or JPEG |
| Sensor Size | 8.8mm – 6.6mm |
| Sensor Cleaner | No |
| Lens | Fujinon F/2.0-2.8 |
| Optical Zoom | 4X |
| Lens 35mm Lens Equivalent Range | 28mm-112mm |
| Auto-focus Points | 49 |
| Face Detection | Yes |
| Exposure Modes | Auto, Program, Aperture Priority, Shutter Priority, Manual |
| Scene Modes | Portrait, Portrait Enhancer, Landscape, Sport, Night, Night (Tripod), Fireworks, Sunset, Snow, Beach, Party, Flower, Text, Underwater |
| Artistic Modes | Toy Camera, Miniature, Pop Color, High Key, Low Key Dynamic Tone, Soft Focus, Partial Color |
| View Finder Type | Electronic |
| View Finder Coverage | 100% |
| Live View | Yes |
| In Camera Optical Image Stabilization | Yes |
| Frames Per Second | Up To18 (JPEG Only) |
| ISO | 100 – 12,800 |
| Highest Expandable ISO | N/A |
| Shutter Speed Range | 1/4,000 – 30 Seconds |
| Built In Flash | Yes |
| Hot Shoe | Yes |
| Card Slots | 1 |
| Card Type | SD, SDHC or SDXC |
| LCD Size | 3.0" |
| LCD Fixed or Tilt | Tilt |
| Video | Yes |
| Video Type | 1,920 x 1,080 Up To 60 Frames Per Second; Other Formats As Well |
| Video Format | MOV |
| GPS | No |
| Wireless | Yes |
| WIFI | Yes |
| Battery | NP-95 |
| Number Of Still Images Per Battery Charge | +/- 470 Shots |
| Moisture and Duct Resistant | No |
| Body Construction | Magnesium Alloy |
| Unique Features | Electronic Viewfinder; Various Film Simulation Modes Including "Classic Chrome", All Metal Construction; Available All Black Or Black And Chrome |
| Included Items | Fujifilm X-30 Camera, Li-ion NP-95 Battery, AC-5VT AC Power Adaptor, Plug Adaptor, Shoulder Strap, Lens Cap, Metal Strap Clip, Protective Cover, Clip Attaching Tool, USB Cable, Owner's Manual |
| Size | 4.7" x 2.8" x 2.4" |
| Weight  (With Battery & Memory Card) | 14.09 Ounces |
| Manufactured In | China |
| Cost | $599.00  (Check out the latest prices and discounts.) |
* Information from Fujifilm USA website, including pricing.
Conclusion
The best thing about Fujifilm is they really seem to know what photographers want and produce excellent cameras that appeal to photographers and not to marketing people.  The X-30 is one of those cameras and while there ere are other cameras that are smaller and have more resolution, the X-30 is a great overall camera.  On top of that it, it is just plain fun to shoot!  New photographers will enjoy the camera's simplicity; while more experienced photographers will appreciate the sophistication and professional feel of the camera, as well as the image quality.  Fujifilm has another winner with the X-30!