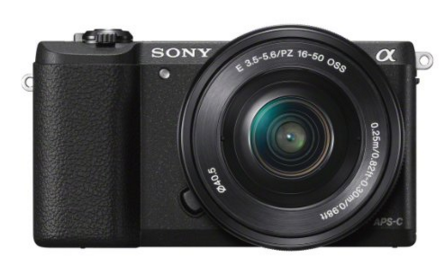 In Depth Look – Sony Alpha A5100 Review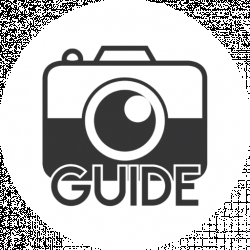 Latest posts by The Camera Guide Team
(see all)
One of the most exciting developments in the camera industry in the last couple of years has been the introduction of mirror-less cameras that utilize interchangeable lenses.   These hybrid cameras are extremely popular with photographers at all skill and experience levels because they generally provide DSLR performance in a compact camera body, which is small and lightweight, as well as relatively inexpensive.  One of the most popular of these cameras is the Sony Alpha a5100, which was first introduced in 2014.
The following is a breakdown of the key compelling attributes of the Sony A5100.
Key Features Worth Discussing
APS-C Sensors: The key to the success of the a5100 is the advanced CMOS sensor that uses the APS-C format.  This format, which is also known as the "cropped sensor" format, utilizes a smaller sensor that measures 23.5mm x 15.6 mm.  This sensor, which is also less expensive to manufacture, is capable of capturing images at 24.3 megapixels and provides excellent image quality.  Unlike the 1-2.3" sensor typically found in compact point and shoot cameras, these APS-C sensors are used in traditional DSLR cameras at all price points!
Increased Lens Length: One of the features of cameras using these APS-C sensors is the increased length of the camera's lenses.   This is the result of the crop factor due to the smaller lens.  In the case of the a5100, the crop factor is 1.5x.  This means that lens used on the a5100 is 1.5 times longer that the same lens used on a full frame camera.  An example of this would be an image captured on an a5100 using a 50mm lens, would appear the same as the identical image shot on a full frame camera using a 75mm lens.  APS-C sensors are very advanced and provide excellent image quality!
Mirrorless DSLR: The a5100 is a mirrorless camera, meaning that when the shutter is released, the image is captured directly on the sensor and does not rely on the image being bounced off a mirror first, which happens on a traditional DSLR camera.  This means that the Sony a5100 is small and lightweight as the mirror assembly in DSLR cameras are large and heavy and contribute to a traditional DSLR's size and weight.  In the case of the a5100, the camera measures only 2.47" x 4.32" x 1.41" and weighs 7.9 ounces without a lens attached.
LCD Display: Another factor in keeping the size and weight down on the a5100 is the elimination of either an optical or electronic viewfinder.  Instead, the photographer composes images using the camera's rear 3.0" LCD display, which also allows access to the camera's menu, as the camera has a very limited number of external dials as well.  The rear display also can be tilted up to 180 degrees allowing for "selfies" as well as other options in composing images.  Another unique feature of the LCD screen is that it has limited touch screen capability as well, which is very useful.
High Number of Autofocus Points: The camera has up to 179 autofocus points, which are evenly distributed throughout the rear LCD display.  While accurate and easy to select using the touch screen, many photographers may want to consider hiding some of these points, as they do distract from composing images.  In practice the autofocus points are accurate and the camera focuses reasonably fast for a camera in this class.  However, the photographer should set reasonable expectations in this area, as the camera is not designed as a sports or action camera.
ISO Range: The native ISO range on the a5100 is 100 – 25,600 with no ability to expand the ISO range.  While shooting at high ISO settings is possible with the a5100, it is not recommended as the image quality suffers.  As with most noise reduction software found in cameras today, the software reduces detail as it removes the noise that creeps into images shot at high ISO settings.  This often results in images that appear to be soft and is not acceptable to most photographers.  Again it is important for anyone considering the a5100 to manage their expectations when shooting in low light conditions and keep the ISO setting reasonable.
Shutter Speed: The shutter speed range of the a5100 is between 1/4,000 and 30 seconds, which is fairly typical for cameras at this price point. It is fast enough for most shooting situations, but has limitations when trying to shoot very fast moving subjects that are often found in sports.  However, it is important to keep in mind that many DSLR cameras have the same shutter speed range as well.
Advanced Processor: Still images captured on the a5100 by the photographer are processed by Sony's advanced BIONX X processor, as either RAW or JPEG files are written to the camera's single SD, SDHC, SDXC memory card or one of Sony's proprietary memory sticks. The BIONX X processor processes files quickly enough to shoot at 6 frames per second.
Premium Video Quality: Sony has always been a leader in video technology and as one would expect the video quality in the a5100 is excellent.   Video is recorded in a number of formats including full HD AVCHD at 1,920 x 1,080 at a variety of speeds ranging from 24-60 frames per second.  While the camera has a very limited buttons, it does have a dedicated "Movie" button, which is conveniently located for easy access.  Depending on the format, video images are written to the camera's memory card or memory sticks as either AVCHD 2.0/ MP4 / XAVC S files.
Compatible with Wide Array of Prime/Zoom Lenses: The a5100 uses Sony's E mount system, which allows a large number of prime and zoom lenses to be attached to the camera.  Lens that are currently available for the a5100 include lens made by Sony, Zeiss and a number of other 3rd party manufacturers.  Other lenses can also be used if an adaptor is attached first to the a5100.  The ability to swap out lenses is one of the most features of this camera, however in practice many will find that smaller prime lenses work best.  The reason for this is that the small size of the camera body coupled with larger lens affects the handling and balance of the camera significantly.
WiFi Capability: While the a5100 does not have GPS capability, it does have WIFI and wireless capability, which allows the a5100 to communicate with select smart phones and tablets.  This feature is handy and allows for sharing of photos and videos, as well as allows the camera to be operated remotely.
Additional Effects: As with all cameras, the a5100 allows the photographer to capture images using a variety of standard exposures including aperture priority, auto, manual, programmed and shutter priority.  The camera also has a number of picture effects such as "retro photo", "watercolor" and HDR painting".  It also has a number of creative style effects as well including "black and white", "sunset" and 'landscape".  In practice these various effect modes work well and are fun to use!
Just the Specs – At a Glance
While most serious photographers look at image quality over technical specifications, many feel that the specifications are equally important.  The Sony a5100 has excellent image quality, as well as technical specifications, which are shown in the table below.
Item

Sony a5100

Year Introduced
2014
Format
APS-C
Crop Factor
1.5X
Megapixels
24.3
Processor
BIONX X
Sensor Type
CMOS
Image Format
RAW or JPEG
Sensor Size
23.5mm x 15.6mm
Sensor Cleaner
No
Autofocus Points
Up To 179
View Finder Coverage
N/A
Frames Per Second
6
ISO
100 – 25,600
Expandable ISO
N/A
Shutter
1/4,000 – 30 Seconds
Built In Flash
Yes
Metering
1,200 – Zone Evaluative Metering
Card Slots
1
Card Type
SD, SDHC, SDXC, Various Proprietary Sony Memory Sticks
LCD Size
3.0"
LCD Type
Tilting; Up To 180 Degrees
Modes
Aperture Priority (A), iAuto, Manual (M), Programmed AE (P), Shutter Speed Priority (S) And Various Scene Modes
Scene Modes
Yes
Live View
Yes
Video
Yes, HD
Video Format
AVCHD (1,920 x 1,080 At 60 FPS); Various Other Formats As Well
Video Type
AVCHD 2.0/ MP4 / XAVC S
Internal Autofocus Motor
No
GPS
No
Wireless
Yes
Wi-Fi
Yes
Battery
NP-FW50 W – Series
Battery Life
Approximately 400 Shots
Unique Features
Touch Screen, Light Weight, Mirror-less, No Viewfinder
Size Without Lens
2.47" x 4.32" x 1.41"
Weight Without Lens
7.9 Ounces (Body Only)
Manufactured In
Thailand
Body Only or with Kit Lens
Available Either Way
Accessories
Sony a5100, NP-FW50 Lithium-Ion battery, AC-UB10 AC Adaptor, Shoulder Strap, Micro USB Cable, Instruction Manual
Cost (Body Only)
$448.00 (

see here for latest pricing

)
Cost With 16-50mm Kit Lens
$598.00 (

see here for latest pricing

)
*Information from the Sony USA website, including pricing.
Final Take – Is the Sony a5100 a Good Value?
The Sony a5100 is an excellent camera that is a great compromise between a full sized DSLR and a compact point and shoot camera.  It combines the small size and lightweight found compact cameras, with the ability to use different lens, which is a major feature of traditional DSLR cameras.
The camera also uses an APS-C sensor that is found in many more expensive DSLR cameras and not the smaller 1/2.3" sensors found in most compact cameras.  These two features result in overall excellent image quality that exceeds the quality found in most compact point and shoot cameras.
Anyone looking for a high-end compact camera for either general or travel photography should take a hard look at the a5100.  It is a great value and it will be hard to beat.
Sony a5100
Speed and Viewfinder
7.7/10
Image Quality and Accuracy
8.0/10
Handling and Build Quality
8.5/10
Value for the Money
8.6/10
Pros
Uses quality APS-C Sensors
Great for travel photography
Built in WiFi capability
Very attractive price point for the value
Cons
Not the best for high paced action shots due to lower FPS rate than competition
No GPS capability