Canon T6s vs Nikon D5500 – Which is the Better Buy?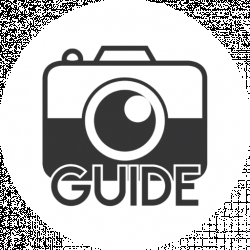 Latest posts by The Camera Guide Team
(see all)
The Canon T6s and Nikon D5500 represent the top two entry-level DSLR cameras available in the market today.  Introduced in 2015, the latest technology is included in these two cameras, which are upgrades to Canon's Rebel lineup of cameras and Nikon's D5000 series of cameras.
Bottom Line Up Front: These two DSLRs are almost identical in every way.
In both cases, the T6s and D5500 produce outstanding image quality and make it just about impossible to take a bad image.
On top of that they are both easy to use and fun to use as well; all of which are critical features in making an entry-level photographer stay involved in photography in the long term.
Similarities Between the Nikon D5500 vs Canon T6s
Similar Sensors: The T6s and he D5500 are very similar in a number of ways beginning with the use of a smaller, yet very capable  "cropped" CMOS sensor format, which Canon calls APS-C and Nikon calls DX.  Although smaller, the sensors are extremely capable and capture images as 24.2 megapixels.  One of the benefits of the APS-C and DX formats is the "crop factor", which makes normal lens longer when used on cameras such as the T63 and the D5500.  In the case of the T6s, the factor is 1.6X, while in the case of the D5500, the crop factor is 1.5X.
Similar Processors: In both the cameras, the DIGIC 6 and EXPEED 4 processors are very similar, allowing images to be written to a single SD, SDHC or SDXC memory card at 5 frames per second, in JPEG or RAW file formats.
Shutter and Flash: Additional similarities include a shutter speed range of 1/4,000 to 30 seconds, as well as a sensor cleaner and built in flash, which is excellent for low light situations and fill in flash.
Exposure Modes: The two cameras are also similar in that the both cameras have the same exposure modes, including program, aperture priority, shutter priority, manual, as well as various scene and creative modes.
HD Video Capability: As with all DSLR cameras the T6s and D5500 both shoot video in a number of formats including full HD.  Depending upon the format selected, video images are recorded at speeds ranging from 24-60 frames per second in .MOV format.
Differences to Consider
Touch Screen LCD on the T6s: The biggest difference between the two cameras is the incorporation of a very capable 3.0" rear LCD touch screen display in the T6s.  This display is excellent and allows access to a number of the camera's features, as well the menu by simply touching the screen where appropriate.  In the field this display is superior to the standard 3.2" swivel display found on the D5500.  In the case of the D5500, menu much be accessed thru various buttons and dials on the camera.
Higher ISO on the D5500: Other differences include the low native ISO level of the T6s, which is 12,800 compared to the D5500's 25,600.  While high ISO settings are nice, it is important to not focus on them as much as other equally important features such as autofocus points and battery life
More Autofocus Points on the D5500: In the case of the T6s, the camera has 19 autofocus points compared to u to 39 in the D5500, but in both cases the autofocus points are evenly distributed in both camera's viewfinder, which provides 95% coverage.
D5500 Longer Battery Life: The D5500 has a longer battery life allowing up to 820 still images to be taken on a single battery charge, compared to the 550 shots on the T6s.  Undoubtedly the touch screen display is one of the contributing factors to the shorter battery life of the T6s.
Pros and Cons of Both Cameras
While the T6s and the D5500 are both outstanding cameras, they both have a number of "pros" and "cons", which is not surprising as there is no such thing as the "perfect" camera, although these two get pretty close!
Pro of the T6s: The biggest "pro" of the T6s is the touch screen display, which is excellent.  In the field it really helps in the set up of the cameras and it is just fun to use.  Another positive feature of the Camera is the size of the camera, which is larger and heavier than the D5500.  While generally smaller and lighter is considered a positive feature in any camera, some cameras are just too small and light to comfortably handle and some may find that the D5500 is one of those cameras, depending upon the size of their hands.
Con of the T6s: The biggest "con" of the T6s is the higher cost of the camera when compared to the D5500.  While a $200 difference in price may not seem like much, it is significant enough to drive some photographers to the Nikon on price alone, without paying attention to the specifications.  Another negative feature is the lower native ISO of the T6s, which is 12,800.
Pro of the D5500: The biggest "pro" of the D5500 is the camera's low price point of $999.95 for the kit option that includes an AF-S Nikkor18-55mm f/3.5-5.6G VR II lens (

see this listing

),  All that is needed is a memory card and the photographer is all set.  Another positive feature of the D5500 is the camera's longer battery life.
Con of the D5500: The biggest "con" of the D5500 is the camera's small size, which could make it difficult to hold for extended periods of time.  Another "con" of the camera is the weight of the camera.  Depending on the size of the lens used, the camera could feel out of balance, leading to fatigue when shooting.
Side by Side Comparison: Nikon D5500 vs Canon T6s
While most serious photographers look at image quality over technical specifications, many feel that the specifications are equally important.  The Canon T6s and the Nikon D5500both have excellent image quality, as well as technical specifications, which are shown in the table below.
Item

Canon T6

s

Nikon D5500

Year Introduced
2015
2015
Format
APS-C
DX
Megapixels
24.2
24.2
Sensor Type
CMOS
CMOS
Processor
DIGIC 6
EXPEED 4
Image Format
JPEG And Raw
JPEG And Raw
Sensor Size
22.3mm x 14.9mm
23.5mm x 15.6mm
Sensor Cleaner
Yes
Yes
Auto-focus Points
19
9, 21 or 39
Scene Modes
  Yes
  Yes
Creative Exposure Modes
Yes
Yes
                                                                 Metering
7560 Pixel RGB+IR Metering Sensor
TTL With RGB Sensor
Metering Modes
Program AE, Shutter- Priority AE, Aperture-Priority AE, Manual Exposure, Scene Modes
Aperture-Priority (A), Auto, Auto (Flash Off), Manual (M), Programmed Auto With Flexible Program (A), Scene Modes, Shutter-Priority (S)
View Finder Type
Eye-Level Pentamirror Single-Lens Reflex
Eye-Level Pentamirror Single-Lens Reflex
View Finder Coverage
95%
95%
Live View
Yes
Yes
Frames Per Second
5
5
ISO
100-12,800
100 – 25.600
Lowest Expandable ISO
N/A
N/A
Highest Expandable ISO
25,600
N/A
Shutter Speed Range
1/4,000 – 30 Seconds
1/4,000 – 30 Seconds
Built In Flash
Yes
Yes
Card Slots
1
1
Card Type
SD, SDHC, SDXC
SD, SDHC, SDXC
LCD Size
3.0"
3.2"
LCD Fixed or Swivel
Swivel
Swivel
Video
Yes
Yes
Video Type
Full HD (1,920 x 1,080), HD  (1,280 x 720), SD (640 x 480) At Speeds Ranging From 24 – 60 FPS Depending Upon Video Type Used
Full HD (1,920 x 1,080), HD and VGA At Speeds Ranging From 24 – 60 FPS Depending Upon Video Type Used
Video Format
.MOV
.MOV
GPS
Optional
Optional
Wireless
Yes
Yes
WIFI
Yes
Yes
Battery
LP-E17 Rechargeable
EN-EL 14a Rechargeable Li-Ion
Moisture and Duct Resistant
No
No
# Of Still Images Per Battery Charge
550
820
Body Construction
Plastic
Thermoplastic
Unique Features
Touch Screen, Direct Printing
In Camera Editing And HDR Capabilities, Black or Red Body
Included Items
EOS Rebel T6s, EF-S 18-55mm IS STM, Lens, LP-E17 Battery Pack, LC-E17 Battery Charger, Ef Eyecup, EW-100DB V Wide Camera Strap, IFC-130U Interface Cable, EOS Digital Solution Disc
D5500 Body, BF-1B Body Cap, DK-25 Rubber Eyecap, AN-DC3 Strap, EN-EL14a Battery, MH-24 Charger, US-E23 USB Cable, EG-Cp16 Audio / Video Cable, CD-ROM Software
Size Without Lens
5.2" x 3.98" x 3.07"
4.9" x 3.9" x 2.8"
Weight Without Lens
18.35 Ounces
14.9 Ounces
Manufactured In
Japan
Thailand
Body Only or with Kit Lens
Kit Only
Sold As Body Only As well A Kit With Two Options Being Available
Cost, Body Only
$849.00

see here for latest

$899.95 (

see latest here

)
EF-S 18-135mm IS STM Lens Kit
$1,199.00 (

see here for latest

)
N/A
Cost Of Kit #1 With AF-S DX Nikkor 18-55mm f/3.5-5.6G VR II Lens
N/A
$999.95 (

check here

)
Cost Of Kit #1 With AF-S DX Nikkor 18-140mm f/3.5-5.6G VR Lens
N/A
$1,399.95
*Information from the Canon USA and Nikon USA websites, including pricing.
Which Would I Choose – Canon T6s or Nikon D5500?
The Canon T6s and Nikon D5500 are the top two cameras in the entry-level DSLR market and for a good reason; they both capture great images and are a joy to use.  Identical in almost every way,I prefer the T6s to the D5500 for two reasons.
First I really like the larger size and weight of the Canon, as it just feels better in my hands, especially when shooting for extended periods of time.  While a great camera, the D5500 just feels too small in my hands and is difficult to use for extended periods without feeling fatigued.
Second, although I was a skeptic about touch screen rear LCD displays when they first came out, I am more comfortable with them now and a real fan.  They are fast, intuitive, very handy and Canon has the best touch displays out there.
It is hard to go wrong with either camera, as they will both lead to many hours of fun and photography is all about having fun while being creative.