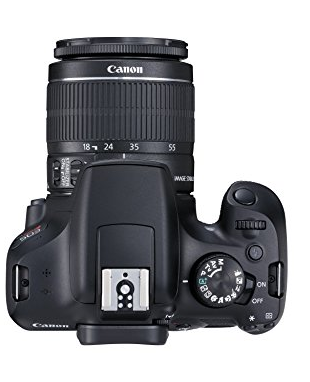 Another Amazing Rebel Review: The Canon T6 Rebel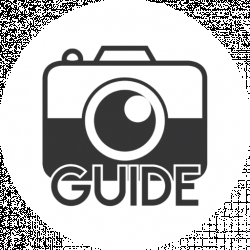 Latest posts by The Camera Guide Team
(see all)
Canon is arguably the world's leading camera manufacturer offering a wide variety of cameras and camera accessories that target both amateur and professional photographers alike.  While their camera lineup includes both film and digital cameras, their digital lineup of point and shoot and DSLR cameras have been very successful for Canon over the years.  One of the most successful product lines for Canon has been the "Rebel" line of inexpensive DSLR cameras that targets consumers moving up from a point and shoot camera to a DSLR camera.  The Canon T6, which was introduced in 2016, is one of the most recent Rebels to hit the market.  Let's take a look at the Canon T6 and see how it performs.
Key Features Worth Noting About the T6
The Canon T6 is based on the APS-C or "cropped sensor" format, which uses a smaller sensor measuring 22.3mm x 14.9mm to capture images.   These sensors are found in many entry-level DSLR cameras due to their relatively low manufacturing costs, which helps keep the costs of these cameras low.  While these CMOS sensors may be cheaper to manufacture, they are quite capable of capturing excellent image quality in a wide range of conditions, including most low light situations.
One of the unique features of this format is the resulting "crop factor", which results in lenses being longer than they would be on full frame camera, such as the Canon 5D Mark III, which uses a 46mm x 24mm sensor. An example of how this makes lenses longer would be an image captured with a 50mm lens on a T6 would require a 80mm lens to capture the identical image on a full frame camera, such as the 5D Mark III.  The ability to make lenses longer is one of the reasons that Canon uses APS-C sensors in the professional grade 7D Mark II, which is a very popular camera for sports and wildlife photographers.  Consumers considering the T6 also benefit from this crop factor as well!
The Canon T6 features acceptable resolution, with images being captured at 18.0 megapixels, which is more than sufficient resolution to provide excellent image quality.  Images are processed as either RAW or JPEG files using the camera's DIGIC 4+ processor and written to the camera's single SD, SDHC or SDXC memory card.  One of the drawbacks of this processor is the relatively slow speed of the processor, which results in a frame rate of 3 frames per second, which is significantly slower than other competing entry-level DSLR cameras.
The T6 features a native ISO range of 100 – 6,400, which is relatively low when compared to other competing cameras such as the Nikon D3300.  The T6 does have the ability to push the ISO up to 12,800, but this is also low when compared to other cameras at this price point.  As with most cameras, the best image quality is found when using moderate ISO settings, as the camera's noise reducing software can be aggressive in removing detail, as well as noise at high ISO settings.  One of the nice features of the T6 is the built in flash, which helps eliminate the need to push the ISO settings to compensate for low light.
As far as shutter speed is concerned, the T6 features a range of 1/4,000 to 30 seconds, which is typical of cameras at this price point.  In most cases, the photographer will find the relatively slow shutter speed to be acceptable for most situations they will encounter.  While not a dedicated sports and action camera, the T6's shutter speed range is more than acceptable for most sports and action photography, especially if it is focused on capturing the photographer's kids playing sports.
The T6 features a very nice viewfinder, which provides 95% coverage.  This means that the image captured by the sensor will be slightly larger than the image as seen thru the viewfinder, so the photographer will need to pay attention to the perimeter of the image being captured.  In practice, most people will get use to the viewfinder and compensate accordingly or they can always crop the photo when editing it on their computer.  Unlike other manufacturers, Canon has resisted the urge to cram more and more autofocus points into their cameras, which can be very distracting when composing images.  The T6 has up to 9 autofocus points, which are evenly distributed in the finder and strike a good balance as far as quantity is concerned.   In addition, the points are accurate in locking and holding focus, even on fast moving subjects.
Other Features to Consider
The T6 features a number of standard exposure modes including Program AE, Shutter-Priority AE, Aperture Priority AE, and Manual Exposure.  These settings allow the photographer to take as much or as little control of the camera as they want.   In addition, one of the great features of the T6 are the various scene modes, which are both useful and fun to use.  The scene mode allows the photographer to select one of the scenes on the camera's top dial, which causes the camera to automatically set the various camera settings, such as ISO, shutter speed, aperture and while balance, to maximize the image quality for the scene selected.
Other features of the camera include the ability to record video in a variety of formats including full HD, which has a frame size of 1,920 x 1,080.  In this format, speed is between 24 and 30 frames per second, with video files being recorded in .MOV format.  The T6 also features a dedicated video record button near the viewfinder, which allows the photographer to quickly start shooting video.
The fixed rear LCD screen measures 3.0" and while it does not feature a touch screen display it does feature 920,000 dots, making the screen bright and easy to read.  The screen is used to navigate the camera's menu system, as well as to preview still and video images.  It can also be used to compose images using the T6's "live view" feature.
While the T6 does not have a GPS unit, it does have a built in wireless receiver, which allows for the camera to communicate with smart devises, as well as directly to select social media sites.  This allows images to be easily posted to various social media sites either directly from the camera or via the photographer's smart phone or tablet.  This feature alone will make the Canon T6 a very popular camera with many consumers who use social media on a regular basis   A similar feature is the ability of the T6 to directly communicate with select printers to print images directly from the camera!
The T6 is built in Japan and features an all-plastic build, which results in a very lightweight camera that weighs a mere 15.52 ounces.  The camera is also small as well measuring 5.08" x 3.99" x 3.06".  Despite the small size, the camera feels good to handle even for extended periods of time in the field.  Many will be attracted to the camera's light weight and small size, which are two of the top features of the T6.
Some Drawbacks of the T6
The camera only has a couple of significant shortcomings, with the first being the lack of a built in sensor cleaner.  This is unusual as most cameras have them built in and this could be problematic if the camera is used in the field extensively.  While it is possible to have the sensor cleaned by a Canon service center, there is a cost and inconvenience associated with this.
The second negative feature of the camera is the life of the LP-E10 battery, which is rated for approximately 600 still images.  Many photographers should consider buying and carrying a second backup battery, especially when shooting for extended periods of time.
Canon Rebel T6 Specifications at a Glance
While most serious photographers look at image quality over technical specifications, many feel that the specifications are equally important.  The Canon T6 has excellent image quality, as well as decent technical specifications, which are shown in the table below.
| | |
| --- | --- |
| Item | Canon T6 |
| Year Introduced | 2016 |
| Format | APS-C |
| Megapixels | 18.0 |
| Sensor Type | CMOS |
| Processor | DIGIC 4+ |
| Image Format | RAW, JPEG |
| Sensor Size | 22.3 mm x 14.9 mm |
| Sensor Cleaner | No |
| Auto-focus Points | 9 |
| Scene Modes | Yes |
| Creative Exposure Modes | No |
| Metering | Dual Layer Metering Sensor |
| Exposure Modes | Program AE, Shutter-Priority AE, Aperture Priority AE, Manual Exposure, Scene Intelligent Auto And Various Scene Modes |
| View Finder Type | Eye- Level Single Lens Reflex With Fixed Pentamirror |
| View Finder Coverage | 95% |
| Live View | Yes |
| Frames Per Second | 3 |
| ISO | 100 – 6,400 |
| Lowest Expandable ISO | N/A |
| Highest Expandable ISO | 12,800 |
| Shutter Speed Range | 1/4,000 – 30 Seconds |
| Built In Flash | Yes |
| Card Slots | 1 |
| Card Type | SD, SDHC, SDXC |
| LCD Size | 3.0" |
| LCD Fixed or Swivel | Fixed |
| Video | Full HD |
| Video Type | 1,920 x 1,080 At 30 / 24 Frames Per Second, Plus Other Formats |
| Video Format | .MOV |
| Internal Autofocus Motor | No |
| GPS | No |
| Wireless | Yes |
| WIFI | Yes |
| Battery | LP-E10 |
| Battery Life | Approximately 600 Still Images |
| Body Construction | Plastic |
| Unique Features | Light Weight, Low Cost |
| Size Without Lens | 5.08" x 3.99" x 3.06" |
| Weight Without Lens | 15.52 Ounces |
| Manufactured In | Japan |
| Body Only or with Kit Lens | Kit Only |
| Included Accessories | EOS Rebel t6 Body, EF-S 18-55 f/3.5-5.6 IS II Lens, LP-E10 Battery Pack, LC-E10 Battery Charger, Ef Eyecup, IFC-130U Interface Cable, EW-400D Wide Strap |
| Cost, Body Only | N/A |
| Cost With EF-S 18-55mmKit Lens | $549.99 Check out the latest discounts and prices here. |
*Information from the Canon USA websites, including pricing.
The Final Frame: My Overall Thoughts on the T6
Overall the Canon T6 is a very good camera and is perfect for the photographer moving up from a point and shoot camera to a traditional DSLR camera that is light weight, small, easy to operate and takes great pictures.  While some of the specifications may be a bit bare bones, they are overall very good.  While intended for photographers transitioning towards a DSLR, the T6 would be a great choice for more experienced photographers looking for a great camera!