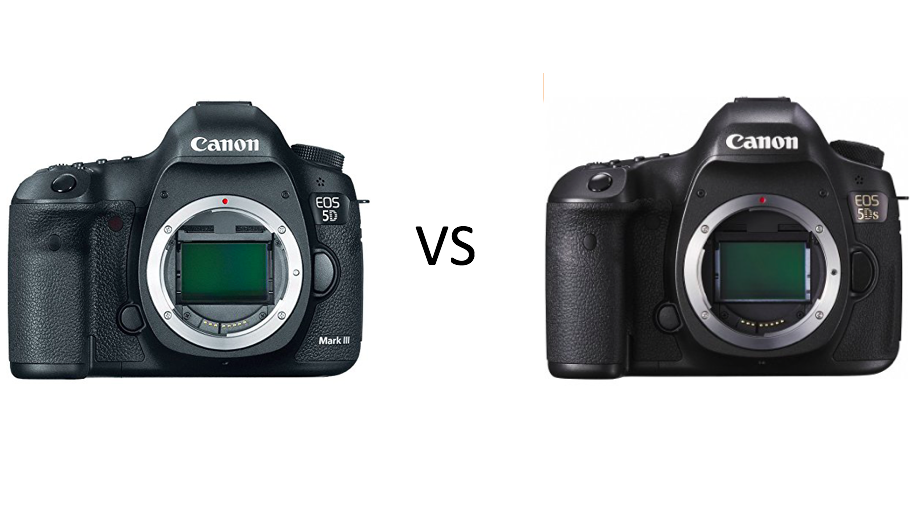 Which Canon is Better? The 5D Mark III vs. 5DS
Last Updated on
The 5D Mark III and the 5DS  are two of the most popular Canon cameras on the market today, due to their excellent image quality and advanced features.  This coupled with the fact that both cameras are relatively affordable for a professional grade full frame DSLR; it is no wonder that both cameras have been well received by the photography community.  The D5 series of cameras was first introduced in 2005 and the 5D Mark III is the update to the Canon Mark II, while the 5DS is the update to the Mark III.  The question is which is the better 5D?
Similarities
In almost every way, the 5D Mark III and 5DS are virtually identical in features and performance despite being the technology in the 5DS being three years newer that the 5D Mark III.  These similarities begin with both cameras using a CMOS full frame sensor that measures 26.0mm x 24.0mm.
Both cameras have autofocus systems that perform virtually the same with each camera's system being fast and accurate as a result if having up to 61 autofocus points including 41 cross type sensors.  Autofocus points are well distributed in the camera's bright viewfinder, which provides 100% coverage.
Once the image is captured and processed, the files in both cameras are written to either a SD or CF card in one of the camera's two slots.  These cards can hold one SD card and one CF card.  Still images can be stored in either RAW or JPEG format, while video files are in MOV format.
The 5D Mark III and 5DS both have excellent video capabilities, with video being shot in a variety of formats including HD.  In this format, the frame size is 1,920 x 1,080 and is shot a variety of speeds ranging from 24 -30 frames per second.  The quality of the video in both cameras is excellent.
While not meant to be a dedicated "sports or action" camera, both cameras have a shutter speed that ranges from 1/8,000 – 30 seconds.  The frame rate of both cameras is similar, although the Mark II is faster at 6 frames per second compared to the 5 frames per second found in the 5DS.  This will allow the photographer to use the camera in sports or action situations where the photographer needs to be able to shoot fast moving people or objects.
In both cameras, there is a "live view function on the fixed rear LCD display that measures 3.2".  This display also allows the photographer to view images and video files, as well as navigating each camera's menu system.   Related to the menu system is the presence of the C1, C2 and C3 settings on the main dials.  These settings allow the photographer to save user defined custom setting in the camera's menu and instantly recall them by simply selecting the desired setting.  This is one of the greatest features of many Canon cameras, as it user friendly and very handy in the field.
While neither camera has built in GPS or WIFI capabilities, both cameras have the capability to accept accessory components that allow this capability.  Other similarities include a robust build wit a magnesium allow shell, as well as almost identical sizes and weights.
Differences
The Canon 5D Mark III and the 5DS are virtually identical in every way with the exception of effective megapixels, ISO range and processors.  The 5D Mark III only has 22.3 Megapixels, while the 5DS has an incredible 50.6 megapixels.  However, it is important to keep in mind that 22.3 megapixels is more than enough for a vast majority of photography.  Canon's flagship camera the EOS-1D X, which retails for $5,999.00, has 20.2 megapixels.
As far as ISO range, the 5D Mark III has the advantage with a native ISO range of 100-25,600 and is expandable upward to 102,500 and downward to 50.  On the other hand the 5DS has a native range of 100-6,400 and is expandable upward to 12,800 and downward to 50.  It appears as if Canon had to make a compromise in ISO capabilities to get the 5DS to 50.6 megapixels.
Another difference between the two cameras is in the type and number of processors each camera uses.  In the case of the 5D Mark III a single DIGIC 5+ processor is used, while the 5DS uses two on the newer DIGIC 6 processors.  It appears as if two processors are needed to process the large files that the 5DS uses.
Pros and Cons
As great as the 5d Mark III and 5DS are, they are not perfect, with both cameras having a number of both positive and negative features.  Any photographer looking to purchase either of these two cameras must closely examine these "pros" and "cons" and determine how they will impact the their type of photography before making the investment in either camera body.
In the case of the Canon 5D Mark III the biggest positive feature of the camera is the value the camera represents.  Although a few years old, the camera has excellent features and performance and is still widely used by both amateur and professional photographers around the world.  Priced at $2799 for the body, the 5D Mark III is fairly affordable for a high-end full frame camera.
The biggest negative feature of the 5D Mark III is the lack of a built in flash.  While this negative feature also applies to the 5DS as well, it is the one feature that missing from the 5D Mark III that would make it the perfect all around camera.   It is interesting how Canon, as well as other manufacturers seem to intentionally leave off certain features on some cameras, while making them standard on other cameras within their line up.
The D5S is a great camera and the biggest "pro" of the camera is the extremely high resolution of the camera.   The ability to capture images at 50.60 megapixels will appeal to studio, fashion, architecture and landscape photographers, who need images shot at extremely high resolution that capture incredible detail.
The biggest negative feature of the D5S is the cost of the camera, which has a suggested retail price of $3,699.  This is expensive for any camera body and is especially troublesome when all of the manufacturer's seem to heavily discount existing cameras, as new ones are introduced.  One has to wonder what the price of the D5S will be next year when the next version of the 5D is introduced.  There is definitely a premium as far as price is concerned to own the latest camera body!
Just the Facts, A Side-by-Side Comparison
While most serious photographers look at image quality over technical specifications, many feel that the specifications are equally important.  The Canon 5D Mark III and Canon 5DS both have excellent image quality, as well as technical specifications, which are shown in the table below.
Item
Canon 5D Mark III
Canon 5DS
Year Introduced
2012
2015
Format
Full Frame
Full Frame
Megapixels
22.3
50.60
Sensor Type
CMOS
CMOS
Processor
DIGIC 5+
Dual DIGIC 6
Image Format
RAW or JPEG
RAW or JPEG
Sensor Size
36.0 mm x 24.0 mm
36.0 mm x 24.0 mm
Sensor Cleaner
Yes
Yes
Auto-focus Points
61 Points, Including 41 Cross-Type Points
61 Points, Including 41 Cross-Type Points
Modes
Aperture Priority (A), Manual (M), Program (P), Shutter Priority (S)
Aperture Priority (A), Manual (M), Program (P), Shutter Priority (S)
Metering
TTL Metering With 63 Zone SPC
EOS iSA System With 252-Zone
View Finder Coverage
100%
100%
Live View
Yes
Yes
Frames Per Second
6
5
ISO
100 –25,600
100-6,400
Lowest Expandable ISO
Lo-1 (50)
Lo-1 (50)
Highest Expandable ISO
H1 (51,200)

H2 (102,400)

H1 (12,800)

Compatible Lens
All Canon EF Lenses, Except EF-S Lenses
All Canon EF Lenses, Except EF-S Lenses
Shutter Speed Range
1/8,000 – 30 Seconds
1/8,000 – 30 Seconds
Built In Flash
No
No
Card Slots
2 (1 CF and 1 SD)
2 (1 CF and 1 SD)
Card Type
SD, SDHC, SDXC and CF
SD, SDHC, SDXC and CF
LCD Size
3.2"
3.2"
LCD Fixed or Swivel
Fixed
Fixed
Video
Yes, Full HD
Yes, Full HD
Video Type / Speed
1920 x 1080 At 25.0 – 29.97 FPS; Other Types As Well
1920 x 1080 At 24.0 – 30.0 FPS; Other Types As Well
Video Format
MOV
MOV
Internal Autofocus Motor
No
No
GPS
No
No
Wireless
No
No
WIFI
No
No
Battery
LP-E6
LP-E6N
Battery Life, Photographs Only
1,000 Plus Shots
Not Specified
Unique Features
C1, C2 and C3 Settings, Magnesium Alloy Body
C1, C2 and C3 Settings, Magnesium Alloy Body; Extreme Resolution
Size Without Lens
6.0" x 4.6" x 3.0"
5.98" x 4.59" x 3.01"
Weight Without Lens
33.5 Ounces
32.8 Ounces
Manufactured In
Japan
Japan
Body Only or with Kit Lens
Both Options Available
Body Only
Included Accessories
LP-E6 Battery, LC-E6 Battery Charger, Eyecup, AVC DC400ST Stereo AV Cable, IFC-200U USB Interface Cable, EW EOS 5D Mark III Wide Neck Strap, Software Disk, Software Instruction Manual
LP-E6N Battery, LC-E6 battery Charger, Eyecup, IFC-150U II Interface Cable, EW-EOS5DS Wide Neck Strap, Cable Protector, EOS Digital Solutions Disc
Cost, Body Only
2,799.00** (For the latest price and discounts.)
$3,699.00 (For the latest prices and discounts.)
Cost With Kit Lens (Various Lens Options Available)
Varies Depending On Lens Selected
N/A
*Information from Canon's website, including pricing.
** The Canon 5D Mark III has been replaced by a number of follow up cameras in the 5D series, including the 5DS, however, the 5D Mark III is still widely available from a number of retailers.
Overall Recommendation
The Canon 5D Mark III and the Canon 5DS are both exceptional cameras and both are very popular with photographers of all abilities that are looking for a professional grade camera.  While some photographers may need a camera that shoots at 50.60 megapixels, I do not, so I prefer the 5D Mark III.  I also prefer the 5D Mark III due to its higher ISO capabilities.   Although I tend to avoid shooting at extremely high native or expanded ISOs, I would rather have a camera that can achieve those settings than one that cannot.
Other than the difference in megapixels and ISO capabilities, the cameras are virtually identical in performance, operation and appearance.  The lower price of the 5D Mark III is also appealing, because I can use the money saved to purchase a lens or two or an accessory like a Speed Light.  The Canon 5D Mark III and the 5DS are both among the best cameras in Canon's lineup and both camera's will make any photographer very happy for years to come or at least until Canon introduces a new updated 5D!