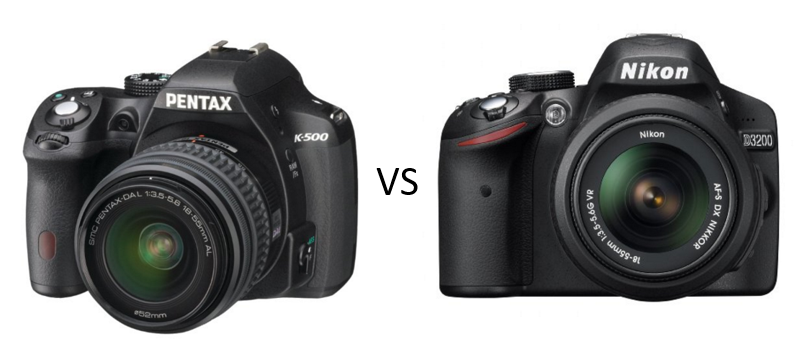 The Pentax K500 vs Nikon D3200 – Compare and Contrast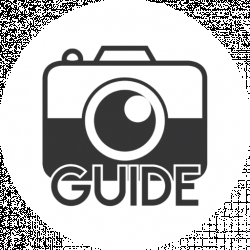 Latest posts by The Camera Guide Team
(see all)
The entry level DSLR camera market is flooded with every major manufacturer having a number of extraordinary cameras available at all sorts of price points.  Two of the best cameras on the market are the Pentax K500 and the Nikon D3200.  While older cameras, the technology in both cameras is excellent and still relevant, with both cameras capable of capturing excellent images for photographers at all levels.
Similarities Between the Pentax K500 vs Nikon D3200
As one expect, all entry-level cameras share a number of similarities and he Pentax K500 and Nikon D3200 are no different.
Similar Sensors: The major similarity between the two cameras is the use of a CMOS sensor in the APS-C format, which Nikon calls the DX format.  These sensors are smaller than full frame sensors and are always used in entry-level cameras due to the low cost of manufacturing the sensor.  This is critical in entry-level cameras, as the manufacturers really try to keep the price points low!  While smaller and cheaper, these sensors are capable of capturing outstanding images and are also used in professional grade cameras, especially those used to photograph sports and wildlife.
Similar Preset Modes: The K500 and D3200 are both capable in shooting in a wide variety of preset scene modes, as well as full automatic, full manual, aperture priority and shutter priority settings.  This allows the photographer take as much control as possible over the camera as they want, which is important as the skills of the photographer improve over time.
Similar Video Quality and Capability: As with most cameras today, the ability to shoot video is built into both the K500 and the D3200.  Video is captured in .MOV format in a variety of formats including HD 1,920 x 1,080 at 30/ 25 /24 frames per second.  The video quality in both cameras is good and the video capabilities are easy to use as well.
Image Control and Quality: Other similarities between the two cameras include the ability to capture still images in JPEG and RAW format, a total of 11 well distributed autofocus points in the viewfinder, live view, built in flash and a single memory card slot using SD, SDHC or SDXC memory cards.
Similar LCD Display: Each camera has a 3.0" fixed LCD display, as well as optional accessories to allow both wireless and GPS usage.  WIFI capabilities are only available via an optional accessory in the D3200 and are not available in the K500.
Key Differences to Evaluate
K500 Has More Megapixels: There are number of differences between the two cameras beginning with the total number of megapixels being offered by both cameras.  In the case of the Pentax K500, there are 16.3 megapixels compared to the Nikon's 24.2 megapixels.  While not the most important feature of a camera, the number of megapixels being offered in both cameras is impressive!
K500 Has 100% Viewfinder Coverage: Another difference between the two cameras is in the viewfinder coverage.  In the case of the K500, the viewfinder offers 100% coverage, while the D3200 is only 95% coverage.  While it may not seem to be significant, that extra 5% in the K500 means that what you see in the viewfinder is what the image s going to look like.  In the case of the D3200, the image captured is going to be slightly larger than what the photographer sees in the viewfinder.  This can really make a difference when composing images.
K500 is Faster: The Pentax K500 is also slightly faster than the D3200 in terms of both the frames per second, as well as shutter speed.  The K500 shoots as 6 frames per second, while the D3200 shoots at "only" 4 frames per second,  The K500's shutter speed ranges from 1/6,000 to 30 seconds, while the D3200 shutter speed range is 1/4,000 to 30 seconds.   The frames per second rate and the quicker shutter speed makes the K500 slightly better for sports and action photography.
Better ISO Range: The Pentax K500 is capable of ISO settings ranging from 100 – 51,600, while the D3200 has a range of 100 – 6,400 and is expandable to 12,800.  It is important to note that shooting at extremely high ISO settings is not going to produce great images as the camera's noise reduction software is going to really de-grade the quality of the image as it removes noise, which is a by-product of shooting in low light situations where higher ISO settings are used.  In practice, the images are not going to be great in either camera when the ISO gets above 800.
Different Sizes: The final major difference between the two cameras is in size and weight, with the K-500 being slightly larger and heavier.  While the K-500 measures 5.12" x 3.82' x 2.8" and weighs 22.79 ounces the D3200 is significantly smaller and lighter at 5.0" x 3.8" x 3.1" x 1.6" and weighs a mere 16 ounces.
Pros and Cons of Both Cameras
As one would expect, both cameras have a number of "pros" and "cons", as there is no perfect camera at any price point.  The key is for the photographer to weigh the "pros" and the "cons" and determine how much they factor positively or negatively in the buying process.
K500 Pro: The biggest "pro" of the Pentax K500 is the rechargeable AA batteries and the ability to use  standard AA batteries in an emergency. !  The ability to drop into any store, almost anywhere in the world, to get 4 AA batteries is huge.  Imagine being in a once in a lifetime location and your camera battery dies!  This happened to me a number of years ago in Cambodia at Angkor Wat, when I drained my main battery and a spare in a single day, effectively turning my camera into a brick for the rest of the day.
K500 Con: The biggest "con" of the Pentax K500 is the lens lineup, which is not as robust as Nikon's DX lineup of lenses.  Most experienced photographers will tell you that the most important part of a camera kit is the lenses, as camera bodies will essentially become obsolete over time, due to the advancements in camera technology.  Great lenses last forever, so before purchasing the K500, take a look at the lineup of APS-C lenses available by Ricoh / Pentax and make sure you are going to be happy with the lineup.
D3200 Pro: The biggest "pro" of the Nikon D3200 is the camera's ease of use, which is basically foolproof.  The camera is very intuitive and many people will be up and shooting without ever reading the manual, as the camera' s menu is simple to navigate.  The various main scene modes are also easily accessed by a illustrated dial on the top right hand side of the camera.
D3200 Con: The biggest "con" to the D3200 is the age of camera, which has seen one upgrade to the design since its introduction in 2012.  While still an advanced camera, there are currently four more advanced cameras in Nikon's entry-level lineup.
Key Specs Compared – Side by Side
While most serious photographers look at image quality over technical specifications, many feel that the specifications are equally important.  The Pentax K500 and Nikon D3200 both have excellent image quality, as well as technical specifications, which are shown in the table below.
Item

Pentax K500

Nikon D3200

Year Introduced
2013
2012
Format
APS-C
DX
Megapixels
16.3
24.2
Sensor Type
CMOS
CMOS
Processor
PRIME M
EXPEED 3
Image Format
JPEG or RAW
JPEG or RAW
Sensor Size
23.7mm x 15.7mm
23.2 mm x 15.4 mm
Sensor Cleaner
Yes
Yes
Auto-focus Points
11
11
Modes
Aperture-Priority Auto (A), Manual (M), Program (P), Shutter-Priority Auto (S), Plus Various Pre-Set Creative, Scene and Filter Modes, As Well As The Ability To Capture HDR Images
Aperture-Priority Auto (A), Auto, Auto (Flash Off), Manual, Programmed Auto With Flexible Program (P), Shutter-Priority Auto (S), Plus 8 Pre-Set Scene Modes
Metering
77 Segment M
3D Color Matrix Meter
View Finder Coverage
100%
95%
Live View
Yes
Yes
Frames Per Second
6
4
ISO
100 – 51,600
100 – 6,400
Lowest / Highest Expandable ISO
N/A

Hi-1 ISO 12,800
Shutter Speed Range
1/6,000 – 30 Seconds
1/4,000 – 30 Seconds
Built In Flash
Yes
Yes
Card Slots
1
1
Card Type
SD, SDHC or SDXC
SD, SDHC or SDXC
LCD Size
3.0"
3.0"
LCD Fixed or Swivel
Fixed
Fixed
Video
Yes
Yes
Video Format
 .MOV
.MOV
Video Type
Full HD 1,920 x 1080 at 30, 25 and 24 FPS. 1,280 x 720 and 640 x 424 Also Available
Full HD 1,920 x 1,080 at 30, 25 or 24 FPS.  Various Other HD And VGA Formats As Well
Internal Autofocus Motor
No
No
GPS
Optional Accessory
Optional Accessory
Wireless
Optional Wired or Wireless
Optional Accessory
WIFI
No
Optional Accessory
Battery
4 x AA Batteries or Optional D-LI109 Lithium Ion Battery, Stainless Steel Case
EN-EL14a
Unique Features
Ability To Use Standard AA Batteries; U1 and U2 Settings
Available In Red; Preset Scene Settings, Ease of Use
Size Without Lens
5.12" x 3.82" x 2.8"
5.0" x 3.8" x 3.1"
Weight Without Lens
22.79 Ounces
16.0 Ounces
Manufactured In
Philippines
Thailand
Body Only or with Kit Lens
Sold As A Kit With DA 18-55mm f3.5-5.6 AL Lens
Two Kit Options – One with 18-55mm VR f/3.5-5.6G ED II only.  The second option includes a 55-200mm VR f/4.5 – 5.6G ED
Included Accessories
D-BH109AA Battery Holder, Ultimate Lithium AA Batteries (4-Pack), I-USB7 USB Interface Cable, FK Hotshoe Cover, FR Eyecup, SLR Body Mount Cover
MH-24 Quick Charger, DK-5 Eyepiece Shield, DK-20 Rubber Eyecup, UC-E6 USB Cable, EG-CP14 A/V Cable, AN-DC3 Camera Strap, BF-1B Body Cap, BS-1 Hot-Shoe Cover, Bundled Software: ViewNX 2 CD-Rom
Cost, Body Only
N/A
N/A
Cost With Kit Lens
$599.95 (

check here

)
$529.95 (

check here

)
*Information from Pentax / Ricoh and Nikons website, including pricing.
** The Pentax K500 has been discontinued.
Wrapping Up – Final Recommendation
While the Pentax K500 and Nikon D3200 are both great cameras and are capable of capturing great images, I prefer the Pentax K500 due to the ability to use standard AA batteries in an emergency, as well as the user defined U1 and U2 settings.  In my case, I would be using this camera mostly while traveling and rarely carry a camera bag and never seem to have a spare battery when I need one.  The ability to drop into a 7-11 and buy 4 AA batteries is a big plus.
I also really like the U1 and U2 dials on this camera, which is quite an unusual feature on a camera at this price point.  In the type of shooting that I do, I tend to go back and both between monochrome and vivid color settings and the ability to reconfigure the camera instantly to my preferred settings by simply turning a dial is very important to me.
Although it has been discontinued, the Pentax K500 is still widely available and is a great entry-level camera with many advanced features.  It is quite a value and better yet, batteries are available almost everywhere you go,